The Loop
Amateur Kim makes himself at home on the big stage
ARDMORE, Pa. -- On Monday, 19-year-old amateur Michael Kim was in the Merion pro shop looking for a caddie, and on Saturday he was looking at his name two shots out of the lead in the United States Open. "I kept looking at the leaderboard, not because I wanted to know how I was doing in the tournament, but because it was cool to see my name next to those names like Mickelson, Donald and Schwartzel. It was just an incredible feeling." Hot off four birdies in the last six holes, Kim knew the danger of allowing himself to consider the enormity of being in contention. But when you're not playing for money, all there is is the experience. Why not soak it in?
Related: Who will be this year's breakthrough amateur? "I kind of went through that situation in my head. What if I won or what if I did this," he said. "But it was cool and I tried to snap back out of it, but I hit an awful tee shot on the next hole." That snap-hooked 3-wood was the start of a bogey, double-bogey, bogey finish to cap a 71 and drop Kim to 10th place heading into the final round. Despite the disappointing finish, the willowy 145-pounder hung on to the "incredible feeling" throughout a marathon media scrum. Smiling with a mouth full of braces, the rising junior from the University of California told a story of no expectations.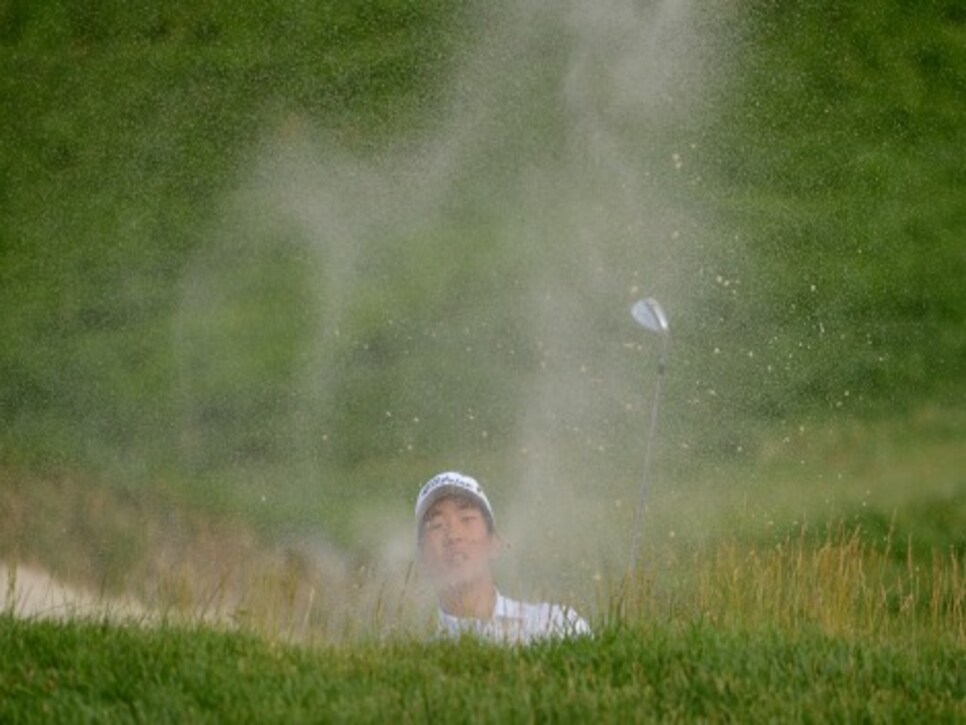 The Kim family moved to San Diego from Seoul, South Korea when Michael was 7 and his brother was 12. Their father, who sells electronic parts, encouraged the boys to take up golf because of it might prove useful in the business world. Of course, the game has proven much more to Michael, who recently won the Haskins Award given to the national male player of the year in collegiate golf.
Related: Cal men quite comfortable atop polls Even though Kim is well positioned to take low amateur honors (Chang Tseng Pan is currently T-31), he spent the first part of the day in the shadow of his caddie, LaRue Temple, a native Philadelphian who's caddied at Merion for 16 years. Chants of "LaRue, LaRue!" followed Kim and his playing partners, Geoff Ogilvy and Bo Van Pelt, as the local caddie's friends made their presence known. Temple hadn't planned on caddying in the event and had even bought a ticket to attend on Monday. This put him in the right place at the right time when the caddiemaster needed to find a looper for Kim.
"There are a lot of really qualified caddies at this club," said Temple. "I just got lucky and I'm happy to be able to represent the club." As for the course setup, "We see a lot of these hole locations all the time," said Temple. "You know, it's funny, when people are slow out here we say 'Hey, this isn't the U.S. Open.' Now I'm walking around here and it really is the U.S. Open."
Related: Snapshots from Merion Kim said he wasn't familiar with the history of Jim Simons, the amateur who held the 54-hole lead when the U.S. Open was played here in 1971 and double-bogeyed his last hole to finish three shots out of the playoff won by Lee Trevino. Though he feels no pressure, the diminutive Kim sees no reason he can't write a more famous chapter in amateur golf on Sunday. As Kim said, "On this course anybody who hits it in the fairway has a good chance out here." Whether his name is on the leader board or not, it will be an incredible feeling.