The Loop
Amateur Cheng-Tsung Pan relishing spot near the top of Merion's leader board
ARDMORE, Pa. -- As Cheng-Tsung Pan made his way down the left side of Merion's 18th fairway, he took a long stare at the massive leader board behind him.
There was "Pan" in big, black type, en route to finishing as the second-best amateur score after the second round. The junior-to-be at the University of Washington would convert an up-and-down from 40 yards out off the 18th green, hitting it to four feet and rolling the putt in.
Pan took another solitary look at the leader board after waving to the crowd at the 18th grandstand, thanking them for their long applause. "Pan" would stay four-over par heading into the third round.
"I just love seeing my last name on the scoreboard. It's just really special to me," says Pan, the fifth-ranked amateur in the world, who finished the second round T-20 -- and tees off in his afternoon round at 1:01 p.m. with John Huh and Charley Hoffman. "That crowd went crazy for me. It definitely felt good."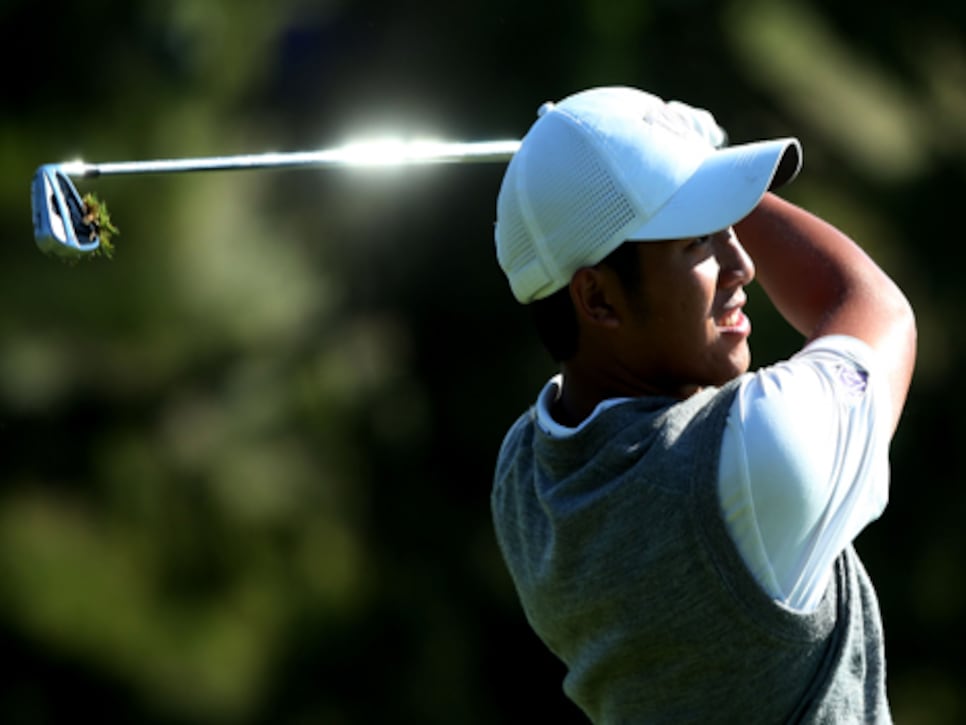 Cheng-Tsung Pan was tied for third through his first nine holes of his second round heading into Saturday. Photo: Andrew Redington/Getty Images
The Taiwanese-born amateur spoke with a disappointed tone after finishing the round, recounting a double bogey at 17. He dropped four strokes over his last five holes, also bogeying Nos. 14 and 15.
His sister, Michelle, could sense his disappointment, too. As she came up to greet him after signing his score card, she assured him, "That's alright! We have a long way to go, bud."
Pan echoed that, saying matter-of-factly: "I didn't quite finish well this morning, but that's the way golf is. Sometimes you have good rounds, and bad rounds. You just have to do your best."
He had woken up at 5 a.m. this morning, having completed nine holes of his second round, which had him at even-par and in a tie for third place. On a leader board filled with marquee names like Mickelson, Stricker, Donald and Rose, there was "Pan."
Playing well means a lot to the first-team All-American. And he did on Friday. He was two under through his first nine holes, hitting it to a couple feet at the long par-4 fifth hole for an easy birdie to follow up a birdie at No. 2.
But Pan expects to play well and wants to keep proving it to himself.
"I don't want to lose to an amateur. It's OK if I lose to a pro, but I would love to be low am," he says. "This is a tough course and I just want to play well. Make a couple birdies and make myself proud."
Pan found the tall fescue above the front, greenside bunker on the 17th. Fans were urging him to drop from the 17th grandstands, but he decided to try to get a club on it and chip it out. The ball ended up in the bunker, where he almost holed out from. He missed a slick downhill putt to make double.
Pan had his head down as he walked to the menacing 18th tee, motioning to himself as he walked to the tee box.
But his head was back up higher after the up-and-down on 18.
After all, "Pan" is still the second-best amateur name on the leader board heading into the afternoon. It's his firstmade cut at a major. A real shot to be the low amateur.
And see his name on the leaderboards throughout the weekend.
"I wanna see how well I play compared to the professionals, and how much difference I have compared to them," he says. "That's why I'm here."