The Loop
A New Year Discovery: Naples Beach Hotel & Golf Club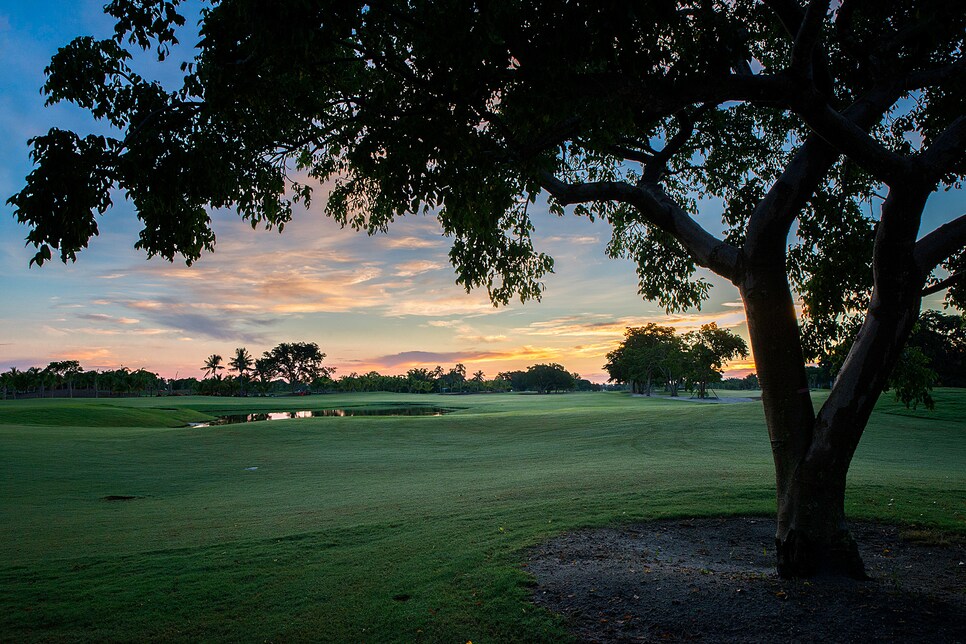 Courtesy Naples Beach Hotel & GC/Jennifer Brinkman
I know 2017 is going to be a good year because one week into it, I'd already found a new course worth recommending. It's Naples Beach Hotel & Golf Club, a rare public-access course in private course-clogged Naples, Florida. It's a collaborative redesign by John Sanford and Jack Nicklaus. Actually, Sanford is billed as the architect with Jack as his consultant. When John first pursued the contract, he read that Naples Beach was where Jack first broke 40 for nine holes, as an 11-year-old in 1951, a year after he'd taken up the game. Sanford contacted Nicklaus and suggested they team up on his early haunt. (They'd previously done Trump Golf Links Ferry Point in New York together with former Nicklaus associate Jim Lipe). Jack admitted he didn't recall much about the course except that he'd double-bogied the last hole for a 37.
The course history is worth relating. The first 18-hole operation in Naples, it opened in 1931 as Naples Golf & Beach Club, a daily-fee replacing a 9-hole sand-greens Naples Golf Course at Third Street and Fifth Avenue, just off what is now downtown Naples. Allen Joslin, a Cincinnati realtor, was the course owner. Civil Engineer Tom Frederick designed and constructed the course. (He'd previously built Whitfield Estates in Sarasota – now Sara Bay Country Club – for Donald Ross. Sixty years later, some golf writers erroneously concluded Ross had designed Naples Beach.)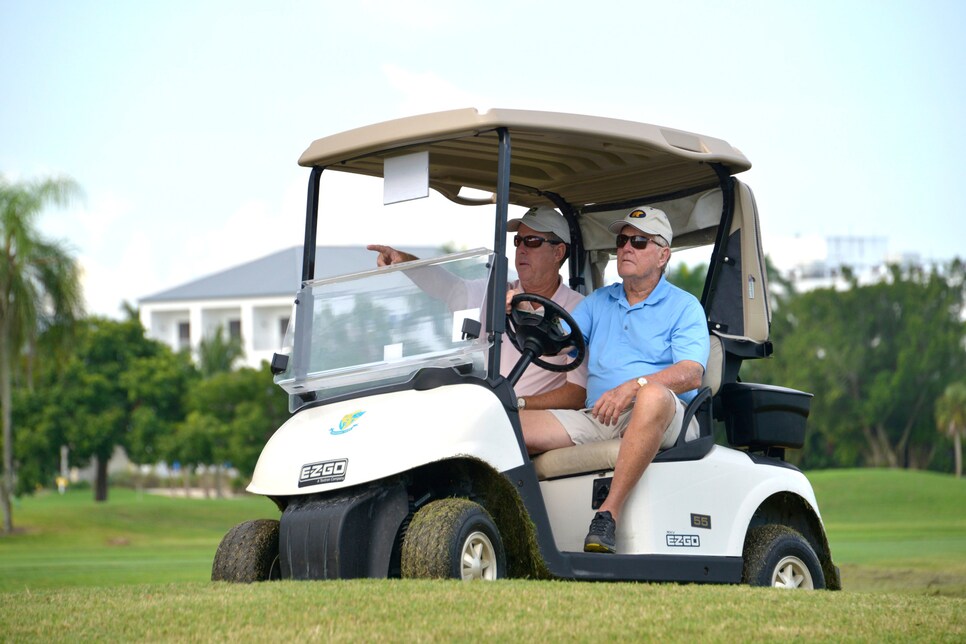 Photo by Jim Mandeville/The Nicklaus Companies
The course was making headlines even as it was being built. The first green incorporated a dome-shaped sand dune thought at the time to be an ancient ceremonial mound of the ancient Caloosa Indians. (Try doing that these days and half a dozen regulatory agencies will shut down the project immediately.) Draglines carved out a pond so that the par-3 seventh green sat on a near-island green. It took over a year for Frederick to properly grow-in grass greens, pushing opening day back until late December, 1931.
After a decade, Joslin sold the course to local Naples residents. Within months, the Japanese bombed Pearl Harbor and resort golf vanished overnight. The course was closed in 1942 and most of its equipment sold. After the war, a Naples real estate developer, Henry B. Watkins, bought the property and retained Mark Mahannah, then the superintendent at Riviera Country Club in Coral Gables, later a prominent Florida golf architect, to reclaim the golf course. Mahannah got nine holes up and running by the late 1940s and the full 18 in operation by 1953. Serving for a time as the course superintendent, he added lakes and revised holes, his first solo experience in golf design.
Watkins also bought and renovated a hotel across the street, now Naples Beach Hotel, and in the 1960s the course was officially renamed The Naples Beach Hotel & Golf Course. Grandsons Henry B. Watkins III and Michael Watkins now own the place.
Sanford's first visit to the golf course began by parking his car on a nearby street, there being no open parking spaces in the small parking lot. He then examined the tiny driving range, 175 yards long, hard against a city street and ringed with nets, and the course itself, pleasant if not memorable, but on only 105 acres. His suggestion: turn the old range into a parking lot and add a new full-sized practice range somewhere within the 18 holes.
Therein lies the charm, in my view, of the new Naples Beach Hotel course. The architects resorted to every trick of the trade to fit in the range and yet expand the course from 6,400 yards to its present 6,921 yards, par 71. Holes were shifted to the corners of the property. A pair of double greens safely squeeze holes together. Coquina shell hazards double as cart paths. Tiny back tees are tucked on the far sides of cart paths to increase yardage. It was an exercise of ingenuity and engineering that wasted no available space and made every square foot count. Playing the course, it feels expansive, not cramped. There's never a hole where you feel threatened by some shot from another fairway. What a magnificent job.
The redesign was not without some controversy. The nines were flipped, to avoid having the opening hole play into the rising sun. To create a new first hole running north, Sanford built it in the reverse direction of the old par-4 18th, long considered one of the best finishing holes in southwest Florida. But the new par-4 18th is a just as good, sharing a joint fairway shaped like a tuning fork (another space-saving element) with the ninth hole, a pond separating the 18th green on the left from the ninth green on the right.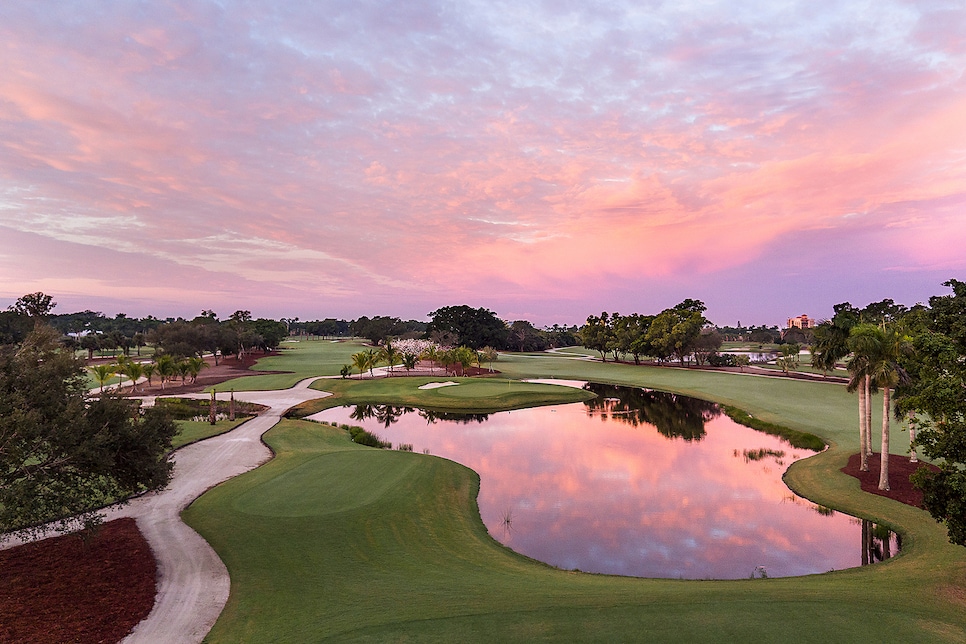 Courtesy Naples Beach Hotel & GC/John Bateman
The new 300-yard-long double-ended range, complete with target greens, now occupies portions of the old 10th and 13th, with one new pond excavated and two others expanded to edge the new second and seventh holes, both Cape-style bite-off-what-you-dare par 4s. Indeed, there is a surprising amount of water on the front nine for a resort course, but much of it is on the left and avoidable by high handicappers.
The new back nine follows many of the original Naples Beach corridors but with a vastly improved set of holes. Frederick's old near-island seventh green is now a peninsula green for the par-3 16th. Sanford shaped it to cant and slant much in the manner of a Redan green (reverse Redan, since it slopes left to right). When Nicklaus saw it during a sight visit, he dubbed it a "Rejohn." He also had the green extended closer to the water's edge.
Sanford likes to say the landscaping ranges from beachfront to Everglades, but in truth, much of it is clean and playable, mulch under trees, tightly mowed turf everywhere else, with elaborate "jungle" only as accents near some tee boxes.
When I played the course, two months following its reopening, I found its fairways to play firm, with lots of roll, and its greens putting very true. One can't ask for anything more of a resort layout. I wish I could report that I matched the 9-hole score Nicklaus had posted at age 11, on either nine, but I cannot. Five of my golf balls went swimming that day.