News
Ally McDonald went into match-play mode and became the latest first-time LPGA Tour winner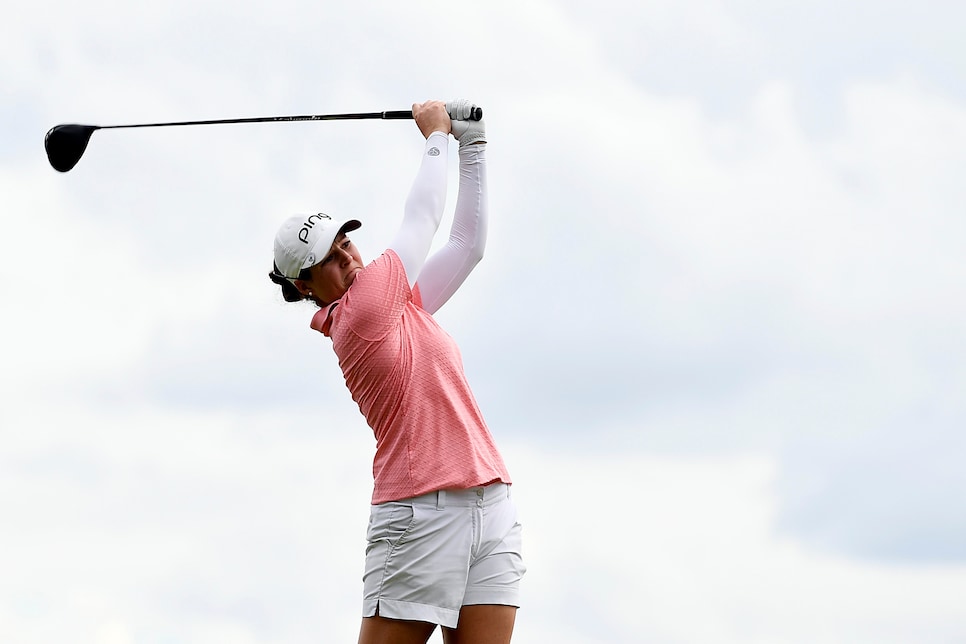 If you're leading an LPGA event, one of the last people you'd want chasing you down would be Danielle Kang, a two-time winner on tour in 2020 and one of the game's fiercest competitors. But that was the position Ally McDonald was in during the final round of the LPGA Drive On Championship at Reynolds Lake Oconee on Sunday. Yet McDonald steeled herself against Kang's charges, shooting a final-round 69 for a 16-under 272 total to grab her first career tour title by one shot.
While McDonald, a former Mississippi State All-American, had played the first few years as a pro in anonymity, working her way up through the Symetra Tour to earn an LPGA card for 2017, she became recognizable in 2019. That's when U.S. Solheim Cup captain Juli Inkster selected her as a last-minute pick to replace an injured Stacy Lewis in Scotland. McDonald came in and immediately tied a Solheim Cup record, winning her first match, a fourball with Angel Yin, 7 and 5, over Anna Nordqvist and Caroline Hedwall.
That would be McDonald's lone point of the match, but the experience proved valuable on Sunday in Georgia against her Solheim Cup teammate, Kang. McDonald said it felt like match play during the back nine on the Great Waters course. McDonald started the day two strokes ahead of Kang and had extended her lead to four through 12 holes. But a Kang birdie and McDonald bogey on the 13th cut the lead back to two, and it certainly started to look like match play.
McDonald said she drew on the pressure-filled Solheim Cup experience and put herself in the match-play mentality where you expect your opponent to make everything. "I knew from the start that Danielle was going to hang in there," McDonald said. "You kind of go to match-play mode and you think absolutely she's going to put the pedal down."
The purpose of that mentality is to prevent yourself from ever being surprised by what your opponent does. If she pulls off a great shot, you're not shaken out of your routine because you were expecting it. The mentality kept McDonald from losing herself as Kang made another birdie at 14 to cut the lead to one.
"I just told myself to calm down and do what I've been doing every single round, and that is just trying to execute my game plan, control what I can," said McDonald, whose lead returned to two shots when Kang bogeyed the 15th hole.
Kang did, however, almost shake McDonald out of that stable state of mind. Kang spun her wedge shot back on the 18th, nearly holing it for eagle on the par-5 home hole, which would have tied her with McDonald. Kang made her birdie putt to close with a four-under 68.
"You can tell yourself all day that you expect the other person to make it, but when they actually get that close you're like, Whoa," McDonald said, her surprise at the shot still apparent as she recalled the moment after the round.
McDonald has the rare gift of being able to savor her win before the next event begins. Due to the cancellation of the Asia swing, the LPGA Tour has three weeks off before its next event. McDonald said she'll be celebrating with family. The celebration begins tonight with birthday cake made by mom, as McDonald's win came on her 28th birthday.