Deja vu
The AIG Women's Open is resembling the runaway at Hoylake, with Ally Ewing playing the role of Brian Harman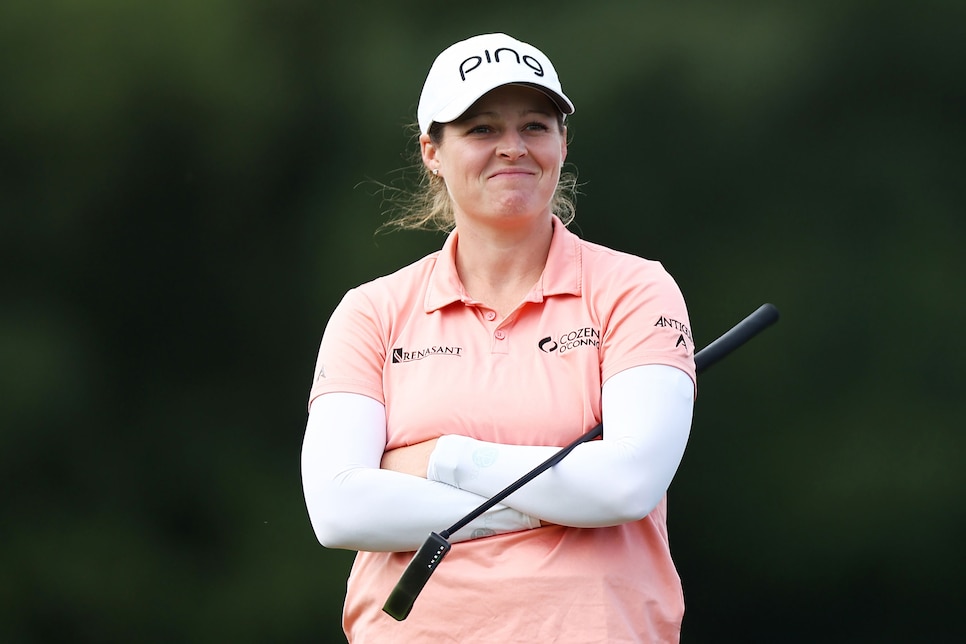 TADWORTH, England — Don't stop reading because you think you've heard this one before. Although you have. Just last month, in fact, when Brian Harman, a proud son of the American south, turned the Open Championship at Royal Liverpool into little more than a one-horse race that for long enough had only one, almost certain conclusion.
Welcome to the AIG Women's Open at Walton Heath, where Mississippi State alum Ally Ewing is 10 under par at the halfway stage and, midway through the second round, as many as five-shots clear of her nearest challengers, compatriot Andrea Lee and Minami Katsu of Japan. So far at least, we're all watching something akin to "Harman II, the sequel."
Four under par overnight and already holding a one-stroke advantage over the rest of the 144-strong field, Ewing wasted little time in stretching her lead. A front-nine 30 was capped by four straight birdies, and two more dips under par on the back-nine par 5s saw her reach 11 under with one hole to play. It was there that her first really wayward tee-shot led to what was her second missed green of the day and her only dropped shot, still good enough for a six-under 66.
"I left myself in good position off the tee for the most part of the day except for 18," said the 30-year-old three-time LPGA winner. "So I was able to hit really good iron shots into the greens and give myself a lot of 'looks.' Not all of them were super-straight. I rolled in some breaking putts. Matching the line and speed is always a confidence boost. It was a very solid day. I didn't really even know until I signed my scorecard that I had four birdies in a row. That stretch from like six to 11 is kind of a blur. I was very in the present on all of those shots."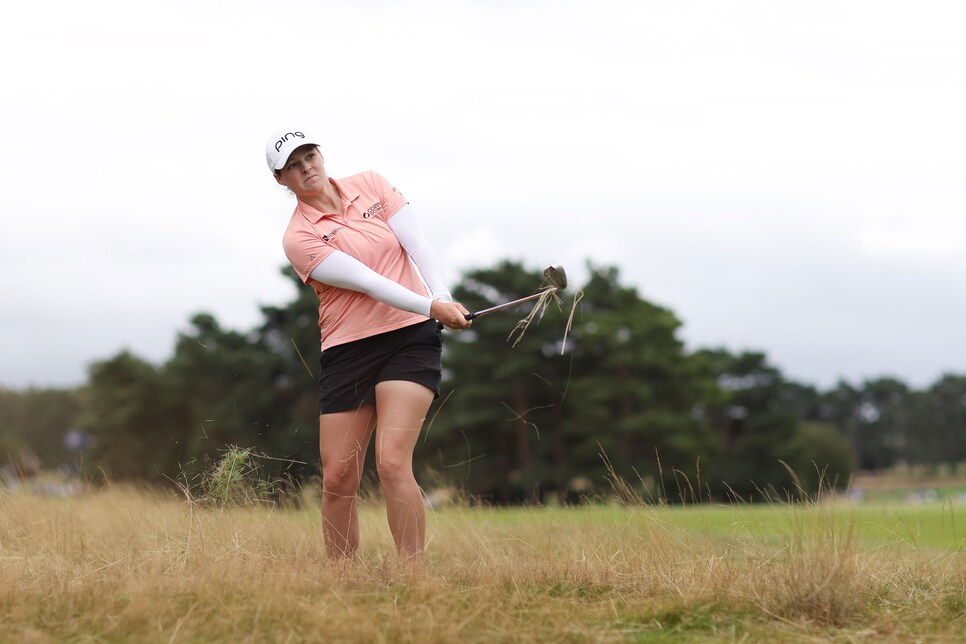 Save for this one lone wayward driving ending up in Walton Heath's heather, Ally Ewing played a meticulous second round, shooting a six-under 66 to reach 10 under and stretch out a five-shot 36-hole lead.
Richard Heathcote/R&A
Still, it is not her fine play that will dominate headlines in the British press. During his run to Open glory, Harman revealed his liking for hunting, specifically pigs, turkeys and elks. So, given Ewing's southern upbringing, it was inevitable that the subject was going to come up. And it did.
"I actually do some hunting," Ewing said. "I know that's probably not going to be interpreted well by the media, but I do, yes. I think people can spin it the wrong way for sure. It's a means to eat for sure. For the most part my family, my husband and I, we do mostly deer hunting. That's most of what we do."
More positively, Ewing was also quizzed on her daily battle with Type 1 diabetes, something she discovered soon after first earning her LPGA card in 2016.
"It's tough," she admitted. "Some days are tougher than others, but it's manageable. The technology has progressed a long way. But it is still something I have to be aware of on a course, not just my golf, which can sometimes be a little distracting. I deal with high blood sugar, low blood sugar. That's why I have to stay on top of it. I can feel pretty loopy. I can feel shaky. It honestly changes every time. Sometimes I feel fatigued all of a sudden. So I keep Gatorade in my golf bag, take six ounces or so and stay on top of my snacks."
As you'd expect, Ewing's fellow competitors were united in their praise of her outstanding performance.
"I looked up at the scoreboard and she was five under through five holes," said Jodi Ewart-Shadoff, who is seven shots back. "And the next time I looked up she was 10 under through 11. I was not expecting that. But props to her. That's an incredible round."
The best response, however, belonged to Angel Yin, who is on three under par after a second-round 69. Asked what course her fellow American was playing, Yin came back with, "not this one."