Courses
Phoenix: This Desert Rose
I still can't believe there's not a single 5-star course in all of greater Phoenix.
There are plenty of 4½-star courses, though, and during three days in golf's winter paradise, I made my way around five of them. Collecting even more stars would have been easy if I hadn't run out of gas (figuratively), a result of my decision to insist on playing every course on foot.
At Troon North in Scottsdale, officials recently took their 18-year-old Monument Course, a Tom Weiskopf and Jay Morrish design that once ranked among America's 100 Greatest, and swapped one of its nines with that of the 12-year-old Pinnacle Course, a Weiskopf-without-Morrish design. The result: a couple of hybrid "Old Tom Morrish" layouts, each with an older nine that's more concave and forgiving and a newer nine routed on far more severe topography.
Teeing off at 8 a.m., I played the Pinnacle 18 with a threesome in carts. Even with me on foot, we finished in less than four hours. After lunch, I played the Monument, paired with a jolly trio -- a Brit, an Aussie and a Kiwi -- who knew computers but not golf, hitting a house off one tee and searching for golf balls in the brush like a rugby scrum. It was amusing at first but soon became tedious. I never saw a marshal and was forced to move things along myself by letting three groups play through us. We barely finished the 18 at dusk, 5½ hours after we started.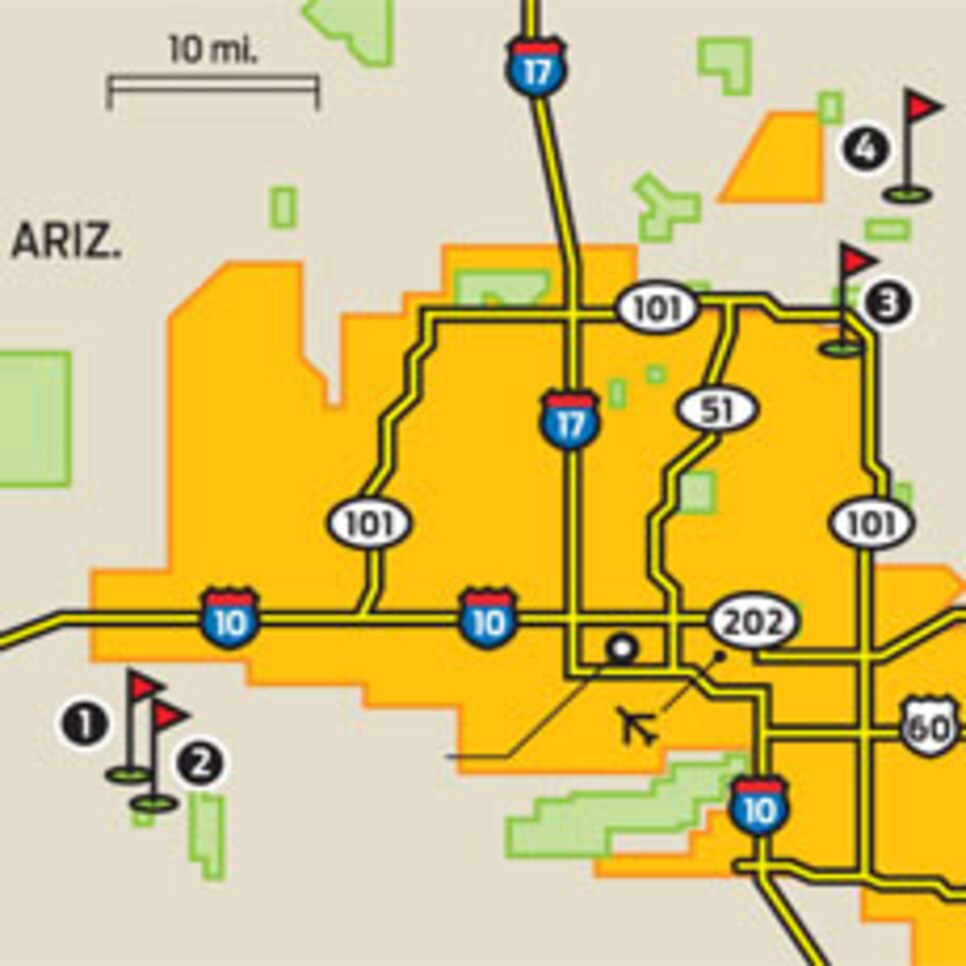 Daylight hours on trip: 31.5
Best Places to Play stars accumulated: 22½
Green fees per star: $44.22
Troon North remains in my mind the first golf destination for any Phoenix tourist. But I'd dock the club half a star because, when it comes to pace of play, it didn't walk the walk.
The next day I hit the Raven Golf Club at Verrado, perched on mountain slopes above the smog line in the far-west suburb of Buckeye. One of the last collaborations of John Fought and Tom Lehman, it's a lovely, playable design with generous fairways and flawless greens. I particularly liked the par-4 second, with an approach over a deep desert hole. I had the earliest possible tee time, and my companions were a threesome of locals, perfect tour guides on the virtues of Mike Huckabee and the abolition of the IRS.
Finishing by noon, I drove a half-hour south to the Golf Club of Estrella, which features a Nicklaus signature. Not Jack, but oldest son, Jackie, though the pencil didn't fall far from the drafting table on this design. Estrella bears all the Nicklaus hallmarks, especially the three risk-reward par 5s with greens guarded by diagonal desert washes. It was surprisingly walkable, with narrow paths from tees to fairways and even a set of rock steps into and out of a steep, deep ravine fronting the par-3 17th green.
My final round was at the Stadium Course at TPC Scottsdale, the longtime tour stop, a Morrish & Weiskopf creation with more topography, faux-desert areas and water in play than I expected. It's by far the most walker-friendly in the Valley, with wide paths from tees to fairways. The Stadium took $291.31 out of my budget, but it was worth it because it included a $100 forecaddie, Pete, who ended up grabbing my bag after two holes.
It was a special kick playing the final four holes seen so often in broadcasts. Just a week after the FBR Open, the towering skyboxes still surrounded the 162-yard 16th. Even without 30,000 booing fans, I managed to bogey the hole. But I rebounded by reaching the green on the par-4 17th from the tee. OK, it was only 254 yards from the tee I played, but still ...
The less said about my finish on the 18th the better, but I will note that it took me three swings (two from gnarly rough) to reach the plaque commemorating J.B. Holmes' 354-yard drive when he won in 2006. It will be replaced by a new one honoring his final drive in this year's win, 359 yards. I think they ought to keep both plaques and add to them like stepping stones as Mr. Holmes comes closer and closer to driving the green on this 438-yard dogleg left over water.
If I could elevate one Phoenix-area course to 5 stars, it would be the TPC's Stadium. I guess I'm a sucker for following in the footsteps of tour pros.