Courses
Myrtle Beach: Strand and Deliver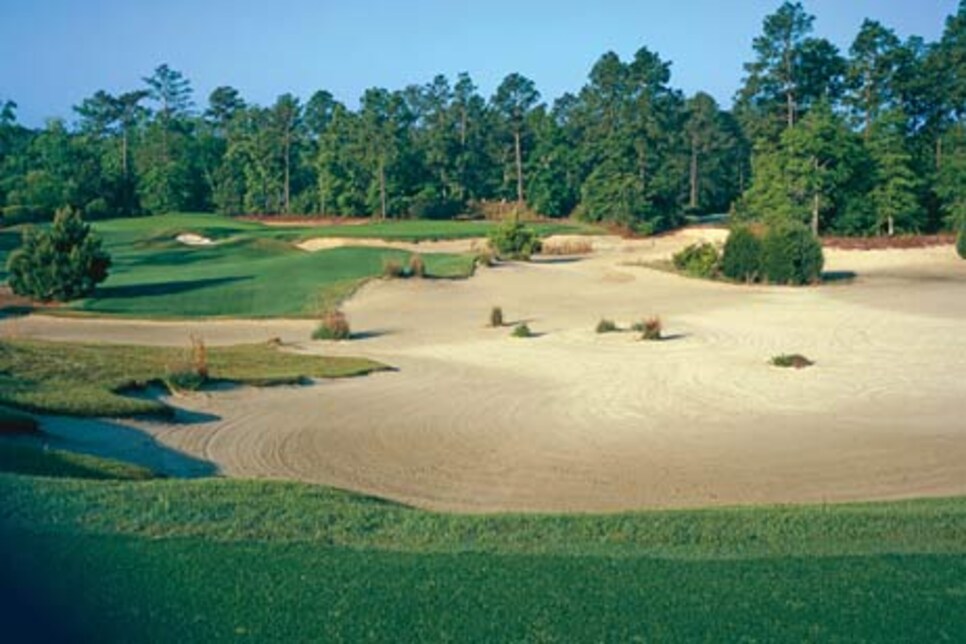 No. 14 at True Blue plantation, where doom is ever lurking
In the 50-mile stretch from Captain Nance's Seafood Restaurant in Calabash, N.C., (get the fried oysters and load up on hush puppies) to Louis's in Pawleys Island, S.C. (the "Blast" sandwich is not to be missed), there are about a hundred golf courses. Odds are you could get lost twice, make an illegal U-turn and still find yourself on the first tee of a four-star golf establishment.
I should know. I found 27½ stars in six rounds in four days, and with a little more daylight, it easily could have been 35 or 36. In Myrtle Beach, it seems every third driveway is a golf course that's on somebody's top-10 list, because, well, it's true. Like the underpromising and overdelivering Little Pigs BBQ on Highway 17, Myrtle Beach gets the main mission right: It's the golf, stupid.
Leaving New York's LaGuardia at 8:30 a.m., we landed in Myrtle Beach by mid morning, and in less than an hour (including the not-even-enough-time-for-a-bathroom-visit wait for bags and the rental car) we were hitting balls on the range at TPC Myrtle Beach. An ex-tournament site (Tom Watson won a Senior Tour Championship there eight years ago), the Tom Fazio design feels and plays like a private club. It doesn't try to do back flips, but you'd better tape up in the locker room because if any part of your game is loose, you'll get bruised.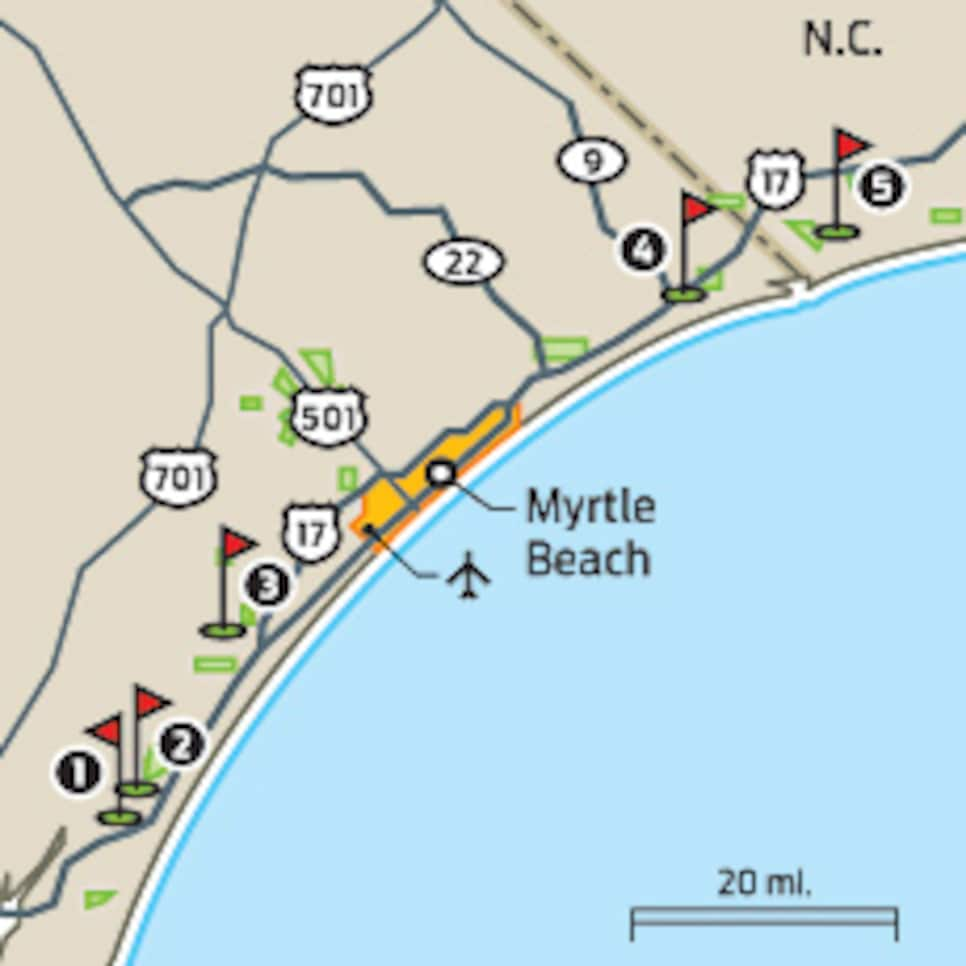 Daylight hours on trip: 40
Miles traveled between courses:__ 173__
Best Places to Play stars accumulated: 27½
Green fees per star:__ $20.21__
The TPC belongs to a group of southern Myrtle Beach courses marketing themselves as the Waccamaw Trail. A little removed from the mini-golf mania and chain-restaurant side of the Grand Strand, the restaurants and bars along the Marsh Walk in Murrells Inlet are worth the stop, especially Bovine's, Drunken Jack's and the Dead Dog Saloon. The pace down here is a little less rock and a little more rocking chair, but the golf might be even more distinctive. Topping the A-list are True Blue Plantation and Caledonia Golf & Fish Club, fraternal twins from the genius of the late Mike Strantz and the first of our back-to-back 36-hole days.
True Blue got an early reputation for being a bear, but some softening has made the layout eminently playable, unless you're incompetent in either your tee selection or your downswing. If True Blue has the overwhelming sense of impending doom of a Cormac McCarthy novel, its sister course, Caledonia, is a bedtime story read by grandma. It is sweet, simple Southern majesty with moss-draped magnolias framing an entrance that is right out of central casting, and though its first two-thirds seem all mint juleps and sweet tea, the home stretch is all Cat-On-a-Hot-Tin-Roof mendacity.
A second 36-hole day (and nine more stars) came at the newish Barefoot Resort, where we opted for the Fazio and Davis Love III entries, only because they were marginally higher rated than the just-as-freakishly-good Greg Norman or Pete Dye options. The Fazio's challenge is a favorite of better players in the area, and the Love has shaved slopes around the greens that quickly turn two-yard misses into 20-yard disasters.
Every golf trip needs a perfect getaway course, not insanely difficult but pretty without being tarted up. Enter Thistle Golf Club, a 27-hole collection from local favorite Tim Cate. With big waste areas, subtle mounds and 22 holes with water in play, Thistle is more exposed to the breezes than it appears, and its low-stress operation and sweet conditioning make it an unexpected bonus.
Fitting, because that's Myrtle Beach: a lot more than it appears. Though green fees have inched up above three digits at the top-tier establishments, Myrtle Beach remains an unquestioned bargain. We could point to the dozens of golf options, the hundreds of food choices or even the fact that you can play a par-3 course at night in a cart. But here's what seals the deal: In a four-day golf trip, the largest one-time expense was the parking charge at LaGuardia. Next time we'll take the shuttle and squeeze in an emergency 4½-star 18.