Courses
Florida: The Sunshine(?) State
The 18th at PGA Golf Club's Dye course, known for its bunkers.
Amid-winter tee time for a single anywhere in Florida usually involves a potluck pairing and much patience with the slow-moving snowbirds. I was prepared to face a double dose of those challenges when attempting to play as many good public courses as possible from West Palm Beach to Port St. Lucie.
To my surprise, pairings and snowbirds were the least of my problems in the Golf Digest star chase.
The plan was to arrive in Palm Beach County early Monday, normally the slowest day even in the busiest golf season, and schedule two rounds at one facility that first day. Because I had an evening-departure flight on the fourth day, I would play two courses near the airport.
I figured the eight 4-plus-star courses would make me tough to beat. I might even squeeze in an extra 18 at one of the PGA of America's multicourse facilities. Never could I have forecast a celebrity outing or an unseasonable tornado warning that would throw me off. Good for the drought-stricken area; not so good for me.
The Palm Beach International Airport is one of the most accessible, with a comparably short wait for baggage and shorter commute to car-rental sites. Even my hotel -- a Courtyard Marriott -- was just five minutes away. Arriving at PGA National Golf Club in Palm Beach Gardens for an 11 a.m. tee time, I was paired with three members of the Executive Women's Golf Association. We played the Squire course, a Tom Fazio design with water in play for the accuracy-challenged on most holes.
The expeditious play enabled me to make a scheduled 3 p.m. tee time on the Champion course, site of the Honda Classic to be played two weeks later. That's when I received the bad news: Jason Taylor of the Miami Dolphins and some of his celebrity friends had tied up the course all day. Maintenance was busy filling in divots, raking bunkers and otherwise keeping me off. I sulked away with only four stars. So much for the great start.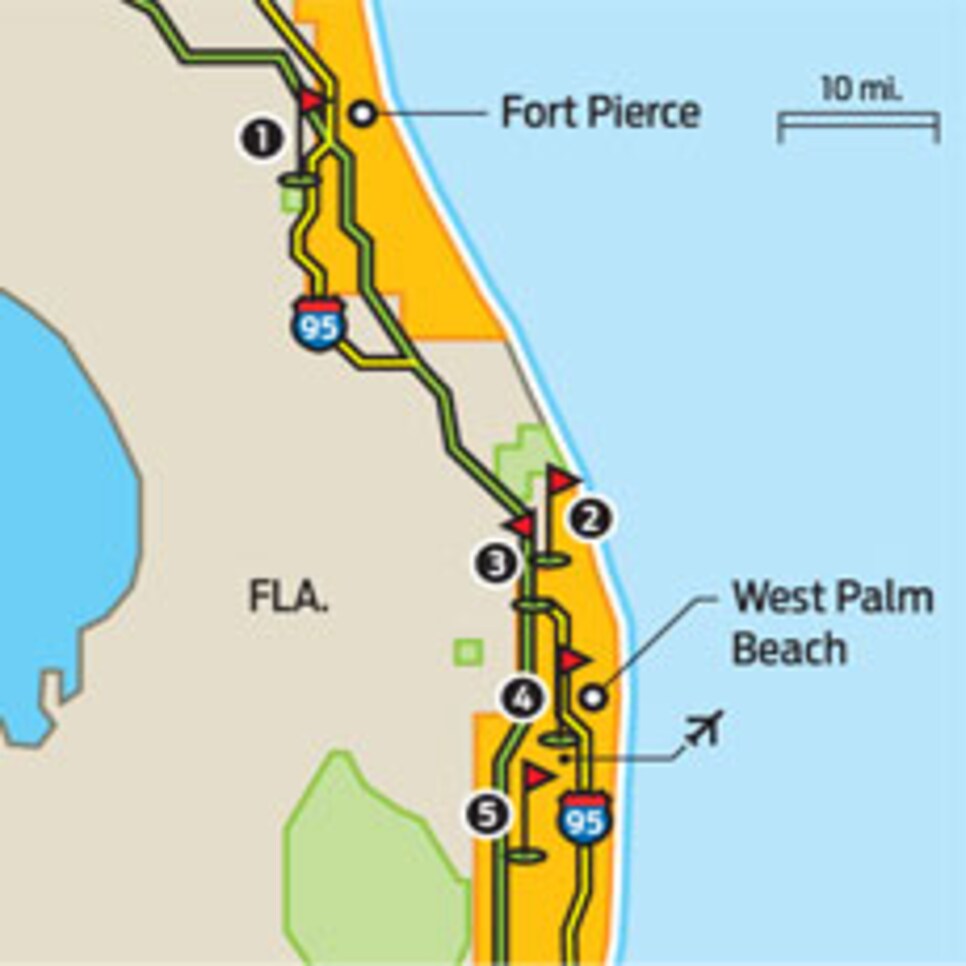 Daylight hours on trip: 44
Best Places to Play stars accumulated: 25½
Green fees per star: $24.90
I took the earliest tee time (7 a.m.) on Tuesday at PGA Golf Club in Port St. Lucie and joined a young lefty named Ryan for a three-hour blitz of the Ryder course, a player-friendly (wide fairways) Fazio design worth 4½ stars. I joined a couple 30 minutes after our round on the Dye layout, a course with distinctive bunkering, including the waste variety where grounding your club is legal and advantageous. Impending thunderstorms and the fact that my rickety body had reached its limit kept me from attempting a third round.
Downpours washed out my scheduled round at the Links at Boynton Beach the next morning and nearly left me starless for Wednesday. Bless the good folks at Okeeheelee Golf Course, who entertained me for nearly four hours as I waited out the lightning-in-the-area alert. Under sunny skies that afternoon I enjoyed 18 of the 27 holes within a county park. The closing holes on the Heron nine, beginning with the 393-yard, dogleg-left seventh, are spectacularly routed around a large lake.
Going against the grain on I-95 enabled me to easily make my 7 a.m. tee time at Abacoa Golf Club in Jupiter. The course, one of Joe Lee's final designs before his death in 2002, was definitely my favorite. Besides 30- to 40-foot elevation changes -- huge by South Florida standards -- it has some very challenging holes. Most of the par 5s are legitimate three-shot holes. The par-4 ninth (449 yards) and 18th (457 yards) are bordered by water hazards that cut back in front of the green -- tough approaches with matches on the line. Abacoa also has some of the most superbly conditioned greens in the area for a public course.
I got a tee time that afternoon at the Links at Boynton Beach, joined three visitors from Ireland -- two of whom regaled me with the exploits of famous Irish golfers -- for a final round worth 4½ stars. At just less than 6,300 yards, the course tests players not with length but with tight fairways and strategically placed hazards. Catch it on a windy day, and you could be in for a very long one.
Despite the heavy on-course traffic, I managed to finish in time to catch an early flight back to Atlanta. It had been a good trip, a welcome escape from the winter chill. As I reflected on the experience, I found myself hoping Taylor's team won the tournament and raised a lot of money for charity. Once a Dolphins fan, always a Dolphins fan -- even if they embarrass me in-season and cost me the star chase.