Courses
Southern Alabama: The Real Deal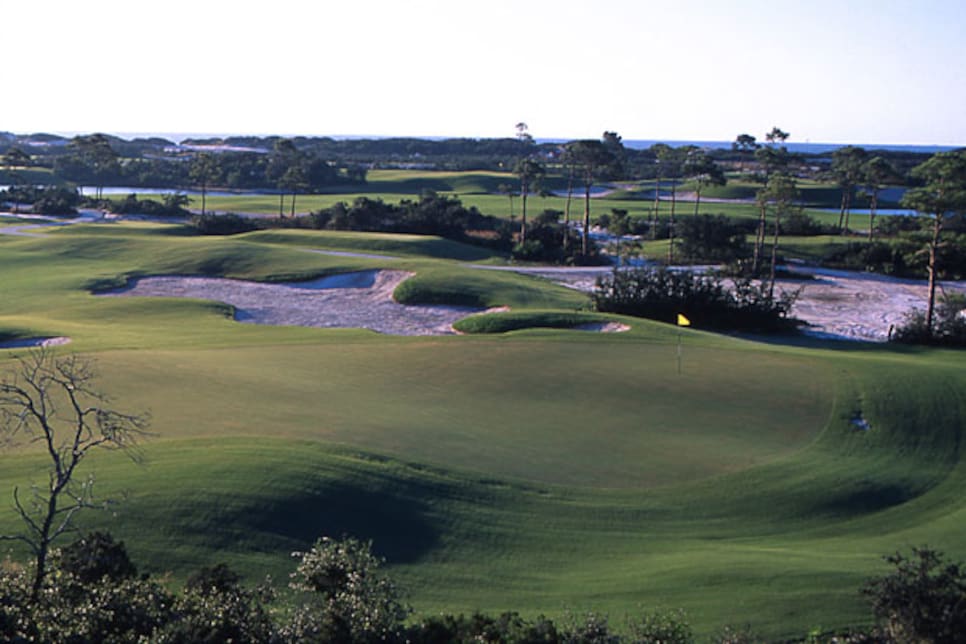 Kiva Dunes is undeniably a special course: natural, gnarly, wind-swept and fraught with danger on every hole.
One of the best things about a golf trip that starts in Mobile and ends in Gulf Shores, Ala., is the variety. You get Mobile's brawny, rough-edged Magnolia Grove, tail end of the Robert Trent Jones Golf Trail, combined with the more coastal, linksy flavor of Gulf Shores' courses. This is no "Groundhog Day" golf trip.
The one constant is value. I played six quality courses, and the average green fee was $72, cart included. Along the way I ran into people paying about half that, thanks to multiplay passes, replay rates and the like.
I arrived in Mobile late on a Saturday afternoon, and within half an hour I was standing on the first tee of Magnolia Grove's Short Course. Popular for emergency rounds and getaway-day matches, the 18-hole par-3 course was also a great warm-up. Far from a pitch-and-putt, it will make you hit tee shots from 190 yards or more over deep, marshy waste areas, and its multilevel greens are much like what you'll find on Magnolia Grove's championship Crossings and Falls courses -- only smaller.
After a night in downtown Mobile's lavishly renovated Battle House (built in 1852, shuttered in the 1970s, reopened last May), I came back to Magnolia Grove and was paired with a trio of guys from Minneapolis on a three-day buddies trip. Among the good advice I gleaned from them: They had cut their airfares nearly in half by flying into Biloxi, Miss., a little more than an hour west, instead of Mobile.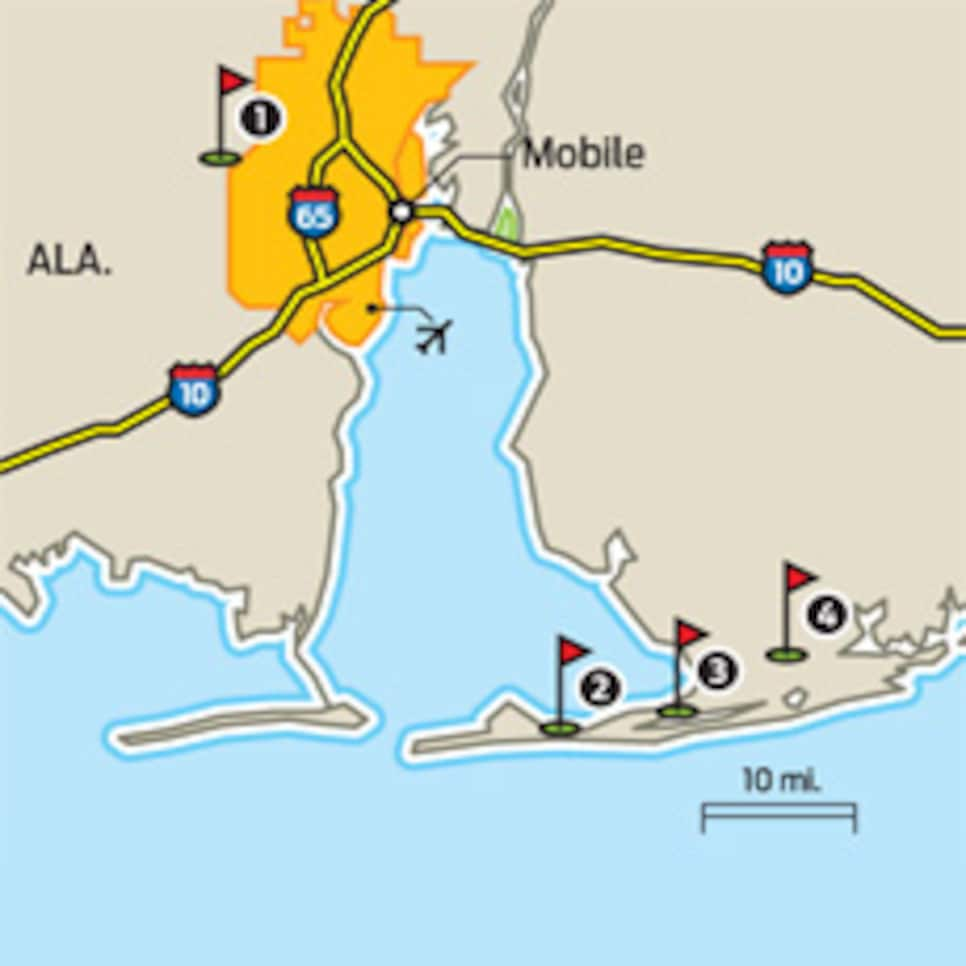 Daylight hours on trip: 36.5
Best Places to Play stars accumulated: 25½
Green fees per star: $17.02
The four of us attacked Crossings and, after the briefest break for a hot dog, rolled back out onto Falls. The consensus was that both were strong, but we preferred Falls, even though the LPGA Tour will play Crossings when it makes a stop in September. Beyond its condition -- which was the better of the two on our visit -- Falls is the more scenic, with several of its middle holes surrounding a reservoir and a pretty, unostentatious waterfall.
Gulf Shores is an hour's drive southeast, and if you can't bear riding that far without hitting a golf ball, you could stop and play a couple of good courses on the way down. Resisting that urge, I made it all the way to the coast for my Monday-morning round at the Peninsula Golf Club. Keeping the customer happy is a top goal here, and Peninsula achieves it with an attentive, well-trained staff and expertly conditioned grounds. Water abounds on its three nines, but it's not overwhelming or often in your face. If you choose the right tees and hit the ball more or less straight, you ought to post a decent score here.
Kiva Dunes was my next stop -- stop being the operative word. On Monday afternoon the course was overcrowded and grinding along at a six-hour pace, apparently a function of travelers using up the last of their multi-round vouchers before heading back north.
Designed by Jerry Pate and once among Golf Digest's list of America's 100 Greatest Public Courses, Kiva Dunes is undeniably a special course: natural, gnarly, wind-swept and fraught with danger on every hole. But if you want to play it, call the golf shop and plead with them to find a time when you won't be locked in by slowpokes.
My final round was at Craft Farms, just minutes from my hotel for the Gulf Shores leg, a Courtyard Marriott, and right around the corner from the area's leading burgers-and-live-music joint, Lulu's. Craft Farms was a pioneer in the local golf scene, opening the first of its two Arnold Palmer-designed courses on a formless turf farm in 1987. Unlike many residential/resort developments from that era, it has matured gracefully -- thanks to considerable and continuing investment from its owners.
The tougher of Craft Farms' two 18s is Cotton Creek, a mounded, more traditional track that wouldn't look out of place in the Northeast. We played the Cypress Bend course, which, despite its wider fairways and gentler topography, features water hazards on nearly every hole. Four days into my mid-winter golf immersion, it was challenge enough.
Instead of driving back up to Mobile, I had taken a local's advice and booked a flight out of Pensacola, an hour to the east. I couldn't help but notice a couple of starred courses along the route. Should I try squeezing in one more nine before taking off? Nah, not enough time. I stopped instead at Flora-Bama, a ramshackle open-air saloon on the state line, and relaxed for a while, gazing out over the sandy beach toward the Gulf of Mexico. Yes, the Gulf of Mexico was right there in front of us. Who knew?