The Loop
Allenby defiantly stands by his account, blames media for the controversy
SCOTTSDALE, Ariz. -- Robert Allenby defiantly stuck to his story on Tuesday while blaming the media for creating and sustaining a controversy from his night on the town in Honolulu on Jan. 16.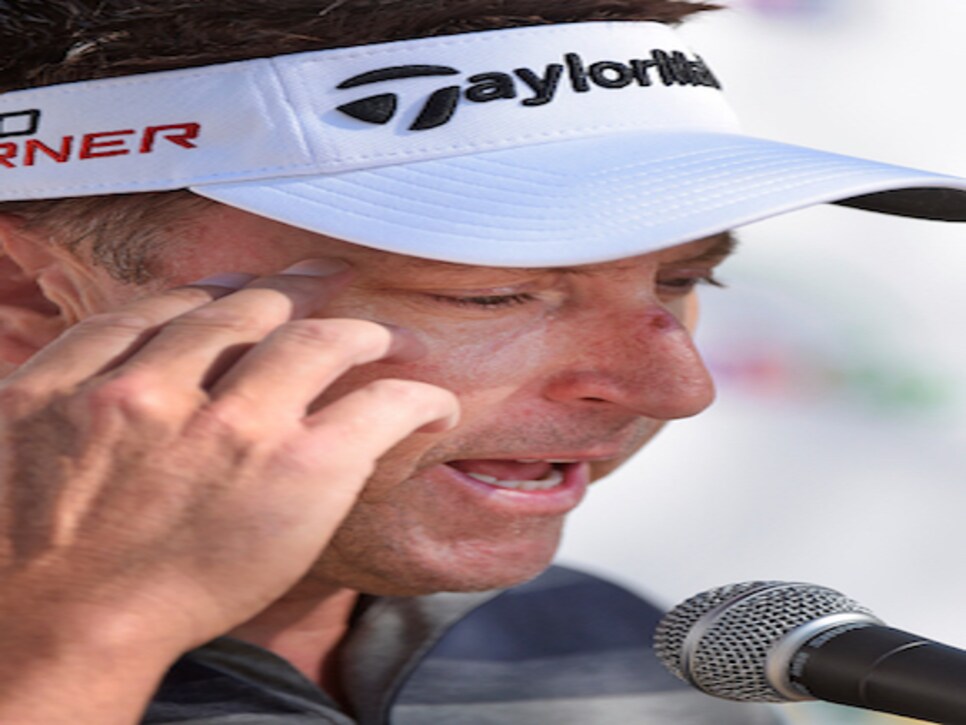 "There has definitely been a lot of confusion," he said, while still showing signs of the cuts and bruises he suffered on the night in question. "But I think the number one thing that you should remember is that my story stays exactly the same as the way I told it. I told you what I knew and what someone told me. That's the bottom line.
"From that, obviously the media have decided that they're the most amazing experts at investigations. There is a reason why detectives in Honolulu are some of the best in the world. I'd really appreciate it if we'd just let them do their job and maybe we could get to the bottom of it."
Allenby's story included a drugging, kidnapping, beating and robbery and that he was left at a park six miles from the wine bar at which he had been drinking. He also has said that he has no recollection of what happened between "about 11:06 [p.m.] to about 1:27 a.m., no memory in my brain. Nothing."
The story doesn't jibe with that has been told by others who have claimed to have witnessed some of it.
"I was in a place having a nice dinner and having a nice night and then I became a victim and now it's all been turned around. I understand the way the media works. I have been around for 25 years as a professional golfer, and I have endured a lot of different comments from the media. But I'm happy to take it on the chin. I'm a strong-willed character. At the end of the day, what's happened has happened. The police will come out with the right story so please, let them do their job. Don't get in the way of them and everything will be great."
Allenby, 43, from Australia, picked a curious place in which to return to competition. The Waste Management Phoenix Open has the largest, most vociferous crowds in golf.
"Mentally I'm preparing myself for probably one of the toughest weeks of my life," he said. "It wasn't an easy decision. But I thought I needed to get my life back on track. I'm a professional golfers and why should I let controversy put me out of the game I love?"
He said he is hitting the ball well and feeling better. "Obviously there's a lot going on in my head. "I'm not expecting a lot from this week, but I'm just expecting myself to overcome this ordeal and just try to move on with my life."