The Loop
All things considered, Tiger's first-round 73 at Memorial was pretty remarkable
DUBLIN, Ohio -- Tiger Woods plays golf like he still owns the world. He sure uses enough of it.
Struggling to find the generous fairways of Muirfield Village G.C., a course he once dominated, Woods posted what could only be classified as a remarkable one-over 73 Thursday in the opening round of the 40th Memorial.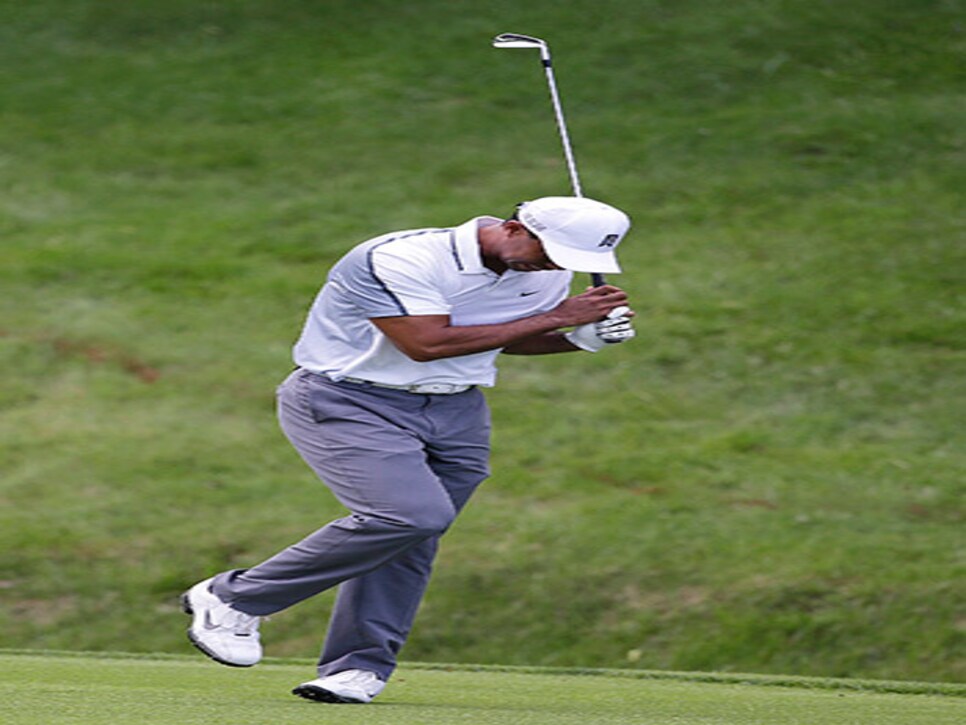 That he shot as low as 73, his third score over par in his last four rounds here, was a testament to his resourcefulness and determination.
"I just grinded, that's all I did. I didn't have much with my game. ... But I fought hard," said Woods, making just his fifth start of the year. "I fought hard to get it back on a golf course like that ... it was pretty good work."
He also received a bit of good fortune. He hit it out of bounds on the 18th, leading to a double bogey, but on at least four other holes he flirted with either OB or a water hazard and played those four holes -- the 17th, first, fifth and seventh -- in even par. Somehow he made five birdies on the day, with three on the inward front nine to offset his opening 40.
Woods admitted he was frustrated, and his reactionary club slam on 18 after pumping his drive into the housing development right of the fairway, bunkers, cart path and fence, illustrated that perfectly. But he also was somewhat pleased with the overall outcome.
"I'm excited about the fact that, one, I stuck with it, I was committed to it, and I turned that round around when it was as bad as it was," he said. "[But I'm] frustrated with the fact that I didn't hit it like I did either yesterday or warming up this morning. And definitely need to go fix that.
"I've gone through phases like this, rounds like this before in the past where, yeah, it's easy to revert back and go ahead and hit some old pattern, but it doesn't do you any good going forward. And I've done it, sometimes it's taken me about a year and then it kicked in and I did pretty good after that. And subsequent years went down the road, I did the same thing. [I've] got to suck it up. If you believe in it, do it. And eventually it will start turning, and when it turns, I've had periods where I've played good for four or five years, where I've won close to 20 tournaments in that stretch."
Not long after finishing his round, Woods, whose last of his 79 PGA Tour wins was 22 months ago, was back on the practice range at Muirfield Village with instructor Chris Como trying to work out the kinks by pounding driver after driver. He was at least 50 yards away from the next closest player on the range. There seemed something proportionally symbolic about that.