All things considered -- Hot List 2012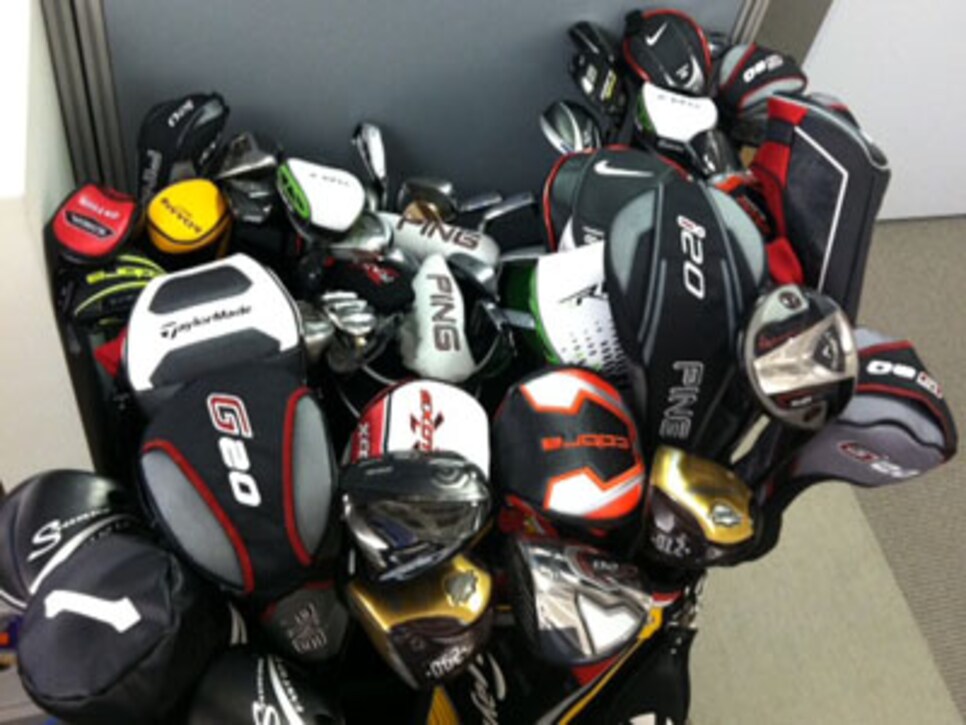 The 2012 Golf Digest Hot List might already be in your hands, or it might be just about to arrive, but one thing that often gets overlooked in our extensive coverage is how exhaustive our process is. One of the biggest misconceptions we fight is that every product that gets submitted to our process makes the list. Hardly. Fact is, the 98 products named to the Hot List this year reflect only about a third of the total number of products we considered in a process that began when companies start nominating clubs in July.
We internally evaluate every product across our four criteria: Performance (45 percent), Innovation (30 percent), Look/Sound/Feel (20 percent) and Demand (5 percent). Those evaluations take place over several stages, culminating in our annual Hot List Summit. We believe only the truly exceptional products made it to our final list of 98 products on the Hot List this year.
Still, to give you an idea of the range of products we considered, here is a list of the 286 clubs we evaluated:
__Drivers__Adams Fast 12 LSBob Burns No Bananas DAT Bob Burns B-2 BomberBoccieri Heavy DriverBridgestone J40 (430/445)Callaway RAZR FitCallaway RAZR X BlackCleveland BlackCleveland Classic Cobra ZL EncoreCobra Long TomCobra AMPDnA Welded Alpha 610Fourteen DT-111 TitaniumHenry-Griffitts Praxis 450Hireko Power Play Caiman X2MacGregor TourneyNicklaus ML 4Nike VR Pro Limited EditionNike VR_SPing G20Ping i20PowerBilt Air Force One DFTaylorMade R11-STaylorMade RocketBallz/RocketBallz TourTitleist 910D2/D3Tour Edge Exotics CB4 TourTour Edge Exotics XCG-5Tour Edge HT Max-DWilson Staff Dxi SuperlightYonex Ezone Type 380Yonex Ezone SD
__Fairway Woods__Adams Fast 12Adams Super Ti/TungBob Burns No Bananas DATBoccieri Heavy FairwayBridgestone J40Callaway RAZR FitCallaway RAZR X BlackCleveland MashieCleveland BlackCobra AMPCobra Long Tom 2 woodCobra Baffler T-RailFourteen SF-511Fourteen VESPO FC-714Fourteen W-422VHireko Power Play Caiman X2Hireko Acer XDS ReactMacGregor TourneyNicklaus RailsoleNike VR Pro Limited EditionNike VR_SPing G20Ping i20PowerBilt Air Force One AF2TaylorMade RocketBallzTaylorMade R11sTitleist 910FTour Edge Exotics XCG-4 TourTour Edge Exotics XCG-5Tour Edge HT Max-DWilson Staff Fybrid RS (Rocker Sole)Yonex Ezone Type STYonex Ezone SD
__Hybrids__Adams a12/a12OSAdams Super Hybrid Adams Idea Pro a12 Bob Burns No Bananas DATBoccieri Heavy HybridBridgestone J40Callaway RAZR X HLCallaway RAZR XCleveland Mashie+Cobra Baffler T-RailCobra AMPFourteen UT-511Hireko Dynacraft Avatar EvolutionMacGregor TourneyNickent 6DXNickent 6DTNicklaus RailsoleNike VR_SOrlimar TriMetal Dri-BrydPing G20Ping i20PowerBilt Air Force One AF2TaylorMade RocketBallzTitleist 910 HTour Edge Exotics  XCG-4 TourTour Edge Exotics XCG-5Tour Edge HT Max-DWilson Staff Fybrid RS Yonex Ezone SDYonex EzoneYonex Ezone Zero Iron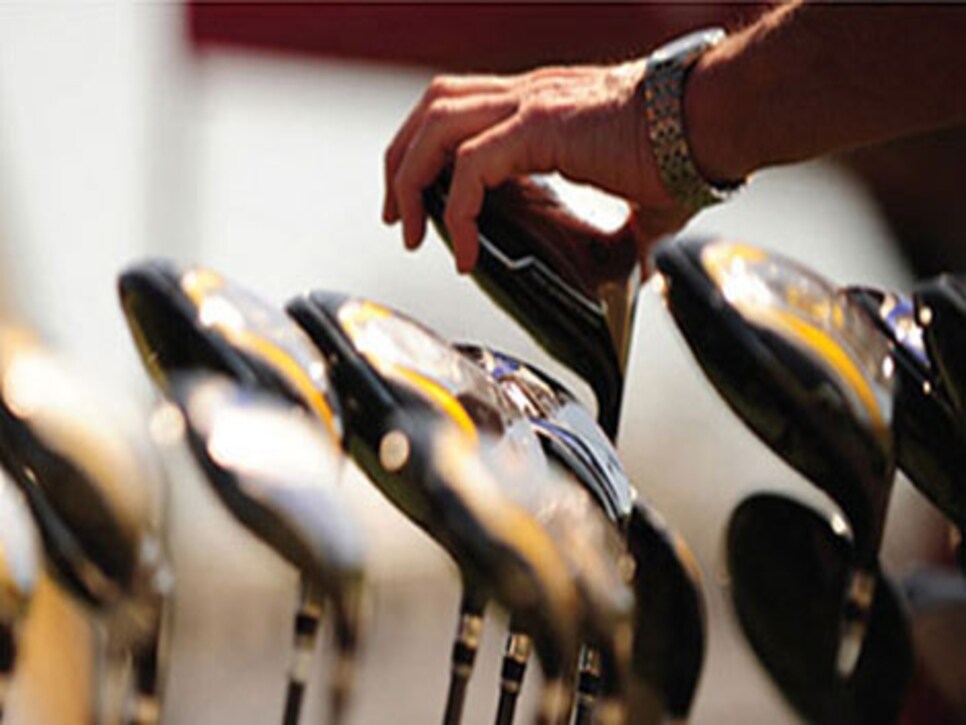 __Game Improvement irons__Adams RedlineCallaway RAZR XCallaway RAZR BlackCleveland CG BlackCobra AMPMacGregor TourneyMizuno JPX-800Mizuno JPX-800 ProNicklaus Polarity 3.0Nike VR_S (Forged)Ping G20PowerBilt Air Force One AF2TaylorMade R11TaylorMade RocketBallzTitleist AP1Tour Edge Exotics XCG-5Tour Edge HT Max-DWilson Staff Ci11Yonex Ezone SD
__Players Irons__Adams Pro a12Adams MB2Bob Burns True ForgedBridgestone J40 Forged Cavity BackBridgestone J40 Forged Dual PocketCallaway RAZR X TourCallaway RAZR X ForgedCallaway RAZR X MBCleveland 588 MBCleveland 588 CBFourteen TC-710Fourteen TC-930Fourteen HI-610h TSFourteen TC-610Henry-Griffitts T12KZG Forged M SeriesMizuno MP-59Mizuno MP-69Mizuno MP-53Nike VR Pro Combo CBNike VR Pro BladesPing i20Ping S56PowerBilt Air Force One Player Series IronSCOR SCOR4161TaylorMade Tour Preferred MBTaylorMade Tour Preferred MCTitleist AP2Titleist CBTour Edge Exotics CG ForgedWhitlam Gauge Design Wilson Staff FG Tour V2Yonex Ezone Forged MB
__Super Game Improvement irons__Adams Idea a12OSBob Burns DAT Hollow CavityCallaway RAZR XFCallaway RAZR X HLCleveland MashieMizuno JPX-800HDNickent 6DX ComboNike VR_S (Cast)Orlimar Tri-Metal ZXPPing K15TaylorMade RocketBallz MaxTour Edge JMAX gold
__Wedges__Adams PuglielliBob Burns Master GrindBoccieri Heavy Wedge TCBridgestone J40 Satin ChromeCallaway ForgedCallaway X Series JawsCleveland 588 ForgedCleveland CG BlackCarnahan VintageCarnahan V-GrooveCarnahan GunmetalCobra Trusty RustyCobra Big Trusty RustyFourteen RM-11Fourteen MT-28 JSPECIVHireko Power Play Raw SpinHireko Acer XSKZG MWC-1MacGregor VIPMizuno MP R-12 SeriesMizuno MP T-11Mizuno JPXNike VR Pro ForgedPing AnserPing Tour-SSCOR SCOR4161Scratch 8620-USA MilledTaylorMade ATVTitleist Vokey SM4Tour Edge Exotics Proto V1.1Tour Edge TGSWhitlam Gauge Design TCG seriesYonex EzoneYonex WS
__Blade Putters__Axis1 EagleBettinardi Studio Stock 11Boccieri Heavy Putter Tour Series Q2-MTByron Morgan Da KineByron Morgan DH 89Cleveland Classic Carnahan BroadwayDogleg RightFlanigan FB1Flanigan FB2Flanigan 343Hireko Dynacraft HindsightHireko Dynacraft SPOTMacGregor ROTA seriesMacGregor ResponseNever Compromise Limited Connoisseur PortofinoNever Compromise Sub30 Type 10Nickent OmenNike Method Core MCOdyssey ProType Tour seriesOdyssey Metal-X Odyssey Flip FaceOrlimar DuoTec DT3Ping Anser MilledPing Scottsdale Ping Karsten 1959Profound SolutionRife Island Series Seemore M Series Seemore Private ReserveSeemore Si Series STX Xform seriesSTX ProFITSunset Beach Ocean IsleSunset Beach MasonboroSunset Beach Calabash
TaylorMade Ghost TourTitleist Cameron CaliforniaTitleist Cameron Select NewportTour Edge Backdraft GT seriesTour Edge T-Balance seriesT.P. Mills Anvil Whitlam DiamondWhitlam The Little DogWilson Staff 888 BLK seriesYes! -GrooveYonex Ezone Full MilledYonex Ezone EZP01
__Mallet Putters__Axis1 UmbraBettinardi BB-35Bob Burns Putt-MarkBob Burns Great DaneBobby Grace AMGBoccieri Heavy Putter Tour Series R3-MTCleveland ClassicDogleg RightGTX Tradition Never Compromise Limited Connoisseur PerfectoNever Compromise Sub30Nickent Omen OP SeriesNike Method Core Nike Method ConceptOdyssey ProType Tour seriesOdyssey Metal-XOdyssey Flip FaceOrlimar DuoTec DT4Ping SydneyPing ScottsdalePowerBilt Air Force One HTSeemore fgpSeemore SB2Seemore M5xSeemore DB4xSeemore Si STX Xform seriesSTX Sync SeriesSunset Beach YauponSunset Beach SurfsideSunset Beach PamlicoSunset Beach Carolina
TaylorMade Ghost Titleist Cameron CaliforniaTour Edge Backdraft GT seriesTour Edge T-Balance seriesT.P. Mills Anvil seriesWhitlam Hummer 3Whitlam Gauge Design M2H Crazy CaliperWhitlam WindowWilson Staff 888 BLK seriesYar Putter GX1-WB Yonex Ezone Full MilledYonex Ezone EZM01