The Loop
If you're searching for the happiest team to advance to the NCAA Championship, here it is
With six NCAA men's regionals decided Saturday -- and 30 schools now set to play in the NCAA Championship that begins Friday at Prairie Dunes C.C. in Hutchinson, Kan. -- there were no shortage of interesting storylines to emerge. Stanford junior Patrick Rodgers won the Eugene Regional by six strokes, securing his sixth win of the 2013-14 season and the 11th of his career, tying him with Tiger Woods for the all-time school mark. As they begin handing out college player-of-the-year awards starting Sunday night with the Ben Hogan Award banquet at Colonial C.C., Rodgers, who is turning pro after the NCAA Championship, would be wise to prepare a few acceptance speeches.
While Rodgers proudly prepares to play at NCAAs this coming week, another All-American who earned a spot to nationals actually turned it down. TCU junior Julien Brun claimed medalist honors at the San Antonio Regional with a 10-under 206 at Briggs Ranch G.C., the ninth individual win of his college career. His team, however, missed out on advancing to nationals by two strokes. After the Regional, Brun, a native of France, announced he was forgoing the berth in the NCAA Championship to instead play in the PGA Tour's Crowne Plaza Invitational at Colonial. Brun earned an exemption into the tour event by winning the Spirit International, an amateur event, last fall. He'll play the tour event as an amateur as well.
Still the development out of Regionals that impresses me most came from a team that finished not first but fifth at the Columbia (Mo.) Regional. Iowa State shot 18-under 270 Saturday at The Club at Old Hawthorne to secure the final spot from the Regional into the NCAA Championship. In the process, the Cyclones will be playing in the NCAA finals for the first time since, wait for it, 1953.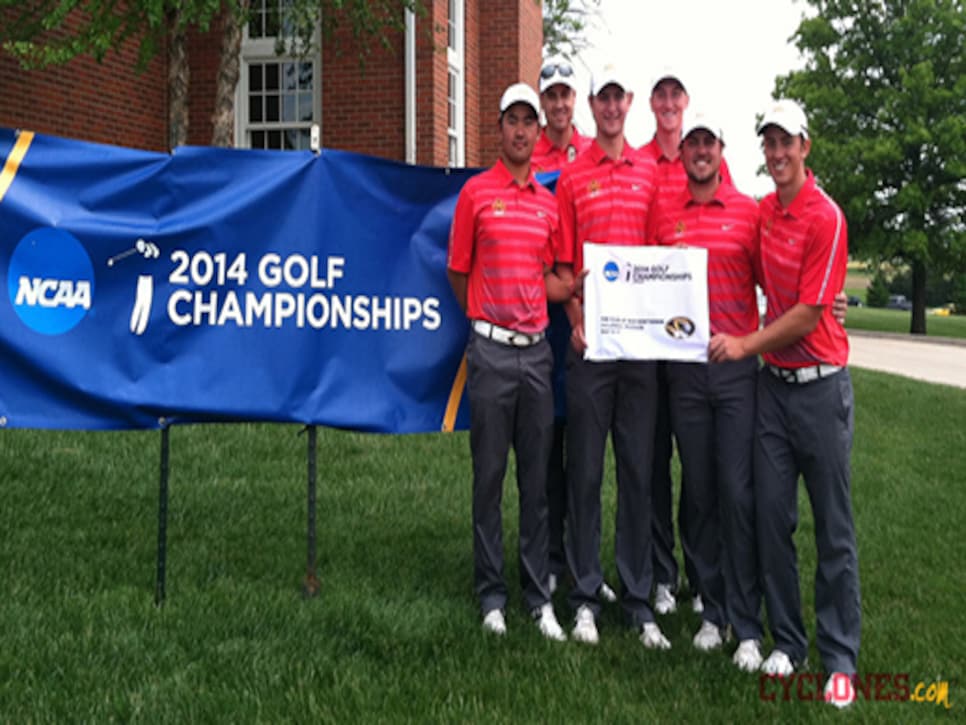 "I'm not sure how to put it into words how happy I am for the guys," said Cyclones coach Andrew Tank. "It's pretty emotional and really special. It's something as a team was our goal at the beginning of the season. We knew we could do it. But, you never know how you react once you actually achieve your goal. It's a great feeling."
By comparison, the school that advanced to Prairie Dunes that had the second-longest period without playing at nationals was Houston, which last earned a spot in 2001.
The NCAA doesn't keep records on this specific statistic, but it is believed that 61 years is the longest time between NCAA Championship in men's golf history and is likely among the longest for any collegiate sport.
A few other tidbits to think about:
Eleven schools qualified to play in both the men's and women's NCAA Championships: Alabama, California, Iowa State, Oklahoma, South Carolina, Stanford, Texas A&M, UCLA, USC, Vanderbilt and Washington.
Photo courtesy of Iowa State