History
How astronaut Alan Shepard brought golf to space 51 years ago with his celebrated 'Moon shot'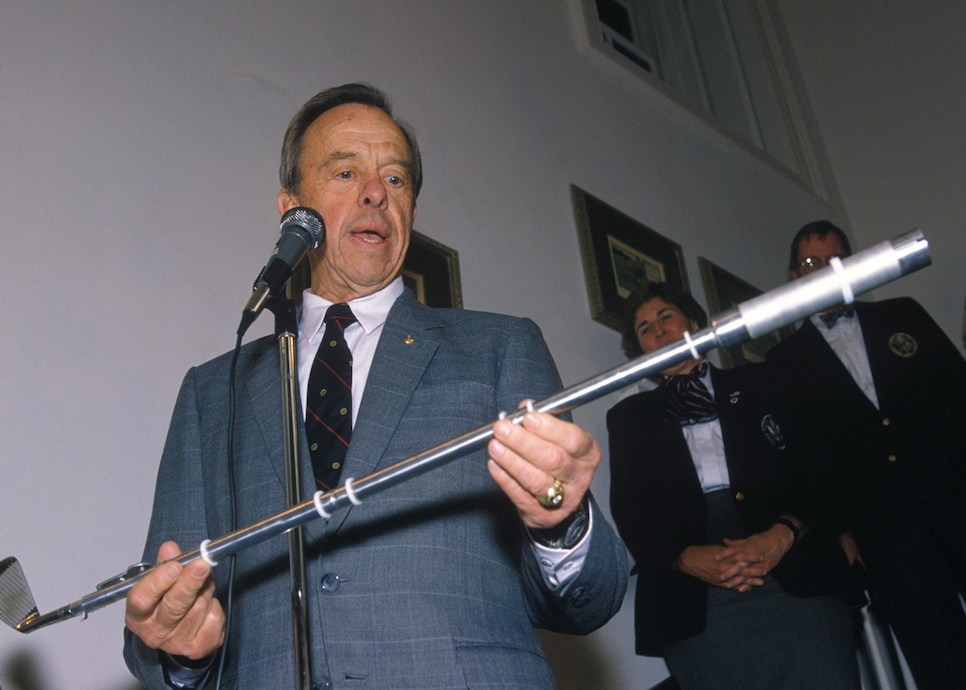 Alan B. Shepard speaks about his Apollo 14 moon shot at a visit to Golf House in 1996.
Robert Walker
Long before Bryson DeChambeau began making a moon shot routine, astronaut Alan Shepard made a moon shot for posterity.
On Feb. 6, 1971, 51 years ago to the day on Sunday, Shepard, the commander of the Apollo 14 mission to the moon, took out "a little white pellet that's familiar to millions of Americans," he said to a television audience watching back on Earth. Two of them, in fact—golf balls he hit from the lunar surface using a makeshift 6-iron he had hidden away in the space capsule.
The cumbersome space suit would not allow him to grip the club with both hands, so he swung it with his right hand only. He made four swings, hitting mostly moon dust with the first two swings, "a shank" with the third, he said, and on the fourth swing he caught the ball flush.
"Miles and miles and miles," he said to the TV audience.
Well, maybe not miles and miles. One mile, perhaps, space historian Robert Pearlman estimated. But the ball reportedly was in the air for more than 30 seconds, exemplifying "the difference between the Earth's and the moon's gravity," Michael Trostel wrote at USGA.org.
That was Shepard's idea, USGA historian Victoria Nenno said, "an experiment to showcase the gravitational differences between the Earth and the moon."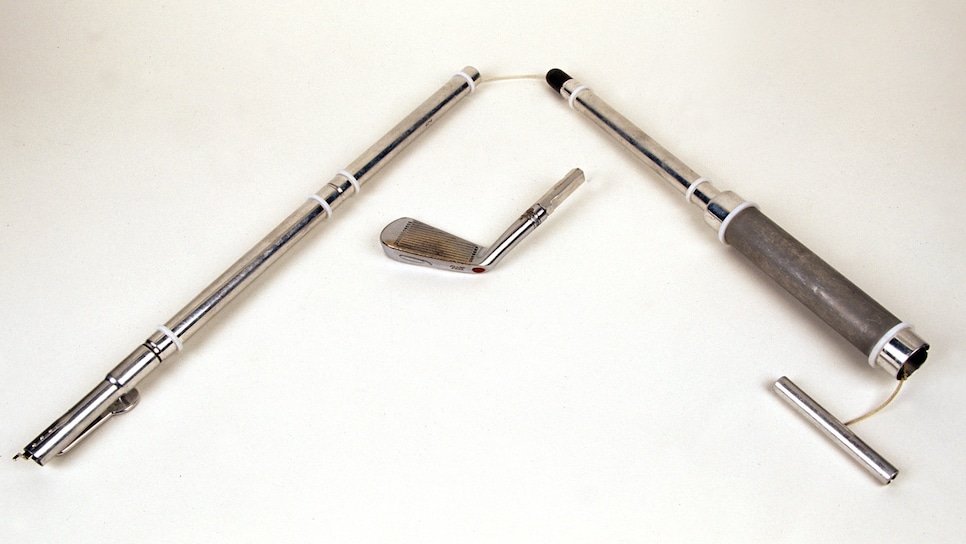 The Moon Club, a specially crafted 6-iron clubhead, weighing 16.5 ounces, that was carried by Alan Shepard onboard the Apollo 14 mission to the moon, as seen at the USGA Golf Museum.
John Mummert
The club featured a clubhead attached to a retractable teflon shaft ordinarily used on a device to collect soil samples.
In advance of his surprise moon shot, Shepard "prepared by taking shots out of bunker at a local course in Houston while in his 200-pound space suit," Nenno said.
Shepard, who died in 1998, donated the club to the USGA at the 1974 U.S. Open at Winged Foot. It is on display in the USGA Golf Museum in Liberty Corner, N.J.
"I would say it is one of the most popular artifacts at the museum, if not the most popular," Nenno said. "It has some tough competition with Calamity Jane [Bobby Jones' putter], [Ben] Hogan's 1-iron or the Mickey Wright collection. But this artifact has such broad appeal, you don't have to be a golf fan to want to see it."