The Loop
Alabama women captures first NCAA title
FRANKLIN, Tenn. (AP) -- Alabama won its first women's golf title Friday, holding off two-time champ Southern California by a stroke on the 72nd hole in the NCAA Division I championship.
Oklahoma's Chirapat Jao-Javanil won the individual title by four strokes, closing with a 2-under 70 to finish at 6-under 282.
The Crimson Tide gave coach Mic Potter his first national title and first for a program in its seventh trip to the national tournament when senior Brooke Pancake rolled in a 4-footer for par on No. 18. It's the third national title this year for Alabama, which also won in football and gymnastics, and sixth for the Southeastern Conference.
Alabama finished at 6-over 294 in the fourth round for a 19-over 1,171 total.
USC trailed Alabama by 14 strokes after 36 holes and by two going into the final round. The national champs in 2003 and 2008 tied the Crimson Tide five times atop the leaderboard and led by five strokes before losing the lead on the back nine. The Trojans shot 293 for a 1,172 total. They were followed by LSU (289-1,173) and Virginia (292-1,175), which lost a six-stroke lead in the first round when Elizabeth Brightwell signed an incorrect scorecard.
Jao-Javanil, ranked 59th by GolfStat and 41st by Golfweek, won the first women's individual title for Oklahoma.
The sophomore from Thailand had won two tournaments earlier this year at the Central District Invitational and the Golf Week Conference Challenge and finished second at the Big 12 Championship as she helped lead Oklahoma to its first league title since 2000. She finished fifth at the West Regional.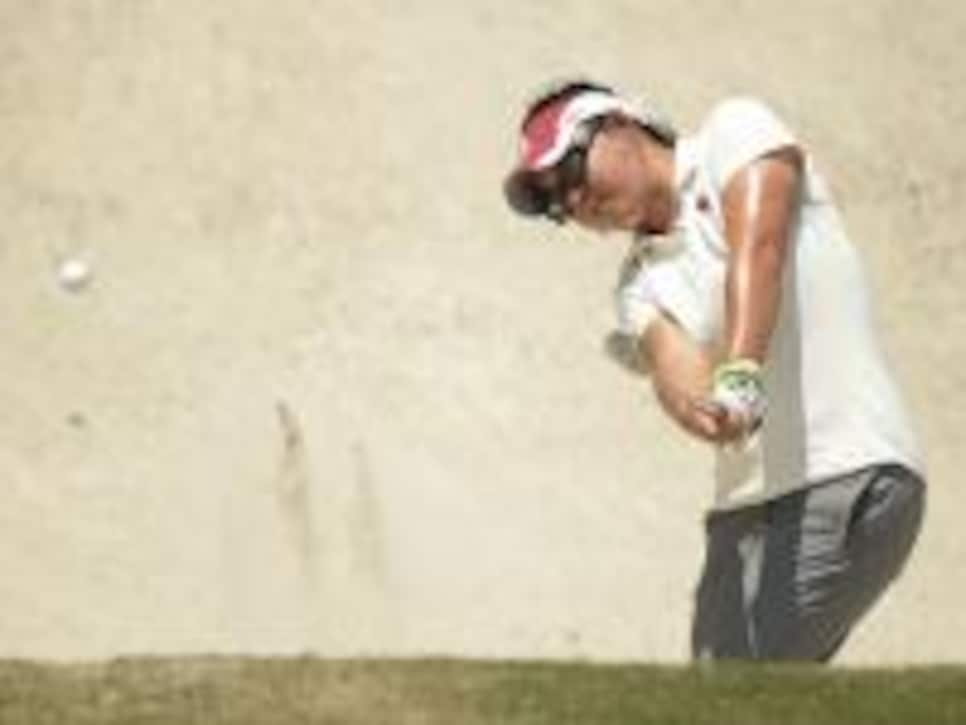 She started the final round tied with Guilia Molinaro of Arizona State and bogeyed No. 18, her ninth hole, to fall into a three-way tie. But Jao-Javanil (left) birdied No. 1 for a one-stroke lead over LSU's Tessa Teachman, while Molinaro bogeyed to fall to 2 under. Jao-Javanil wrapped up the title with a flourish on another tap-in birdie on the par-5 ninth.
Pancake tried to chase down Jao-Javanil and had plenty of holes to do it a pond away from the par-3 course where she first learned to play. But the Alabama senior from Chattanooga bogeyed No. 16 to fall four strokes back with two to play. Pancake shot 73-286. She was followed by__Laura Gonzalez-Escallon__ of Purdue (70) and LSU's  Teachman (74) at 287.
That left Pancake to help the Tide win the team title.
USC had gone up by five strokes reaching 13 over with Alabama at 18 over. The Trojans had three bogeys on the par-3 No. 16 and finished with eight bogeys and one double bogey in the final five holes combined to just come up short after Sophia Popov birdied No. 18.
Alabama had a four-stroke lead when Hannah Collier birdied Nos. 17 and 18. But Jennifer Kirby set up the dramatic finish with a double-bogey on the final hole. Chipping from behind the green, her ball went only a few feet, and her next chip went about 6 feet past the hole before Kirby two-putted. Inah Park then rolled in a 5-footer for birdie, pulling USC within a stroke of Alabama at 20 over.
Pancake laid up on the par-5 18th with her third shot landing in the trees just left of the fairway. Her shot onto the green wound up about 60 feet from the hole, a shot that would have been perfect for the third-round pin. Pancake hit the right side of the cup, and the ball looked like it might go in before going 4 feet past for par. She holed out the par putt to start Alabama's latest celebration.