The Loop
Alabama, Georgia Tech, California headline NCAA men's D-I regional fields
Alabama doesn't have to travel far to begin its NCAA title defense in earnest.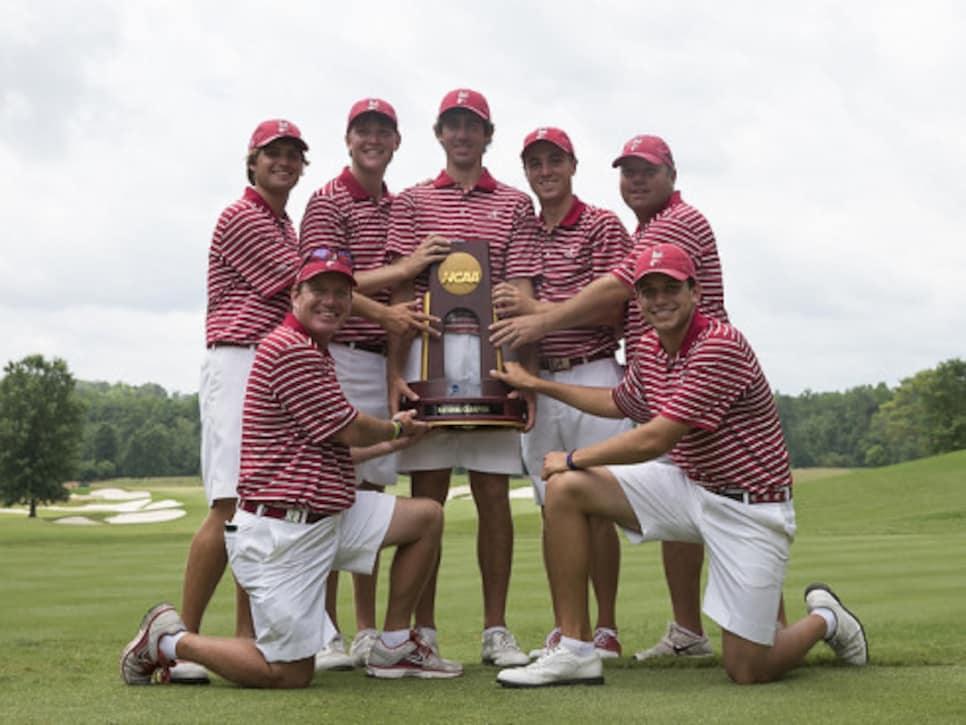 All six Regional tournaments will be held May 15-17 with the low five teams over 54 holes of stroke-play competition and low individual not on one of those teams advancing from each to the NCAA Championship, May 23-28 at Praire Dunes C.C. in Hutchinson, Kan.
The final three days of the NCAA Championship will be televised on the Golf Channel (May 26-28), showcasing the final round of the individual competition and then the three rounds of match play that will be used to determine the team champion.
*Auburn University Club, Auburn, Ala.
Alabama, Virginia Tech, Texas, Auburn, New Mexico, BYU, Kennesaw State, Colorado, Louisville, UNC-Greensboro, UC Davis, Sam Houston State, St. John's (N.Y.), Alabama State
Blake Morris, Mississippi; J.D. Tomlimson, Florida; Jared Bettcher, Troy; Marco Iten, Austin Peay; Theodore Lederhausen, Harvard
__*The Club at Old Hawthorn, Columbia, Mo.
Oklahoma State, Virginia, LSU, Arkansas, Arizona State, Iowa, San Diego State, Missouri, Iowa State, Middle Tennessee State, Ohio State, Denver, Loyola (Md.), Bryant
Pep Angles, Central Arkansas; Matt Mabrey, Tulsa; Logan McCracken, Tulsa; Daniel Wood, Kansas State; Alex Taylor, Fairfield
__*Lonnie Poole G.C., Raleigh
Georgia Tech, Washington, Florida State, Texas A&M, Mercer, Kentucky, Texas Tech, Wake Forest, South Alabama, Memphis, Minnesota, Rice, Bethune-Cookman
__J.T. Poston, Western Carolina; Evan Russell, Hartford; Franco Castro, Charlotte; Brandon Matthews, Temple; Richard Fountain, Davidson; Eric Brady, East Carolina; Andrew Dorn, Coastal Carolina; Ben Wheeler, Coastal Carolina; Sean Bosdosh, Maryland; Zach Seabolt, Winthrop
__*Rich Harvest Farms, Sugar Grove, Ill.
California, Illinois, USC, UAB, UNLV, Clemson, Kent State, Purdue, Mississippi State, CSU-Fullerton, New Mexico State, Jacksonville State, Cleveland State, Saint Peter's
__Niall Platt, Notre Dame; Chris O'Neill, Michigan; Danny Pizetoski, Richmond; Juan Veloza, Towson; Rob van de Vin, IUPUI
__*Eugene C.C., Eugene, Ore.
Stanford, Houston, Oklahoma, South Carolina, Baylor, Liberty, Oregon, Tennessee, North Florida, East Tennessee State, Chattanooga, Wichita State, Northern Colorado
__Cody Blick, San Jose State; Kyle Westmoreland, Air Force; David Fink, Oregon State; Owen Taylor, Sacramento State; Byron Meth, Pacific; Tyler Torano, Loyola Marymount; Cory McElyea, San Francisco; Pete Fernandez, UC Irvine; Alex Franklin, Oregon State; Frederick Wedel, Pepperdine
__*Briggs Ranch G.C., San Antonio
Georgia, UCF, UCLA, Vanderbilt, USF, SMU, Georgia Southern, Georgia State, TCU, Northwestern, College of Charleston, VCU, Columbia
__Eric Oja, Arizona; Grant Forrest, San Diego; Grady Brame, Southeastern Louisiana; Victor Lange, Louisiana Tech; Alex McMahon, Arizona; Preston Stanley, Houston Baptist; Martin Simonsen, UTEP; Stuart Smallwood, Texas State; Peter Kim, Army; Peter Ballo, Sacred Heart