Courses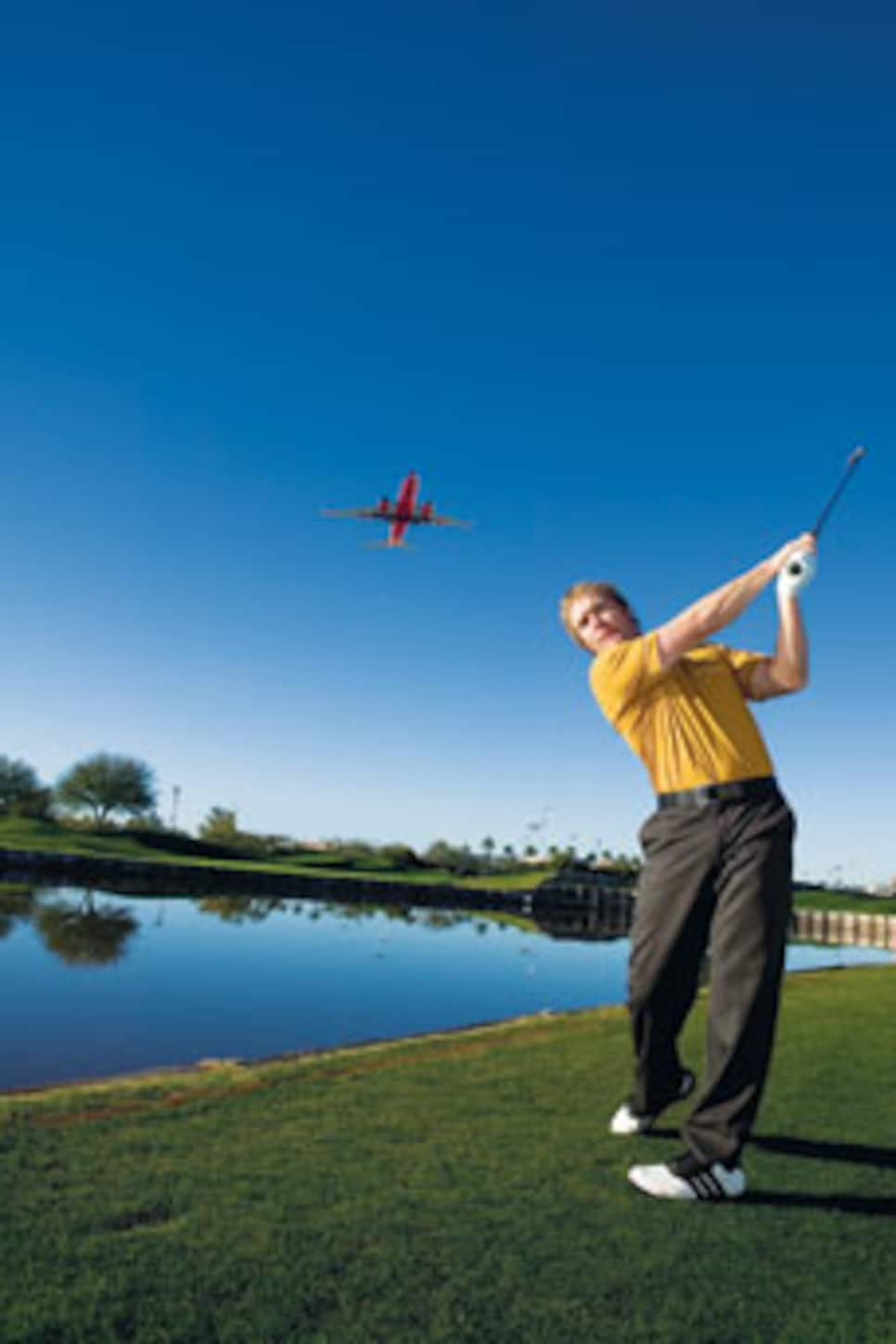 Cleared for takeoff: ASU Karsten's director of instruction, Jeff Ritter.
You've adjusted your seat back, and the tray table is in the upright and locked position. Now there's only one thing left to do as you prepare to land: stare out the window, looking for golf courses.
There's something irresistible about that spy-plane view of fairways and greens. But have you ever done anything about it? Have you ever actually made a little time on either side of a trip to sample the courses near the airport?
We think it's high time you did.
We have identified nine of the busiest airports in the country and—with help from our course-rating panelists, Golf Digest's Best Places to Play guide and local club pros in each market—picked the best public-access courses within 20 miles of each. Whether you're facing a long layover because of "equipment problems" (translation: the pilot overslept) or you're trying to get in a quick round before your flight, here are the courses for you. (Airports are ranked in order of the quality of golf nearby.)
Phoenix Sky Harbor International Airport
ASU Karsten G. Cse. (1125 E. Rio Salado Parkway, Tempe; 480-921-8070; 10-minute drive, five miles from the airport; $75-$89) can be seen from Sky Harbor. Designed by Pete and Perry Dye, the course is a great option on getaway day because there also are several gas stations and restaurants in the area for fueling your car and belly before a flight. The 18th hole, with a lake guarding the left side of a dogleg-left par 4, might look familiar if you've ever played Dye courses such as TPC Sawgrass, PGA West and Blackwolf Run.
Papago G. Cse. (5595 E. Moreland St.; 602-275-8428; 10 minutes, five miles; $17-$34) is a favorite among locals. The muny twists and turns through red-rocked foothills.
The Raven at South Mountain (3636 E. Baseline Road; 602-243-3636; 13 minutes, seven miles; $159).The Legacy G. Resort (6808 S. 32nd St.; 602-305-5550; 11 minutes, six miles; $89-$99).Vistal G.C. (701 E. Thunderbird Trail; 602-305-7755; 19 minutes, nine miles; $24-$109).
AIRPORT CONFIDENTIAL: Sky Harbor once had rental cars on-site, but now everyone is bused to a huge center on the outskirts of the airport. In addition, the security lines here seem to move slower than at other major airports. So give yourself an extra 30 minutes.
Las Vegas McCarron International Airport
REALLY CLOSE BY: Bali Hai G.C. (5160 Las Vegas Blvd. S.; 888-427-6678; seven minutes, four miles; $245-$295; not yet rated) is so close to the runway, you feel as if you need to hit knockdowns to avoid the planes. Caddies are available at Bali Hai, which features 2,500 planted palm trees and brilliant white-sand bunkers. On the downside, it's one of the most expensive courses in the country and too cramped for a driving range.
Vegas National G.C. (1911 E. Desert Inn Road, Henderson; 702-734-1796; 11 minutes, five miles; $125-$150) is cheap compared to Bali Hai, and some say better. But it falls short in terms of conditioning. It gets a lot of play, so call ahead to make sure you can get a time.
IF YOU HAVE A LITTLE EXTRA TIME:
Rio Secco G.C. (2851 Grand Hills Drive, Henderson; 702-777-2400; 16 minutes, 10 miles; $225-$275) is headquarters for Butch Harmon, ranked No. 1 on Golf Digest's list of America's 50 Greatest Teachers. Although expensive, the course is terrific, winding through rocky canyons and desert scrub.
LOOKING FOR A GOOD RANGE? Callaway Golf Center (6730 Las Vegas Blvd S.; 702-896-4100; six minutes, four miles) is a lighted practice facility very close to the airport with a par-3 course, putting greens and driving range.
AIRPORT CONFIDENTIAL: No matter what time of day, it always seems like there are huge lines here. Money talks in Vegas, so drop $10 or $20 on a skycap for quicker service when time gets tight. He'll get you checked in within seconds, yelling "special passenger!"
Dallas/Fort Worth International Airport
Bear Creek G.C. (3500 Bear Creek Court; 972-456-3200; nine minutes, six miles; $50-$65) has 36 holes practically on the runway. If you can handle the noise of jet engines, it's definitely worth your time.
Cowboys G.C. (1600 Fairway Drive, Grapevine; 817-481-7277; 10 minutes, five miles; $140) claims to be the world's first National Football League-themed golf course, but even if you don't care for Jerry Jones, Roger Staubach or Emmitt Smith, you'll love the well-manicured fairways and greens. The layout is visually interesting with tree-lined holes and sizable elevation changes.
Grapevine G. Cse. (3800 Fairway Drive, Grapevine; 817-410-3377; 19 minutes, 13 miles; $23-$27) is a low-cost alternative to Cowboys that's right up the street. Another good value isRiverchase G.C. (700 Riverchase Drive, Coppell; 972-462-8281; 19 minutes, 10 miles; $39-$49). This course might not be as well-conditioned as Cowboys, but its wide fairways will help keep your drives in play and put a smile on your face for the flight home.
AIRPORT CONFIDENTIAL: Find out which terminal you're departing from. There are several, and they are a long way apart. Don't worry about finding a gas station to refill before you return to the airport; there are big ones on-site, three minutes from the rental-car return spots. There are PGA Tour golf shops in terminals A and E.
George Bush Intercontinental (Houston) Airport
REALLY CLOSE BY: Cypresswood G.C. (21602 Cypresswood Drive, Spring; 281-821-6300; 12 minutes, six miles; $36-$50) is a terrific 54-hole facility. There are virtually no homes on-site, and with three 18s, it's easy to get a quick tee time.
The Tradition is the best of the bunch.
Tour 18 Houston (3102 FM 1960 Road E., Humble; 281-540-1818; 16 minutes, eight miles; $35-$89) might look vaguely familiar to you. That's because its holes are replicas of famous designs across the country, including Augusta National (all of Amen Corner), Oakmont, Harbour Town and Pinehurst.
NEW ADDITION: The Rees Jones Cse. at Redstone G.C. (5860 Wilson Road, Humble; 281-459-7820; 10 minutes, three miles; $130-$145; not yet rated) is scheduled to open this summer and will be the site of the 2006 Shell Houston Open on the PGA Tour. Until that course is open for business, the club is allowing public play on its private Jacobsen Hardy Cse. Redstone's great practice facility includes a three-hole course.
AIRPORT CONFIDENTIAL: Nine car-rental companies are on-site, making it easy to get outand back in. If you don't have enough time to leave the airport, be sure to visit In Celebration of Golf, an accessories and gift store in Terminal.
Denver International Airport
Green Valley Ranch G.C. (4900 Himalaya Road; 303-371-3131; 17 minutes, 12 miles; $29-$55) is a well-groomed valley course routed through wetlands just south of the airport. The four-year-old course has a good practice facility featuring Golf Digest Teaching Professional Mike McGetrick. Its location is ideal for avoiding traffic.
Buffalo Run (15700 E. 112th Ave., Commerce City; 303-289-1500; 17 minutes, 12 miles; $25-$40) is a lengthy (7,411 yards) links-style course that is a favorite of big hitters.The flat land is guarded by tall heather, but wind gives the course its best defense.
Fitzsimons G. Cse. (2323 Scranton St., Aurora; 303-364-8125; 25 minutes, 17 miles; $33-$35) is a 6,335-yard parkland golf course once owned by the Army and frequented by President Eisenhower. The course was hit hard by the drought of 2002, but conditions have improved. Also: Murphy Creek G. Cse. (1700 S. Old Tom Morris Road, Aurora; 303-361-7300; 21 minutes, 17 miles; $30-$38; not yet rated) sits atop a plateau in the high prairie east of the city. To the west of every hole is a great view of sprawling Denver and the front range of the Rocky Mountains.
AIRPORT CONFIDENTIAL: DIA is far enough away from the city that getting to nearby courses shouldn't be a problem even during rush hours. An on-site gas station can save you some time refilling a rental car. If your back is sore from the round, check out A Massage Inc. on concourses A or B.
Chicago O'Hare International Airport
White Pines G.C. (500 W. Jefferson St., Bensenville; 630-766-0304; 10 minutes, two miles; $33-$35) is a solid, 36-hole muny southwest of the airport. It's almost always packed, but singles should have no problem getting on at the spur of the moment.
Old Orchard C.C. (700 W. Rand Road, Mount Prospect; 847-255-2025; 22 minutes, 12 miles; $30) has made improvements in conditioning to an already demanding, 6,119-yard, par-70 course. Local golfers describe Old Orchard as the toughest short course in the Chicago area.
Oak Meadows G.C. (900 N. Wood Dale Road, Addison; 630-595-0071; 10 minutes, eight miles; $46-$51) is the former Elmhurst C.C. Built in the 1920s, it was the site of Ben Hogan's 1942 win in the Chicago Open. The county's Forest Preserve bought the property in the 1980s and converted it to a municipal course.
The Glen Club (2901 West Lake Ave., Glenview; 847-724-7272; 22 minutes, 15 miles; $125-$175) is a Tom Fazio course built on a former naval air base. The layout is wide open, but thick rough, undulating fairways and the occasional water hazard make the course challenging and scenic. You can even see the city skyline in the distance.
AIRPORT CONFIDENTIAL: Off-site rental-car facilities can add 15 to 20 minutes to check-in. Security also has cracked down on vehicles entering airport grounds, so taxis don't exactly zip in and out anymore.
Minneapolis-St. Paul International Airport
Hiawatha G. Cse. (4553 Longfellow Ave. S., Minneapolis; 612-724-7715; 13 minutes, six miles; $26-$28) is a respectable muny that will let you get back to the airport in plenty of time.
Braemar G. Cse. (6364 John Harris Drive, Edina; 952-826-6799; 17 minutes, 10 miles; $33-$59) is one of the best munys in the state, so getting a tee time at the last minute might be a challenge. The course is part of a 500-acre park and has 27 holes. There also is a nine-hole executive course and a dome for practicing indoors in crummy weather.
ANOTHER OPTION: Dwan G. Cse. (3301 W. 110th St., Bloomington; 952-563-8702, 17 minutes, 10 miles, $25-$35; not rated) is a par-68, 5,485-yard course. It's not much on conditioning, but locals say it has improved of late.
AIRPORT CONFIDENTIAL: Talk about convenient: The parking is located in the center of this airport's horseshoe design. If you know your gate, you can choose the best exit to take from the garage—a shortcut that will save you several minutes of walking. Locals like to brag about living in the most golf-crazed state, so you should have no trouble getting directions to a course or finding a taxi driver who knows the quickest route.
Hartsfield-Jackson Atlanta International Airport
REALLY CLOSE BY: The nine-hole College Park Municipal G. Cse. (3711 Fairway Drive, College Park; 404-761-0731; five minutes, two miles; $8-$14; not rated) isn't worth bringing a camera. If you need a quick golf fix, it'll do.
BEST CHOICE: Wolf Creek G.C. (3000 Union Road; 404-344-1334; 15 minutes, 10 miles; $49-$65; not yet rated) is great for air travelers because its west-side location avoids Atlanta's infamous city traffic. The course opened in 2002, and the 7,028-yard track is one of the area's best-kept secrets. The parkland design is very challenging, with a 142 Slope from the tips.
BEST VALUE: Lake Spivey G.C. (8255 Clubhouse Way, Jonesboro; 770-471-4653; 27 minutes, 18 miles; $26-$49; not yet rated) has 27 holes that are flanked by tall pines and wind through forests with eight lakes coming into play. Its location south of the airport also makes it ideal for avoiding traffic.
AIRPORT CONFIDENTIAL: This place is huge, but security lines move quickly since there are always plenty of working X-ray machines. Transportation to car-rental facilities is quick, but there are no easily accessible gas stations near the airport.
__John F. Kennedy (New York) International Airport __ CLOSE BY:
Marine Park G. Cse. (2880 Flatbush Ave., Brooklyn; 718-338-7113; 18 minutes, 11 miles; $29-$35) was built in the 1960s by Robert Trent Jones Sr. and is extremely busy because of its proximity to Manhattan. The course is fairly wide open and has views of the New York skyline. It's typically not in top shape, but its condition has improved.
IF YOU HAVE A LITTLE EXTRA TIME:
Lido G.C. (255 Lido Blvd., Lido Beach; 516-889-8181; 30 minutes, 15 miles; $42-$62) is a fun seaside course that is routed through marshland on the south shore of Long Island. It was once a private golf club but went bankrupt during the Great Depression and became a muny in 1948. If you don't often play in windy conditions, you're in for a treat. There are many forced carries over water, and the direction of gusts can change hourly.
AIRPORT CONFIDENTIAL: Will the construction ever stop? Count on a few minutes of detours and extra delays as you wind your way to your terminal.
Course ratings are derived from the exclusive 5-star Golf Digest Places to Play scale. A single star represents "basic golf." Five stars indicates "golf at its absolute best." Golf Digest's Best Places to Play guide, based upon the ratings of tens of thousands of readers, is available for $24.95.
Very good. Tell a friend it's worth getting off the highway to play.
Outstanding. Plan your next vacation around it.
Superb. Golf at its absolute best. Pay any price to play at least once in your life.
The equivalent of one-half star.
If a course has no star rating, it means that the course did not receive a minimum of 10 ballots, either because it is very new or simply was not visited by a sufficient number of Golf Digest readers. If you've played one of these courses and would like to rate it, click here.