AIG Women's Open
Women's Open co-leader Charley Hull doesn't lack confidence. Now the Brit needs a major trophy to go with it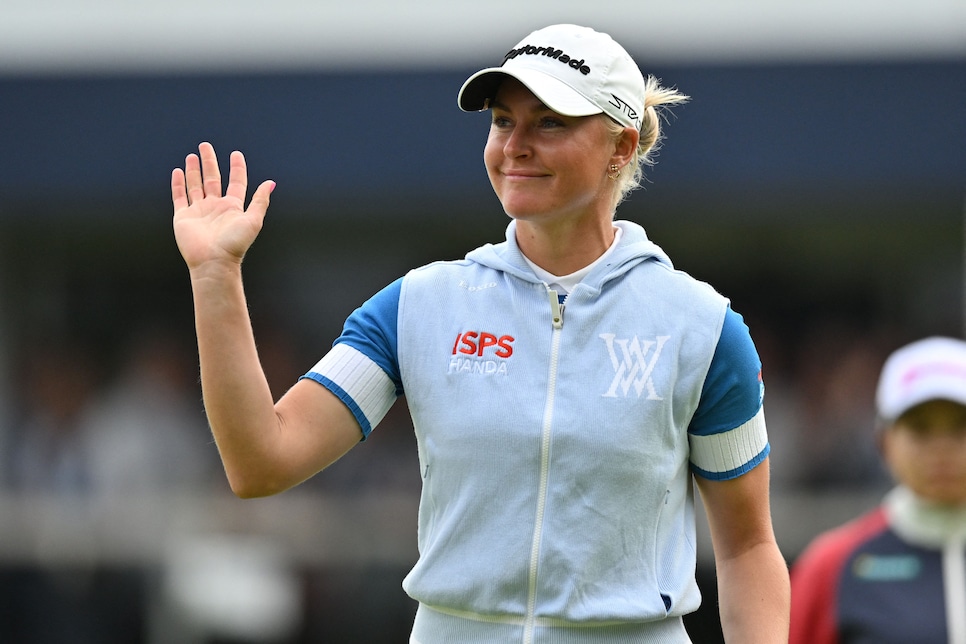 England's Charley Hull smiles leaving the 18th green on Day 3 of the 2023 Women's British Open.
GLYN KIRK
TADWORTH, England — An innate confidence in her own ability is not a character trait Charley Hull has ever lacked. At the age of only 27, the Englishwoman has already achieved much in the professional game. A winner on both sides of the Atlantic, Hull has been a part of five European teams at the Solheim Cup.
Not too shabby. But now Hull has a potentially life-changing opportunity to make another step up by winning a major championship, confirming that inner belief and underlining her undoubted star quality. With 18 holes to play in the AIG Women's Open at Walton Heath, Hull is nine under par and tied for the lead alongside American Lilia Vu, one-shot clear of a chasing pack headed by Angel Yin and Hyo Joo Kim. Halfway leader, Ally Ewing is two shots back after a stumbling 75, with Swede Linn Grant the only other player within four shots of the leaders.
"I'm pretty proud of myself," pronounced Hull, who shot 68. "It was so windy today, but we dug deep. I struck the ball pretty well. I was pretty confident and felt good out there, so can't wait to get back in the bath and just chill tonight. To win tomorrow would be unbelievable. It would be absolutely unbelievable. To do what Georgia [Hall] did in 2018 was unbelievable. To do that again would be unreal."
All of which is not to dismiss the chances of Vu. That would be silly. Unlike Hull, the Californian already knows with absolute certainty that she has the capability to win a major title. While she may have struggled more than a little since, Vu's win at the Chevron Championship confirmed her ability to triumph at the very highest level of the game.
"Today was really about for me just in terms of confidence," she said after signing for a 67. "It's been since Chevron that I actually felt pretty decent about my game and where it's at. So, I'm just going to do the same thing I did today, focusing on tee shots and giving myself a good opportunity for birdies. That and try not to think too much about the wind. Because every time that happens, it just slips away from me."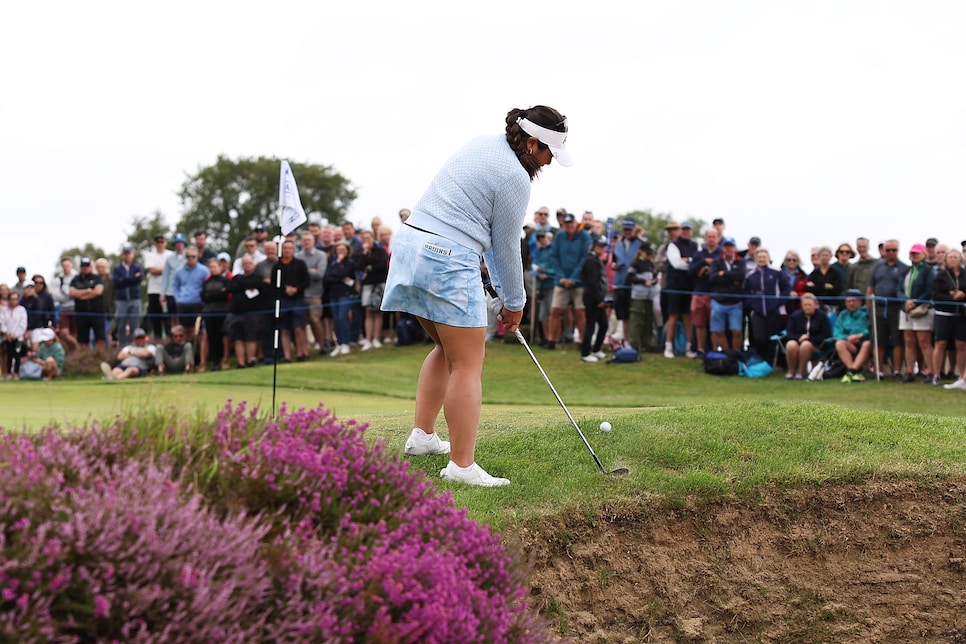 Lilia Vu chips onto the eighth green in the third round.
Richard Heathcote/R&A
In a similar vein, Ewing's first six holes set a negative tone she never quite overcame. Standing on the seventh tee at three over for the day, she had already perpetrated a few of the mistakes that only give encouragement to a chasing pack. Multiple fairways had been missed. And greens. And putts, both long and short. Having made only three bogeys in her first 35 holes, she dropped four shots in the next seven. Suddenly, the sizeable five-shot lead with which she set off was down to a single stroke.
It was all so different from Ewing's last four rounds of competitive golf. The former Mississippi State All-American shot 69-66 on Days 3 and 4 of last week's Scottish Women's Open to finish T-9, before opening 68-66 here to get her substantial advantage with which she began the third round. Given all that, it makes sense that Ewing wasn't writing herself off. Not at all.
"The situation was tough, coming out with pretty windy conditions," she said. "It took me a little bit longer than I would have liked to settle in. The nerves were obviously there but at the same time I was mentally in a good place to know that I was going to be presented with challenges. But I didn't execute shots quite like I wanted to early on, but I fought really hard. I'm teeing it up tomorrow with still a great chance to win this golf tournament."
On the other side of the momentum coin, Yin was making positive noises after tying Vu for the best score of the day. Little wonder. In one eight-hole stretch, the 24-year-old made six birdies.
"I stayed patient and played it safe when I had to," she said. "The wind was a big challenge, so I was very mindful of that and didn't force anything. Then, on the back nine I got a few birdies. I was hoping for a bogey-free round but I had one poor hole."
Grant too was expressing something akin to satisfaction at the conclusion of her day's efforts. The Swede's 68 has her on six-under par and only three shots back.
"Going out this afternoon I said to my caddie, if we can get any shots under par today, that would probably give us a good chance tomorrow," she said. "So, I'm really happy with how I played and what the score turned out to be. It was different out there today. The wind is way more than it was yesterday. As for tomorrow I'm just kind of going to go out like I did today. I have a score in mind without playing too aggressively and being too stupid."