News
Ai Miyazato's emotional farewell to competitive golf 'a great moment'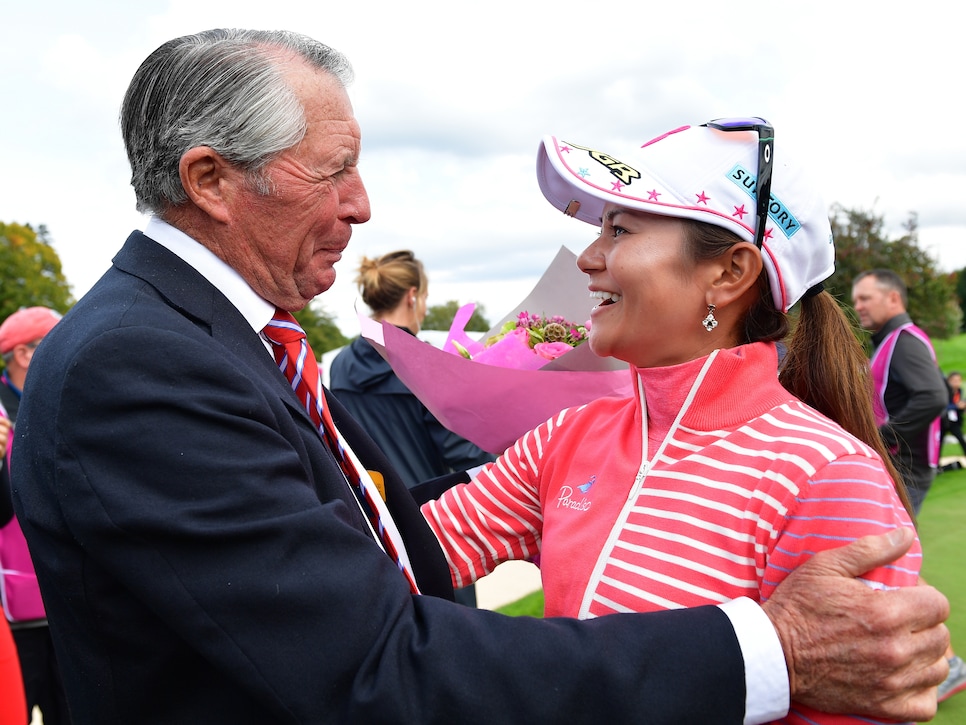 Ai Miyazato, a Japanese legend beloved on the LPGA, played the final round of her stellar career Sunday at the Evian Championship.
Miyazato, who announced in May that she would retire at the end of her season, holed a six-foot putt for par at 18, stepped off the green and was greeted by Gary Player and a rush of fans, friends and media.
"It was a great moment and I'll never forget that I had that feeling by the 18th green," Miyazato said, while holding flowers presented her by Player. "After I made the putt, I felt so much love from everyone. Especially I got a flower from Mr. Gary Player and that was the first time I met him. That means a lot to me."
Players and fans have expressed support for Miyazato throughout the season. At the tournament, players made a farewell video for Miyazato and tweeted messages of support using the hashtag #AiWillMissYou.
"I thought, 'I'm going to cry if I saw all my friends behind the 18th green,' so I tried not to see them because I just want to finish with a par on the last hole," Miyazato said. "The 18th hole is such a good finishing hole and a good, challenging hole. I just wanted to play my best as a player."
Miyazato was tied for eighth with a first-round 68. She followed that with back-to-back 73s over the weekend to finish T32.
She was given the choice of playing partners for the first two rounds. Miyazato selected Yani Tseng and Paula Creamer.
Creamer withdrew midway through the second round after a wrist injury flared. She said she played longer with the pain than she typically would have because she wanted to support her friend.
Miyazato, 32, began her career as a teen phenom in Japan before winning nine times on the LPGA. She also won 15 titles in Japan and became the first Japanese golfer to reach No. 1 in the Rolex Rankings. She was No. 1 for 12 weeks in 2010.
Her last win came in 2012. Her highest finish this season was a T-5 in her last start at the Cambia Portland Classic in August, adding to her career earnings of $8.2 million.
While Miyazato was unable to win a major championship on the LPGA, she did win the Evian Masters twice before the tournament became a major in 2013. She also won two majors on the JLPGA.
Miyazato, who struggled throughout her career to appease the massive media demands and pressure of perfection, hasn't decided what she'll do after retirement. When asked what she was looking forward to most with her new free time, Miyazato responded: "Just having a normal life."