News
It may have taken a little longer than she would have liked, but Japan's Ai Miyazato seems to have located the winning edge that went missing after she left a highly successful career (including 12 wins) on the JLPGA Tour in 2006 and became an LPGA Tour full-timer.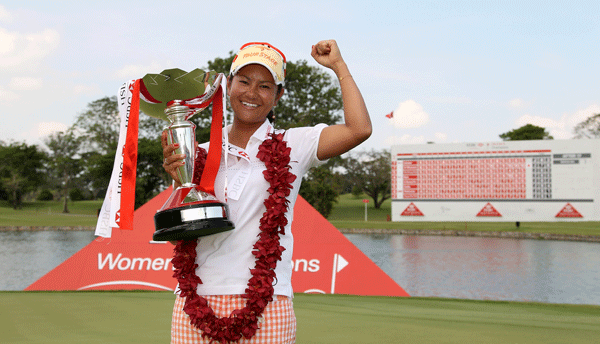 *Ai Miyazato scores her second LPGA Tour victory in a row Sunday in Singapore. *(Photo by Ross Kinnaird, Getty Images)
Miyazato's back-to-back season-opening wins at the Honda PPT LPGA Thailand and the HSBC Women's Champions in Singapore have earned her membership into a rare club of players to accomplish the same thing (how do the names Zaharias, Wright, Suggs and Smith sound?). More than that, they prove that the floodgates have opened for this player who shocked the world with her 12-shot victory at the 2005 LPGA Tour Q-School and then went on to endure a deep sophomore slump that lasted a good three years.
Miyazato is a superstar of J.Lo-like proportions in her home country of Japan, followed by throngs of media and paparazzi wherever she goes, so it was a great relief to both player and country when she finally broke through and won her first LPGA event, the Evian Masters, in 2009. "I did have doubts about myself before the Evian," she admitted Sunday. "And because this tour is at such a high level, you know, I did lose my confidence. But many people have supported me thus far, and I just want to thank them right now for what they have done for me."
Obviously, Miyazato's confidence is back, which promises to make 2010 an interesting season.