The Loop
After stinging comments, Phil Mickelson admits he was 'totally in the wrong'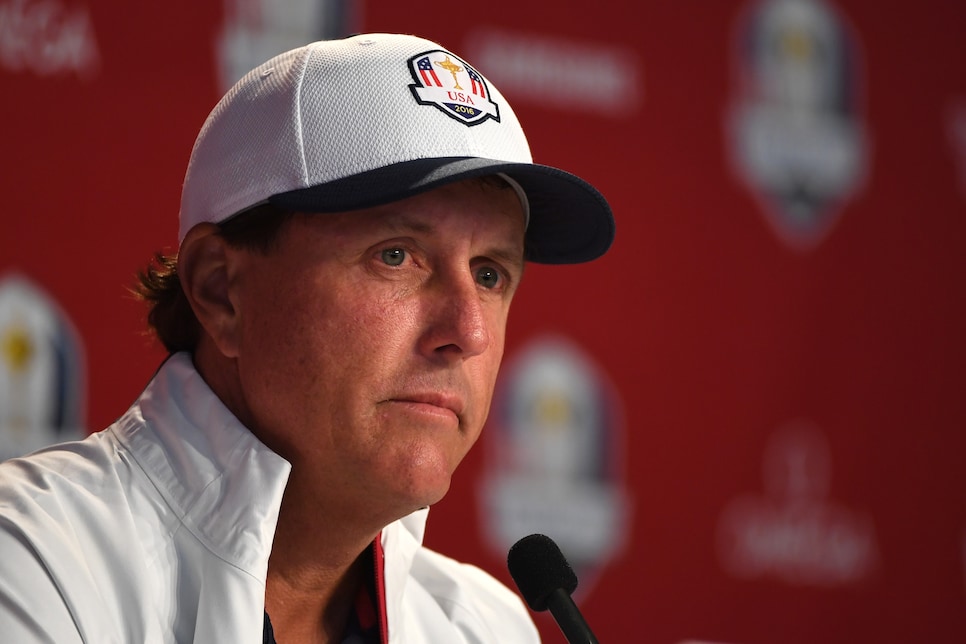 Phil Mickelson's biting takedown of former U.S. Ryder Cup captain Hal Sutton caused enough reverberations through Minnesota on Wednesday that by nightfall, even the left-hander realized he had gone too far.
"I was totally in the wrong," Mickelson told Golf Digest's Tim Rosaforte Wednesday night. "I never should have brought that up. I used an extreme example the way decisions can affect play, and I never should have done that because it affected Hal."
In a press conference earlier in the day, Mickelson cited Sutton's pairing of him with Tiger Woods in 2004 as a prime example of a Ryder Cup captain setting up players to fail. Mickelson said he and Woods played two different types of balls, and when Sutton sprung the pairing on them shortly before the matches began, they weren't given sufficient time to prepare
"That's an example of starting with the captain, that put us in a position to fail, and we failed monumentally, absolutely," Mickelson said.
Reached at Minneapolis Golf Club, where he was attending a past captain's event, Sutton expressed frustration with Mickelson's remarks, and later told PGA of America officials he would be leaving town as a result.
"I mean, my God, somebody's got to be the fall guy," Sutton told Golf Digest's Dave Shedloski. "If it needs to be me, I can do that. If he wants to put the blame on me, then let him do it. If I still need to shoulder the blame for Phil, I'll do that."
Past captains were not invited to a team dinner for players and officials at the University of Minnesota on Wednesday night, but they have been invited into the team room at the golf course and the hotels. A PGA of America official told Rosaforte that Sutton was "hurt" by Mickelson's remarks and was threatening to leave. "We want to be welcoming to the whole family," the official added.
When informed of Sutton's reaction, Mickelson recognized he went too far and texted Sutton to say he was hopeful he would stay in Minnesota.
"I've communicated with him," Mickelson said. "I feel awful. It was never meant to be like that, I was trying to use an example of how a captain can have a strong affect. Unfortunately it came across the way it did. I feel awful and I want him to be out here and be a part of this, so I've communicated with him that I'm sorry and I hope that he stays."