News
After nearly six decades, the PGA Tour returns to Kentucky with move of the Barbasol Championship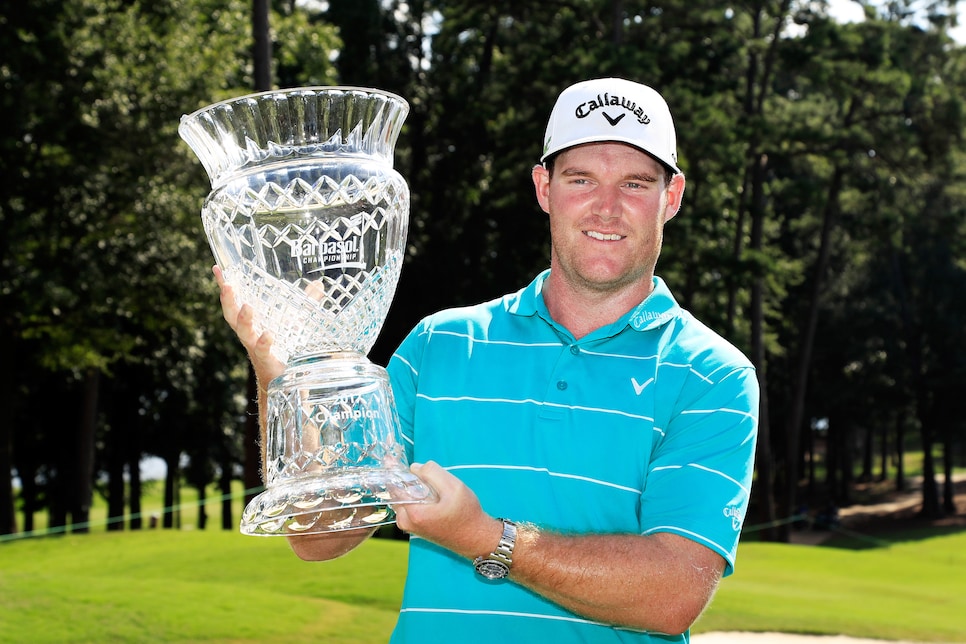 Sam Greenwood/Getty Images
One of the two PGA Tour tournaments without a place to play for the 2017-'18 season has found itself a course to call home. Tour officials announced on Wednesday that the 2018 Barbasol Championship will be played July 19-22 at Keene Trace Golf Club in Nicholasville, Ky., roughly 10 miles from downtown Lexington.
This will be the first regular-season PGA Tour event to be played in Kentucky since the Kentucky Derby Open was held in Louisville from 1957-'59. That tournament had a unique claim to fame: Gary Player won the 1958 edition, his first official PGA Tour win.
More recently, a PGA Tour Champions played a tournament in Lexington from 1983 to 1997.
Andy Pazder, the tour's chief tournaments and competitions officer, said that the our had been "looking for the right opportunity" to return to the area. Kentucky governor Matt Bevin joined Pazder at a press conference introducing Keene Trace as the tournament's new course.
"Being selected as the latest PGA Tour stop is a significant development, and we are excited to showcase the greatness of Kentucky to golf fans from around the world," Bevin said.
In the previous three years of the Barbasol Championship, the tournament had been played at the Robert Trent Jones Golf Trail's Grand National course in Opelika, Ala.
The tournament will once again be played the same week as the Open Championship. It will have a $3.5 millions purse and offer 300 FedEx Cup points to the winner. Grayson Murray claimed the Barbasol title in 2017.
Keene Trace has host a handful prominent events, including the 1993 NCAA Men's Championship and the 1994 USGA Senior Amateur. The course ends with an interesting three-hole closing stretch that includes a drivable par-4 16th, a long par-4 17th and a par-3 18th hole.