The Loop
After grinding his way to the weekend, Jim Furyk etches his name into golf history -- and earns a new nickname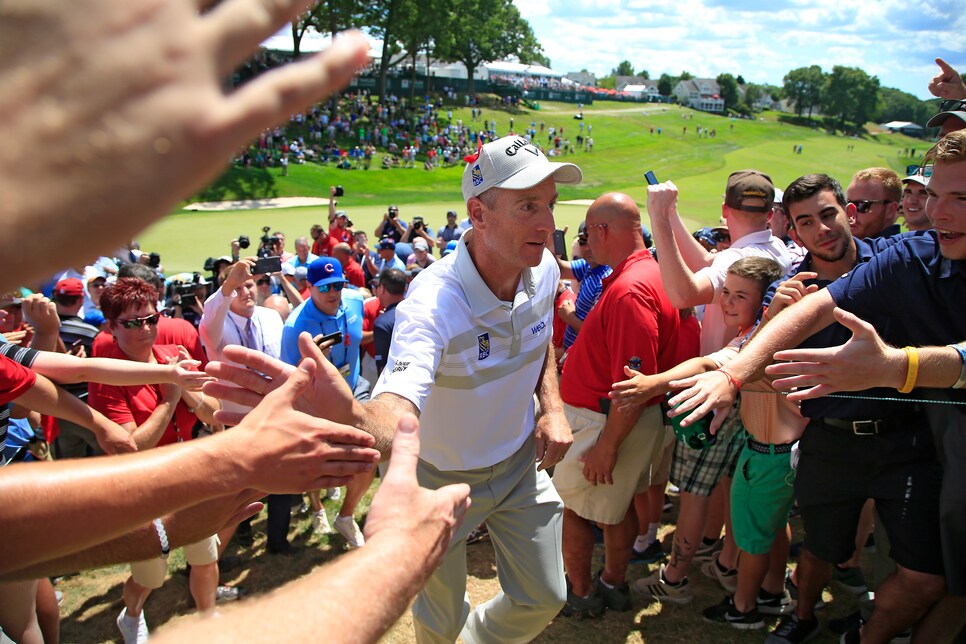 CROMWELL, Conn. -- Jim Furyk was one of the few people on the range on a sticky late Saturday afternoon at TPC River Highlands, grinding on his game and a big bag of balls and not wanting to shoot another over-par round of 72.
The 46-year-old who had played 11 of the last 14 weeks was tired and frustrated and struggling with his swing, having gotten too long and loose after trying to keep up at bomber's paradise Baltusrol a week earlier. His upper and lower body were out of synch, making it difficult to hit the ball consistently or straight. So he did something he has never done and took some videos, texted them to his father/coach Mike, and a day later, with an 8:41 a.m. ET tee time in the third group off was focused on simply playing a solid round of golf on getaway day.
Furyk did a little better than that, becoming the first player in PGA Tour history to shoot 58. His historic final round at the Travelers Championship included 10 birdies and an eagle.
"I'm still a little stunned and a little flabbergasted," said Furyk, who three years ago shot 59 in the second round of the BMW Championship at Conway Farms. He is one of six players on tour to have shot 59 and is now the first with two rounds in the 50s. "You know, wouldn't have been a round that I would have expected coming if you look at -- I played pretty well in Canada but really struggled through the week at the PGA.
"In this game you catch a little tip here, a little tip there, and you make a few good swings, and that momentum can switch pretty quickly. It doesn't ever feel like it, but when it happens, it's a lot of fun."
Furyk hit all 18 greens in regulation and had a putt for birdie on every hole, except for the par-4 third. He didn't need one because he holed out for eagle with a wedge from 135 yards.
Going out in 27 with four straight birdies to close out the front nine, the chase for history began in earnest when Furyk birdied each of the first three holes on the back, where he rolled in putts from 14, 17 and five feet.
The opportunity to break golf's magic number was firmly rooted in his mind on the birdie-friendly venue and Furyk hit a lull with pars over the next three holes, including on a par 5 and a short par 4. But a lack of conversation between the reserved Furyk and playing partner Miguel Angel Carballo allowed for a sharpened focus.
"The mental battle really started after 12," Furyk said. "Now I've got it 11-under par. I've got it in the 50s, and kind of the sky's the limit. So fighting, really trying to stay out of the way, stay aggressive, not get conservative."
It helped, too, that he had been here before. Three years ago on a breezy, chilly Friday outside of Chicago, Furyk etched his name into history with a second-round 59 that was six strokes better than the next-best score.
The conditions were far more pristine Sunday at TPC River Highlands with the sun shining and temperatures in the low 80s, with hardly a whisper of wind. But the feelings stirring inside were the same and so were some of the shots -- both times he holed out from the fairway, had a run of seven straight birdies around the turn including three straight to open the back and in a cruel bit of irony didn't play well enough the rest of the week to win the tournament.
Furyk later said that one of his coolest memories of that 59 was getting a text from Al Geiberger, the first player to reach the number. By the time Furyk emerged from the scoring trailer on Sunday, he had 85 messages and counting, his phone still buzzing in his pocket.
"I had that here-we-go-again turning the front nine," Furyk said. "I remember the mental battle, the grind. Same thing, I kind of got off to a good start on the second side at Conway, as well.
"Had I never shot 59 before, I probably would have been thinking 59, the barrier. . . . Having that experience in the past, and this one mimicked it a lot, it was comforting for me. You don't wake up on Sunday morning with an 8:41 tee time thinking that anything exciting is going to happen. I mean, really on those days the most exciting thing that can happen is the group in front of you plays quick and your flight takes off a little early and you get home is usually what you're looking to do. To get out there and make a bunch of birdies and get the juices flowing and feel like I was in the hunt in a golf tournament was kind of cool."
Playing partner Miguel Angel Carballo through a translator described Furyk as being in a zone and said that after the eagle on No. 3 he thought Furyk was capable of making everything.
Furyk's longtime caddie Fluff Cowan called it a special day. "Pretty flawless," he said. "My job was easy today."
As for Furyk, though, the shot he was most proud of wasn't any of the 58 he took on Sunday. It came two days earlier.
Two strokes outside the cut line he made two birdies on his 15th and 16th holes of the day to get back on the number before staring down a tricky seven-footer for par on his final hole of the day, the par-4 ninth. Knowing he needed to make it to see the weekend he studied it and studied it before finally sinking it.
To anyone who has followed Furyk's career this shouldn't be a surprise. He has 17 wins on tour, including a major, but has always been a grinder, a professional's professional.
Now you can call him something else: Mr. 58.