The Loop
After further review, the USGA got real lucky Dustin Johnson won the U.S. Open by more than one stroke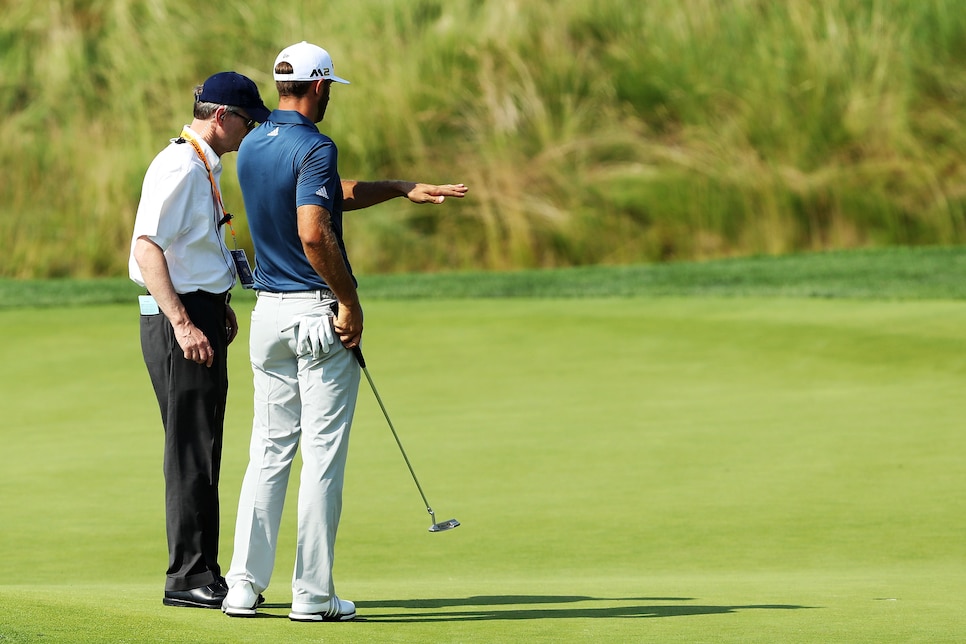 OAKMONT, Pa. -- It was a bad moment for the USGA. But, man, it could have been a million times worse.
Dustin Johnson bailed out the governing body by playing well down the stretch on Sunday at the 116th U.S. Open, and his challengers cooperated by playing poorly. It created a big enough stroke swing that what could have been the toughest rules decision in USGA history basically was of no consequence.
Thank you, Dustin! But some advice for the USGA: Please take a hard look at what almost transpired.
A quick recap. On the fifth hole during the final round at Oakmont Country Club, Johnson ran a seven-foot birdie putt four feet past the cup. As he prepared to hit his second putt, Johnson took some practice strokes besides his ball. As he stepped in to address the putt—but before he grounded the club—Johnson noticed his ball had moved slightly. Quickly, he called in rules official Mark Newell. Johnson told him that the ball moved a bit backward, but he had not addressed his putt by grounding his club. Newell confirmed with Johnson "and you didn't address it?" At that point, with playing partner Lee Westwood confirming Johnson's view, Newell determined that a rule had not been broken. Johnson played on, making his putt.
About the time Johnson reached the ninth hole, however, Jeff Hall, managing director of rules & competitions for the USGA, had video brought to his attention that he said had caused concern. After studying the video and consulting with Thomas Pagel, USGA senior director of Rules of Golf and Amateur Status, the two met Johnson on the 12th tee, where Johnson arrived with a one-stroke lead. They told Johnson that the USGA had reviewed video and that officials needed to talk to Johnson about his being the possible cause of his ball moving on the fifth green.
"We told him he could very well be assessed a one-stroke penalty," Hall said.
Johnson crushed a drive on the 12th hole more than 350 yards. He later said that the rules issue didn't weigh on him as he played on. "I just told myself, we'll worry about it when we get done," said Johnson, who felt he was safe because he had not grounded his club behind the ball. "I didn't think I was going to be penalized. They said they were going to review. There was nothing I could do about it. Just focus on this next shot. I tried to do that from there, all the way to the house. It was just me and the golf course."
But Johnson wasn't as sharp with his shot-making, which had been superb, over the next few holes. With only 210 yards remaining for his second shot on the par-5 12th, he hit a bad push into long rough, from where he didn't get up and down for the birdie he was counting on. On the par-3 13th, he pulled his approach into a bunker, but managed to make a great recovery and saved par. But on the par-4 14th, he three-putted, and the pressure looked like it might be getting to Johnson, just as it seemed to in several other instances throughout his star-crossed major career.
By this time, the other contenders also had been notified of a possible penalty. But Shane Lowry, Sergio Garcia and Scott Piercy began making mistakes, leading to speculation that they had become distracted by the uncertainty over Johnson's possible penalty.
The whole thing didn't sit right with qualified observers. On the Fox broadcast, analysts Paul Azinger and Brad Faxon were both adamant in their view that Johnson had done nothing to cause his ball to move.
Then an influential trio of young stars took to social media, issuing declarations on Twitter that were devastating to the USGA in the court of public opinion.
Soon after, Tiger Woods complimented Johnson for his "strong way to finish overcoming that rules farce."
So let the second-guessing begin.
First, let's give the USGA the benefit of the doubt over a few obvious questions. Like why it took seven holes for the decision to notify Johnson.
Or why it was necessary to second-guess Newell's original decision and let his clearance of Johnson on the fifth green be the end of the matter. Or what good did it do to inform Johnson of the potential problem while he still had such crucial holes to play. This is the one that the players—and Jack Nicklaus, who said, "I told [Johnson] what you did with all that crap thrown at you was pretty good"—questioned the most.
But let's move on to the central issue, Rule 18.2: Ball at Rest Moved, which states that all available evidence should be used to determine whether a player caused his ball to move.
Hall and Pagel had video evidence they felt they could not ignore, regardless of Newell's earlier ruling. Moreover, the current rule revised an old one that stipulated if a player was deemed to have addressed his ball by grounding his club, and if the ball subsequently moved, then a penalty stroke should be assessed. Under the new rule, a player can ground his club and still not be the cause of his ball moving. Instead, the rule now states that officials are to base their decision to assess a penalty on any number of player actions, the standard being whether it is "more likely than not" he or she was the cause of the ball moving.
In Johnson's case, Hall and Pagel determined that by virtue of moving the putter in close proximity to the ball, and the ball moving "almost instantaneously" after he lifted it from practice stroke to begin his address position, it was more likely than not that Johnson had caused his ball to move.
But consider that early in the round on Sunday, there was a question about whether Romain Wattel of France had inadvertently caused his ball to move on the green. According to the USGA, even though Wattel had grounded his putter behind the ball, because the ball did not move for some five seconds after the club was grounded the golfer's actions had not been the cause of the movement.
So here's the problem: It's strictly a judgment call. Very subjective. Subject to human error. Where Hall and Pagel saw a violation, Azinger and Faxon didn't.
Furthermore, the standard of "more likely than not" can be theoretically broken down to as narrow a margin as 51 percent "more likely" to 49 percent "than not." It just seems like too close a call—especially when the player and his playing partner are in agreement that the ball moved on its own—to issue a penalty that can decide a major championship. It's a lower standard than the preponderance of evidence used in civil trials. And much lower than "innocent until proven guilty" standard used in criminal cases.
Dustin Johnson bailed out the governing body by playing well down the stretch on Sunday at the 116th U.S. Open, and his challengers cooperated by playing poorly.
The USGA is to be respected for wanting to get its rulings right and making sure the rules are followed. But it seems that in trying to fix a flawed rule (players were drawing penalties for wind-blown balls moving just because they had grounded their club), the governing body created other potential problems that almost became a living nightmare at Oakmont.
Imagine if Johnson had finished in a tie but ended up losing by one because of the penalty. As he said, "I'm glad it didn't matter. That would have been bad."
The lesson to be learned from the bullet that the USGA dodged on Sunday? Rule 18 needs further fixing, and fast.