News
After digging himself a hole at Quail Hollow, Adam Scott's tour season approaching its end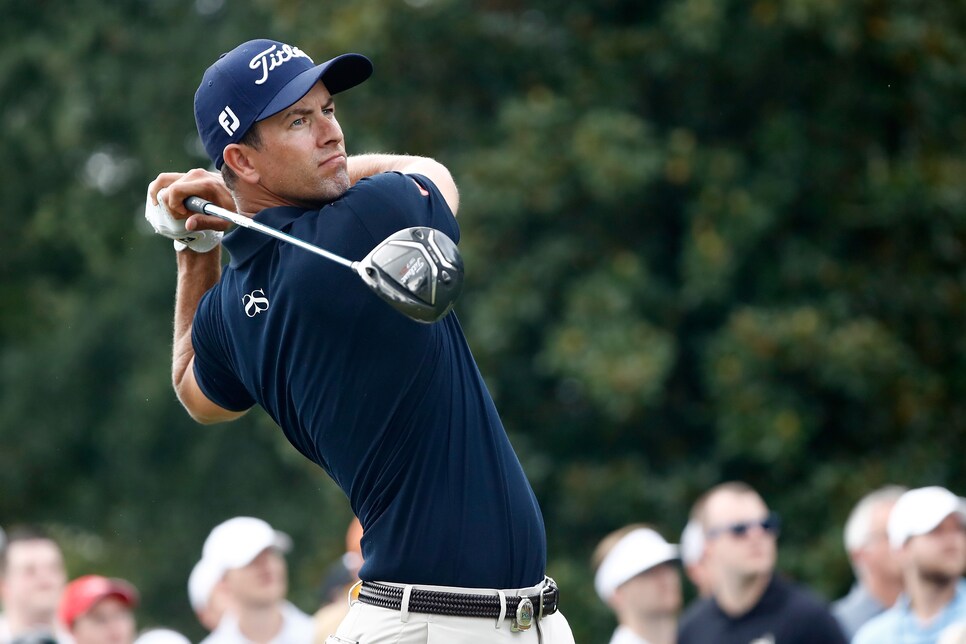 CHARLOTTE -- For the first time since its inception in 2007, Adam Scott won't be a part of the FedEx Cup Playoffs.
The Aussie came into this week's PGA Championship 61st in the points standings, but because he is skipping the first two events to be in Australia with his wife for the birth of the couple's second child he needed a high finish at Quail Hollow. Only the top 70 reach the third leg of the postseason.
Instead, Scott shot 76 Friday to make the cut on the number at five over, 13 shots off the lead. There was still a chance for him to climb the leaderboard, but on Saturday he stumbled to a 74, with two doubles and two bogeys sandwiched around three birdies. With one round to play, Scott has dug himself too big a hole to have a much chance to change his status.
Though Scott had finished in the top 15 in nine of his 14 starts this season prior to this week, he rarely put himself in contention and missed the cut in two of the four majors.
"Consistently average," he said when asked to describe his season. "I feel like there's been good golf out there, but I only play three rounds of good golf and I always play a round where I'm on the back foot."
Scott also admitted that his practice has waned during what has been a busy year off the course with a second child on the way.
"My priorities were shifted this year and my practice changed accordingly," said Scott, who just three years ago reached No. 1 in the Official World Golf Ranking but slipped to 17th entering the PGA. "I'm certainly far from desperation [but] certainly motivations and priorities shift over a 20-year career. Not every time are you going to be able to commit and put everything into it."
At 37 years old, Scott knows the clock is ticking on a career that for all his otherworldly talent -- at least until he gets near the green -- is still stuck on just one career major, at the 2013 Masters.
Not much has gone right at Quail Hollow. Through three rounds, he hit just over half his fairways, 34 of 54 greens in regulation and was a combined neagtive-5.136 in strokes gained-putting when he finished his third round Saturday afternoon and had 92 total putts on the week.
While Scott's season on the Tour is near over, his year isn't.
There's still the Presidents Cup in September and possible stops in Asia and Australia later in the year.
As for the baby, the couple is waiting until it's born to find out if it's a boy or girl. They currently have a two-year-old daughter.
"There's a list [of names]," Scott joked. "I'll probably be vetoing some in the next few days."