The Loop
After all this time, the PGA Merchandise Show might finally be getting it right
The annual PGA Merchandise Show is a Rorschach test.
A salesman manning a perfectly uninhabited booth will assure you it's been a "fabulous" show. A guy who's been to 40 of them will insist they were writing more real business in the 1970s. The PGA of America will report a record of some kind. And someone will write that "technology is the new star" of our sport.
In the end you make your own call.
My read, after attending about 30 of these and spending, I figure, roughly 500 hours in the lobby of the Hyatt (ex Peabody) drinking beer and listening to other people's pitches, is that we may be beginning to get it right.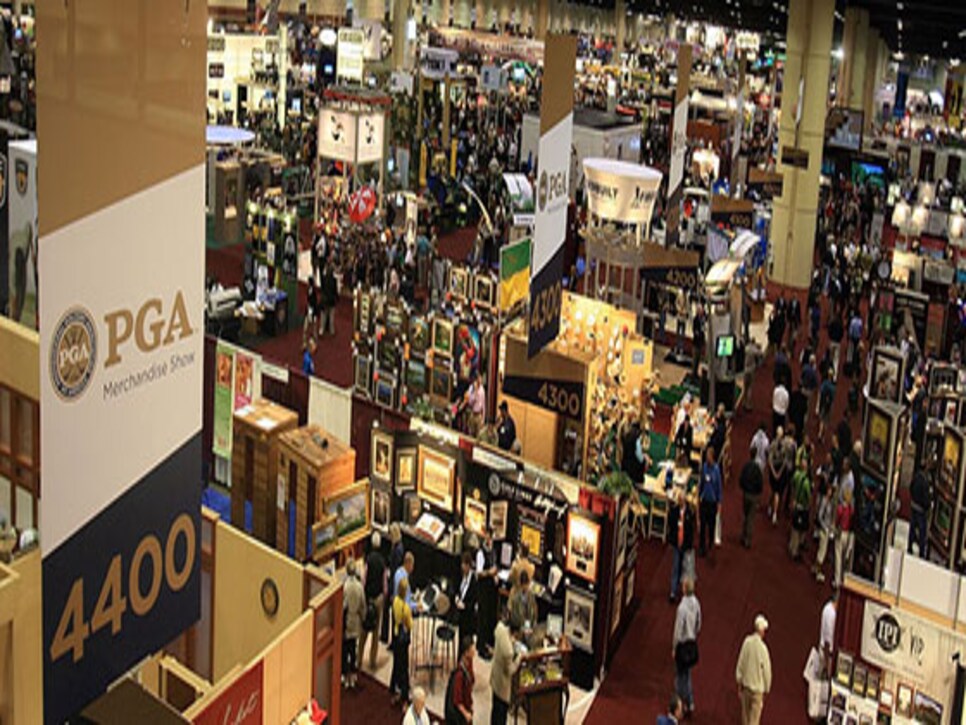 I agree there was some dazzling gadgetry in Orlando last week (devoted, curiously, to measuring the game as much as playing it), but I don't think technology is the story. (And no, I did not miss the fact that there are now soft-compression balls that go really far!)
It sounds odd to say this, but the news for me was we're finally seeing that golf is not a score, a set of clubs, a great resort or even a top-10 teacher. It's an experience. Some of us are coming to that Starbucks realization that having coffee may not be about the coffee.
In a variety of ways this show underscored that rule: Unless your product or service improves a golfer's experience (not simply his or her score or gear) then you're not making progress. It's the dimples on the customer that count, not the ones on the golf ball.
All of this brilliance dawned on me during an educational seminar in which Lynn Marriott and Pia Nilsson, two of my favorite teachers, were telling 100 PGA professionals that on-course teaching -- not simply range lessons -- is key to student's improvement. Why? Because it addresses a golfer's social and emotional lives as well as her physical or technical ones. "These aren't mental or physical skills," Marriott said. "They're human being skills." Golf being an amalgam of mental, physical, technical, social and emotional experiences. Not earth shattering, you say, but when I saw that spelled out on a whiteboard, I thought: Well, hey, that goes for the whole sport.
With what golf has been through the past decade -- participation decline, course closings, private clubs going public, too many product introductions, etc. -- we're beginning to view the game and its promotion holistically, which is a good thing.
So as I walked the aisles, staring like Hermann Rorschach's mental patients at my inkblots, I kept having this same realization.
I saw it in the dozens of cool shoes at the show. This might have been called the National Cool, Comfortable Golf Shoe Show. FootJoy has come around. Puma has arrived. Even Callaway had cool shoes. Biion had its comfortable new version of the classics, and so on. Golf shoes are now sneakers or slippers. Call it the Ecco echo, but golf shoe technology has made, um, giant strides, all in the cause of making the sport comfortable.
I heard it when I ran into Ron Whitten, our architecture editor, as we talked about the new list of America's 100 Greatest Golf Courses, some of which exhibited at the show. Our conversation quickly turned to playability and all the things architects were now saying about making courses more "fun" and less "great tests of golf."
I was reminded of it when I stopped to see the folks at Private Club Marketing and Preferred Golf, which books golf trips for American Express elite cardholders, making sure that golf experiences are memorable, not just exclusive or expensive.
It was also apparent when I got news of Topgolf's latest success, the opening of the new Tampa facility, where it's said TG is doing hundreds of thousands of dollars a day. Or news that SNAG, the colorful kids golf orientation program, was expanding.
And I had it all reinforced when I ran into Meg O'Donnell Kelly, a terrific teacher and assistant pro at Brooklawn C.C. in Fairfield, Conn. Meg reported on a kind of Topgolf experience at staid old Brooklawn. At the end of the year, she and the staff invited the tennis players and golfers and non-golfers to play a few holes and have drinks and dinner down at the tennis house. I think she called it a "Funfest." It sold out. Then it oversold. Then they had to stop taking entries.
But what about all that technology? Isn't that the furthest thing from the experience of the game itself. Maybe not.
It occurred to me that the greatest experience on earth is driving to a golf course to meet a tee time, donut and coffee by one's side. Whether your game ever lives up to the in-car fantasy, well, you still have that drive. Wandering among the amazing technological devices that help golfers measure the speed, direction, launch angle and face angle of every swing, or to keep track of every drive, chip and up-and-in, not to mention penalty shot and three-putt, I realized that for a new generation of golfers, digital stat-keeping is like that drive to course. It's the donut that comes with the coffee.  Which is all part of the game.