The Loop
After a miserable showing, Tiger Woods now has nothing but time
JOHNS CREEK, Ga. - The statistics this time didn't lie.
Forget tracking fairways and greens. The pertinent numbers for Tiger Woods in the 93rd PGA Championship were these: he found 22 bunkers, 11 off the tee and 11 greenside, and he was in four water hazards. He made five double bogeys.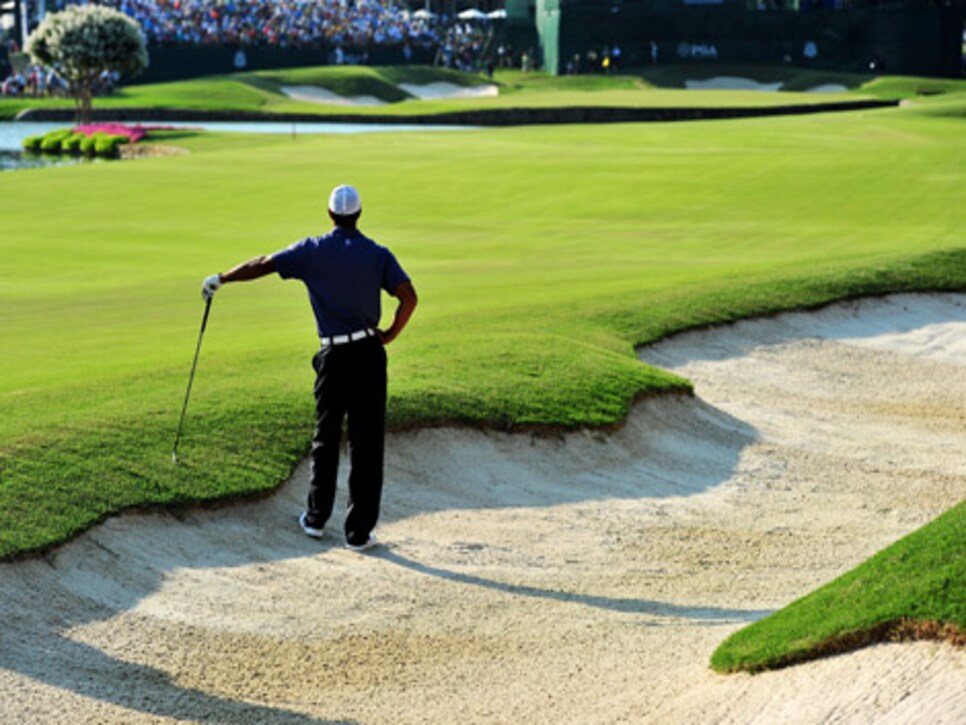 *Woods has much to work on, and plenty of time to work on it. Photo by Getty Images
That was the recipe of despair and frustration for the former No. 1 player in the world, whose second-round 73 at Atlanta AC sent him home early for the first time ever in the year's final major. Woods, a four-time PGA champion, ended up at 10-over 150, by far his worst showing not only in this tournament but in any major since he turned professional in 1996. He finished six shots off the cut and 15 shots behind 36-hole leaders Jason Dufner and Keegan Bradley.
__([Related: Our favorite "Tigerisms")
](http://www.golfdigest.com/golf-tours-news/2011-08/photos-tiger-sayings)__
"I think it's a step back in the sense that I didn't make the cut, and I'm not contending in the tournament," said Woods, who missed the cut for only the seventh time in his 260 pro starts on the PGA Tour. "But it's a giant leap forward in the fact that I played two straight weeks, healthy. That's great for our practice sessions coming up.  We are going to be now able to work and get after it.  So something, unfortunately, I haven't been able to do, and I thought I could come in here and play the last couple of weeks and get it done somehow, but I need some work."
That's been evident after these last two weeks, Woods' first in competition since May 12 since he withdrew from The Players after nine holes because of knee and Achilles injuries. He was a middling T-37 at last week's WGC-Bridgestone Invitational, followed by his work at the Highlands course at AAC, where he still struggled with his driver and didn't make enough putts to offset the wildness.
Woods appeared as if he might make a run at sticking around for his 14th PGA weekend when he birdied the eighth and ninth holes to return his scorecard to even for the day after an opening 77. But then came consecutive double bogeys at the 11th and 12th, the latter after hooking his tee shot and his third into the trees and having to punch out after each.
"I showed signs that I can hit the ball exactly how I know I can. And, unfortunately, I just didn't do it enough times," Woods, 35, said in completing his worst major championship season with a T-4 at the Masters, two no-shows and now this unsavory PGA.
By missing the cut, Woods will not qualify for the FedExCup playoffs that begin in two weeks and which he has won twice. He has no concrete plans for any tournament golf until the Australian Open in November, the week prior to the Presidents Cup in Melbourne. He was noncommittal on adding any tournaments in the interim.
"Yeah, I've got some time off again," he said with a big grin.
"Now I'll have nothing to do but work on my game," he added. "That's going to be good. [Swing coach] Sean [Foley] and I haven't had the opportunity to really sit down and do a lot of work, so this will be our time."