I Wouldn't Take My Leg Back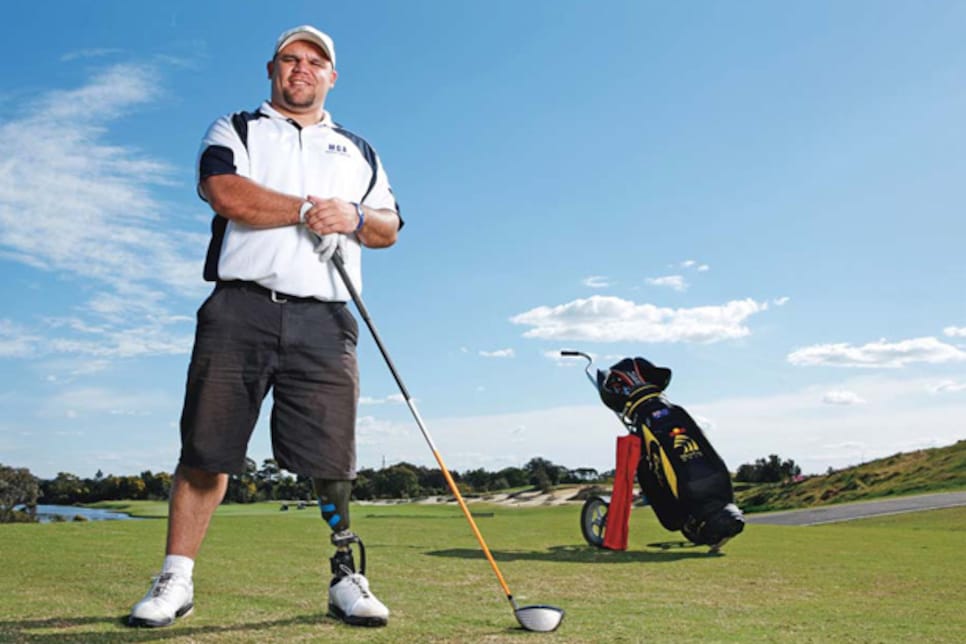 When I was 15, a friend grabbed the keys to his parents' car, and a bunch of us took it for a joy ride. No substances were involved. None of us had a driver's license. The speedometer was frozen at the end, but the car had been going at least 120 miles per hour.
We lost control, flew off the road and hit a telegraph pole. The car ripped in two. I ended up in the trunk. The photographer from the fire department, Kernin Lambert, said it was the worst accident he had ever seen, and he'd seen thousands. My mate Robbie died. My leg was severed, and my pelvis was broken in several spots.
I spent 3½ months in the hospital doing rehab and learning to walk with a prosthesis. I'll spare you the details. What was most horrible was knowing I'd never play sports again. I boxed a lot, but ever since age 4 my dream had been to play rugby league. Some of the guys I played with as a kid went on to compete for New South Wales and Australia
(Trent Waterhouse, Joel Clinton). I think I was as good or better than they were. I couldn't even watch the sport on TV. Knowing I'd never play again made me sick.
After my recuperation, I went back to school. From then until I was about 24, I went on a rampage. I hated life. I hated everybody. All I wanted to do was go out and drink and rip people's heads off. Being aboriginal, I often didn't have to listen hard to detect a racist comment. For me, it was very satisfying to get into a punch-up. One thing I'll tell you, mate: With a prosthesis, you need to stay on your feet in a fight. On the ground wrestling with one leg is not where you want to be.
During this time I'd wake up, and my first thought would be: There's nothing worth getting up for. But then, five years ago, when I realized I was about to become a dad, I knew I had to turn my life around. I now have two daughters, Tanika and Kyra.
About this time I quit booze, and the sportsman inside me awoke again. I wanted to play something. Googling around for disabled sports, I came across golf and remembered I'd played a few times as a kid. Nothing serious, just mucking around with some friends. I called the Australian Amputee Golf Association, and sure enough, they had an event going on not far away. There I met Geoff Nicholas, who told me his story and what was possible in golf. Besides winning dozens of national amputee championships across the world, Geoff has also competed in regular events. He played two years on the Australasian PGA Tour and in 1994 shot a course-record 67 at the Singapore Open.
Golf has changed my life.
I practice five times a week because I love having something I can apply myself toward 100 percent. Geoff, whose amputation is below-knee like mine, coaches me. As important as it is for any golfer to be smooth and balanced, these things are critical when you have only one leg. In 2010, I was the net winner at the Australian Open Amputees Championship, shooting 86 off a 22-handicap. I've been playing only five years and think I can get much better.
I've come from a violent past, but I've mellowed playing golf. I'm 29, and my life is good now. I work at the Police Citizen's Youth Club, where we get at-risk kids involved in sports programs and computers. I also drive a bus on weekends in Sydney, making sure kids get home safe at night. I don't lecture them; all I have to do is pull up my trouser leg.
It used to be you wouldn't have cared less about me. I still feel shame for some of the bad things I've done and those I've hurt, but most people I tell my story to say, "Fair enough." And then they invite me to go on golf trips.
I wouldn't take my leg back. If it weren't for losing it, I might never have discovered this game. Golf is the world I want to live in.
Adapted from an article by Steve Keipert in Golf Digest Australia.