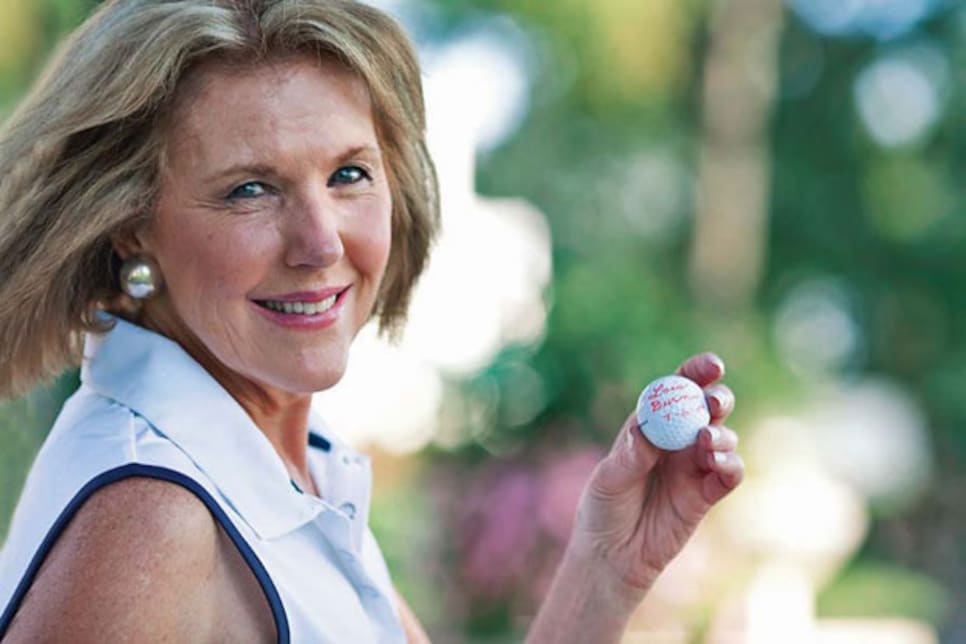 I'm a 31-handicapper, a mother of four, and my only golf achievement is raising two golfers who carried me to victory in three mother-son tournaments. But the game saved my life.
Six years ago, when I was 58, I was playing in the Tuesday-morning women's league at Exmoor Country Club just south of Lake Forest, Ill. It was my first round of the year and a bit of an indulgence considering that my oldest son, Jack, was getting married in eight weeks, and there was still a lot to be done. The bride's mother had recently died of cancer, and my future daughter-in-law, Amanda, had decided to have the wedding at Exmoor specifically so I could help her with the arrangements. But here it was June and I hadn't played a single round yet. I just had to get out for a walk and not think about wedding stuff for four hours.
On the long par-4 16th we all hit our drives to the same area in the fairway. I was first to hit. I smacked my dependable 3-wood pin-high but 15 yards right of the green, and the ball disappeared as it settled into the rough. Anticipating that looking for my ball might delay play, I sidestepped to the rough and began walking forward to get a head start. The group's next shot, struck by Lois Burns (with whom I was playing for the first time), was a shanked 3-wood that flew sideways and hit me directly in the back of the head. I can still remember how the sound exploded in my ears.
Now I'm not a crier. But I was so stunned, so frozen, that for the life of me all I could do was stand there and weep. Highland Park Hospital happens to be down the street from the course, and so the girls picked up and delivered me to the emergency room via golf cart.
A CAT scan and an MRI confirmed my skull was fine. But the doctor asked me all these questions: Had I been experiencing headaches, bouts of dizziness, etc.? I said no. They phoned my son Kevin, who then came to the hospital. My husband was away on a business trip, or he would've come, too.
I was a walking miracle, the doctors said. An apple-size tumor (why do they always use fruit?) was taking up nearly the entire right side of my brain. It had been growing there perhaps 15 years. More tests revealed that my brainstem was off-center, and my brain had started to swell from the pressure of it being forced to one side of my head. A stroke was imminent. The doctors were amazed that I hadn't had one.
I needed surgery right away, but I didn't want to desert Amanda, to again flood her world with hospitals, doctors and anxiety when all she deserved was to simply be happy, the center of attention at her wedding. As much as I wanted to postpone the surgery, reason prevailed, and so after taking steroids for two weeks to reduce my brain swelling, I was admitted to Evanston Hospital. There, a team of surgeons shaved a pathway from the top of my ear to the crown of my head and then down the back of my neck, gently pulled back my scalp, and performed an 8½-hour operation.
The surgery and my recovery were successful. Six weeks later I walked down the aisle, my hair styled ably to hide the scar, and was followed by a glowing bride.
That Christmas I received a gift from my guardian angel, Lois Burns. She presented me my fourth-ever golf trophy, a Waterford bud vase crowned with the infamous golf ball that had struck me in the head.
The tumor has not returned, and I'm expected to live a full, healthy life. The only side effect that remains is a blind spot in my vision. I can, for example, look at the entire border of a picture frame and not see what's in the left portion of the picture. For this reason, my regular caddies know that whenever I assert a club is missing from my bag, not to take me seriously.
I didn't play golf again until the following summer. As I walked down the 16th fairway, saw the familiar shapes of grass hillocks and bunkers immutable in the sunlight, I stopped, stood and cried.