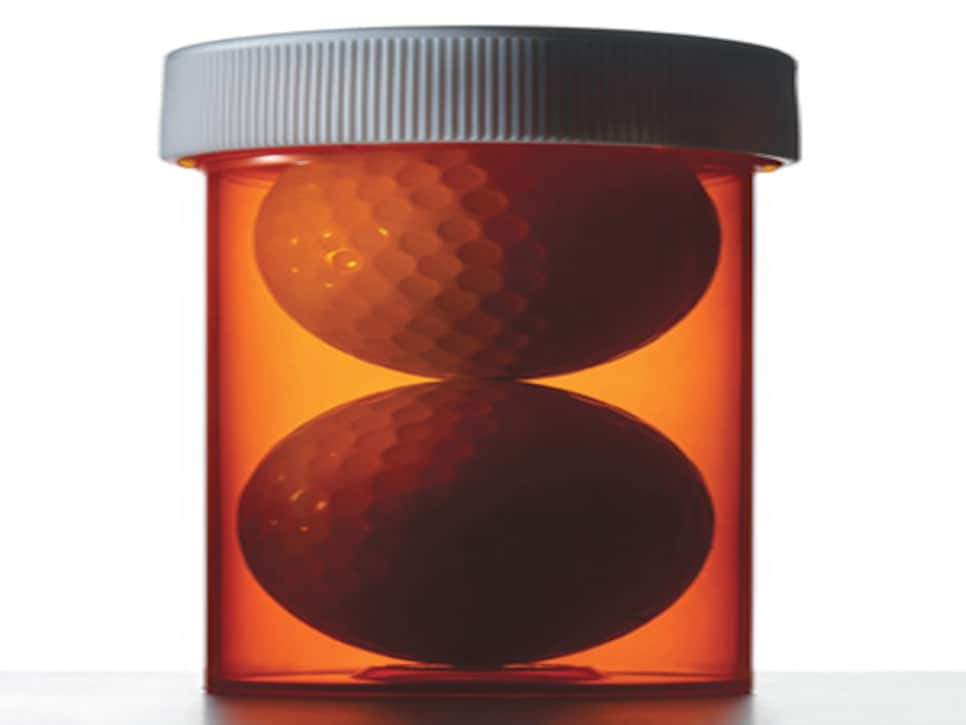 Eras can be defined by the drug. Alcohol in the '20s, acid in the '60s, cocaine in the '80s. Though a legal prescription, Adderall is making its claim as the substance of our time. Adults all the way down to elementary-school kids are given the stimulant to treat the impulsivity and inattentiveness of attention-deficit/hyperactivity disorder (ADHD). Hordes more without prescriptions abuse the pills for partying, or secretively self-medicate to give themselves the edge they feel they need—but often with scary side effects.
If Adderall can help college students cram for final exams, it follows that golfers might seek its benefits. Focus, after all, is the name of our game. To find out if it's pervasive, I posted the following on Reddit: "Has anyone ever taken Adderall before they've played golf?"
Responses poured in, 48 comments in three days. A 30-year-old accountant told of being diagnosed with Adult Attention Deficit Disorder (or ADD, which is ADHD without the hyperactivity component) after he had obtained two master's degrees. He would take Adderall in the morning, and the effects would linger when he played golf after work. The first summer he was on the medication, he went from a near-beginner to an 18-handicap. One 28-year-old golfer told me that swallowing an Adderall and smoking pot was perfect for relaxed, intense focus. Another young male, an elite player who competed in the 2011 U.S. Amateur when he was 24, was prescribed Adderall in high school, and his game steadily improved. He said he became more single-minded. Lengthy practice sessions suddenly didn't feel so monotonous.
But not everyone found a cure-all. Per one respondent: "I've done this. I played average. I think I remember feeling kinda shaky over the ball. I also sweated a lot. I mean a lot."
In the YouTube video "Tiger Woods Mental Focus—Words of Wisdom & Advice," Woods speaks of natural "blackout moments" when he doesn't remember hitting a great shot: "I get so entrenched on the moment. It's as if my body was doing the work, and I'm just sitting back and watching. The more intense the situation gets, the calmer I feel, the more things slow down. It's a weird sensation, hard to articulate."
The spell of Adderall can be just as difficult to describe. "It was like, a sense of time dilation," said one Reddit responder, a 7-handicap we'll call Tom whose case we'll revisit later. "Everything you don't want to matter just slowly goes away."
When Adderall first entered the U.S. market in the 1950s, it did so under a different name and with a different purpose. Doctors prescribed Obetrol as an appetite suppressant to patients suffering from obesity, but soon they noticed unintended effects. Patients reported performing menial tasks more easily. Word started getting around, and pretty soon Andy Warhol was among those using the drug. He became known for late-night trips to the pharmacy, getting his prescription filled so he could keep painting.
In 1995, Shire Pharmaceuticals purchased the company that owned Obetrol. The drug's popularity was waning when Shire repurposed Obetrol as a focus drug and gave it a new name: Adderall. This coincided with a dramatic rise in the number of attention-deficit-disorder diagnoses. Today an estimated 9 percent of the more than 45 million children in the United States from 6 to 17 are diagnosed with ADD or ADHD, and about 14 million prescriptions for ADHD medications were written for adults 20-39 in 2011. Some received Adderall, and some others received Ritalin, which is shorter-acting in the body, but chemically similar to Adderall.
With so many teenagers being doled a powerful upper, recreational use is inevitable. A 2012 report by the National Institute on Drug Abuse found that 8 percent of all high school seniors took Adderall without a prescription, and other reports estimate that up to 20 percent of non-ADD/ADHD college students use it or other ADHD medications to study—a higher percentage than those experimenting with cocaine or heroin. A 2008 study from Penn State University found that up to 93 percent of those measured could bluff their way through the ADD/ADHD diagnostic test. As for those who lack the ambition or desire to fool medical professionals, the drug's ubiquity makes it relatively easy and cheap to procure from friends or buy online. Type "Addy" into Craigslist, and there's never a shortage of options that can be delivered by courier:
20mg each. fast, reliable delivery service. college student with a bottle and looking to sell to a select few. Cheers :) read one recent Craigslist advertisement. Adderall—$30. Thirty's, instant avaliable! [sic] Thanks, read another.
Buying Adderall illegally doesn't come without consequences. Laws vary from state to state, but Federal law generally treats illegal possession of Adderall, a Schedule II drug, as a misdemeanor, with a maximum sentence of a year in prison and a fine of at least $1,000. After the first offense, both penalties get steeper.
Members of Congress weren't looking for Adderall when they investigated baseball for steroid abuse in 2005, but they found it. Adderall was so widespread—the then-chairman of the World Anti-Doping agency later said ADD in MLB seemed "to be an epidemic"—that MLB banned and started testing for the drug in 2006. Players immediately began filing for exemptions. MLB's Mitchell Report found that medical exemptions for Adderall based on ADD/ADHD diagnoses had jumped from 28 players in 2006 to more than 100 in 2007—roughly 10 percent of active players, far higher than the 2-4 percent of adults nationwide who have been diagnosed.
It's in football, too. Seattle Seahawks All-Pro cornerback Richard Sherman told the Vancouver Sun in 2013 that "about half" of the NFL's players take Adderall because it helps them quickly analyze situations. Sherman later said he was misquoted, but the newspaper stood by its reporting.
Controversy over prescription drugs isn't unprecedented in golf. Beta blockers, the name for a class of heart and blood-pressure medication, were fairly common among tour players in the 1980s for their ability to help a heart beat at a constant speed. Greg Norman said that "lots of guys were on beta blockers" during the height of his career. Nick Price was prescribed the drug for high blood pressure and took it between 1984 and 1989. Mac O'Grady said that his putting improved when he tried beta blockers in 1985.
"When I think of the two drugs that could provide the most benefit to golfers, it's beta blockers and Adderall," says Dr. Grant Liu, a professor of neurology at the University of Pennsylvania.
One Redditer, whom I'll call Brian, described what it's like to overdose on Adderall. Brian was in high school and about to take an exam when one of his golfer friends offered him a 60-milligram pill, three times the most common dose.
Halfway through the exam, Brian's hands started to shake. His mouth grew extremely parched. He got up to buy a bottle of water but just stood at the vending machine, sweating, unable to count the money in his hand. He went home, lay down in his dark room and just waited for it to all to go away.
Adderall is an amphetamine, which "Breaking Bad" fans will know puts it in the same family as methamphetamine. Adderall's side effects don't rival meth's, but they exist. You can become addicted if you take higher doses than prescribed, and taking too much can lead to heart problems, high blood pressure, confusion, tremors and hallucinations, among other awful things.
If a pro golfer wants a Therapeutic Use Exemption (TUE) to take a drug on the PGA Tour's banned-substance list, he must file an application. He is then provided with a list of requirements specific to the substance and his condition. Those requirements include medical records related to the condition. They could also include specific tests or physical exams as well as third-party testimonials. The information is then submitted to a TUE committee, which includes medical experts in the field related to the relevant condition as well as the committee chairman. If an athlete is applying for Adderall, the committee would include experts in the diagnosis of ADD/ADHD. The panel does not conduct interviews with the athlete; the committee review is done anonymously. If the committee determines a TUE is warranted, it will be issued for one to four years, after which the applicant must apply for a renewal of the exemption.
"ADD and ADHD are recognized conditions, and we recognize them as well," says Andy Levinson, the PGA Tour's vice president of Tournament Administration & Anti-Doping. "We follow the guidelines, and if someone meets the specific criteria, we're not going to stop them from getting what they need. But it would stand to reason that a drug like Adderall that boosts alertness could have some major benefits to those who wanted to abuse it."
It's difficult to tell how many players take Adderall, under a TUE exemption or otherwise, because of the nontransparent nature of the tour's policy. Multiple people with knowledge of the situation say that every year Adderall-related TUEs are granted. One PGA Tour winner, who took Adderall without a prescription throughout college golf but stopped once he made it on tour, says he can understand why. "It made things a hell of a lot easier. Everyone always talks about getting 'in the zone,' but that's what Adderall does. It literally puts you in the zone."
Bubba Watson and Ian Poulter have self-diagnosed as having some form of ADD/ADHD, although they don't take Adderall. Each says he doesn't need it.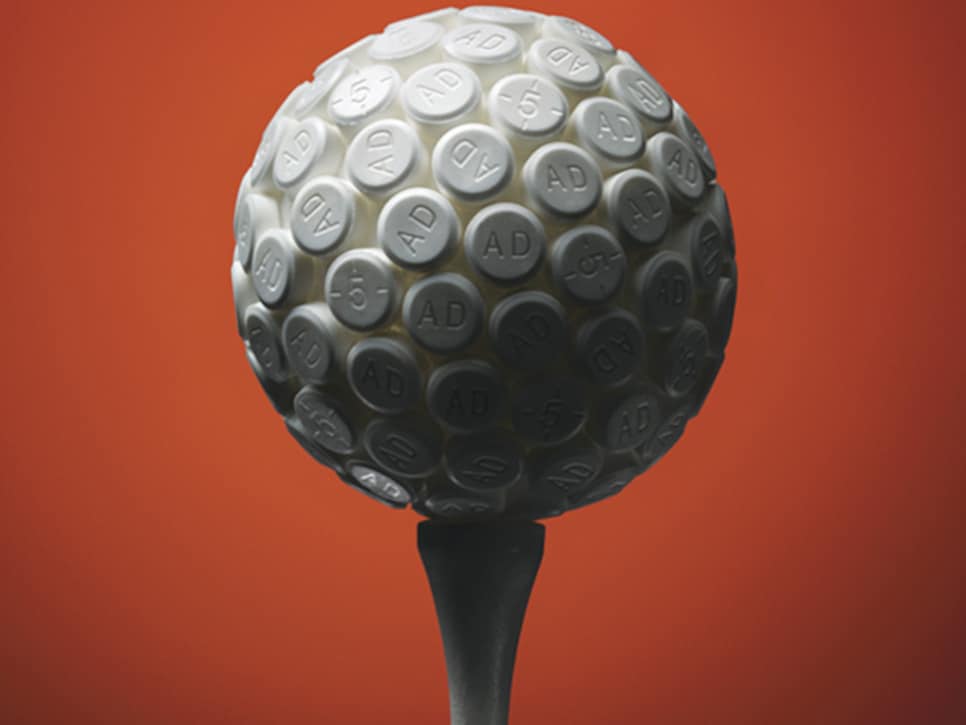 Tom, the aforementioned 7-handicap, shot his lowest round ever last year. As the 20-year-old walked down the 17th fairway, all he could notice was how the wind rustled the tree tops and shot across the grass. When it was time for him to play, he calmly clipped back into focus. He got the Adderall from a friend, and it was his first time trying it with golf.
"It's not a high, but it's almost Zen-like," Tom says. He also believes the Adderall neutralized his emotions so they didn't wander too far in any direction.
At the 18th, Tom hit his approach shot over the green. He flopped his 71st shot to 20 feet. A par would give him a round of 72, shattering his previous best. He pulled the putter back and kept his head down. When he looked up, he saw the ball rolling exactly along the line he'd envisioned, and then straight into the back of the hole.
"It was ultra-clutch," Tom says, "but even my friends thought it was a little weird. I made this great shot, but I didn't get very excited. I didn't fist pump. I had no reaction."
A putt for the round of your life is supposed to be one you fondly remember, but Tom has mixed feelings. He's happy he made the putt. He doesn't feel guilty or that the score was illegitimate—golf's hard enough, and it's not like he's a professional, he says. But wondering how a drug could deliver such immediate results overrides the memory. Is that how "the zone" is supposed to feel? Since that round, he has rewatched the Tiger Woods YouTube video on focus, trying to make sense of his experience.
Tom continues to take Adderall, hoping to get there again.
With the Rio Olympics approaching, HGH is the big unknown in the PGA tour's anti-doping policy
With all the understandable cynicism about performance-enhancing drugs in sports, there's one bright side to the persistent public doubting of the PGA Tour's anti-doping policy: People have pretty much stopped saying golfers aren't real athletes.
Critics contend that the tour's policy, which began in 2008, should be at least as stringent as those of other big-time sports, and several developments have ratcheted up the talking points. The tour's insistence on not disclosing violations and suspensions for recreational drugs probably made the recent six-month leave of absence by Dustin Johnson a never-to-be-resolved mystery. (Earlier this year, Johnson denied a golf.com report that he tested positive for cocaine for a second time.) The situation helped prompt the director general of the World Anti-Doping Agency (WADA) to castigate the tour for its "secrets" and point to "gaps" in its program. Then John Daly and Robert Garrigus said the tour's urine testing is not random, the latter claiming the predictable sequence was based on the tour following an alphabetical list.
Not surprisingly, the tour has stood firm on keeping recreational drug-use violations private. When Matt Every was suspended for three months in 2010, his violation was revealed by his arrest for misdemeanor possession of marijuana, a charge that was dismissed. Though the tour does not use WADA guidelines, neither do other major professional sports. As for Daly and Garrigus, the tour says both are flat wrong: The policy is "random," according to tour executive vice president Ty Votaw.
But the noise got through because there's plenty of skepticism about the tour's program having real teeth and being above internal politics. In 2009, journeyman Doug Barron received a one-year suspension after becoming the tour's first known violator (he took prescribed testosterone after the tour had declined his application for a Temporary Use Exemption), and this year, Web.com player Bhavik Patel got a year for a PED violation that was not specified. Conspiracy theorists posit that minor players were being used in the interests of giving the tour's test credibility.
Meanwhile, the importance of the ongoing lawsuit against the tour by Vijay Singh, the only other disclosed violator of the PED provision, is not whether his admitted use of deer-antler spray (then on the banned list) could have enhanced his performance, but whether discovery evidence will show that the tour and commissioner Tim Finchem, who under the policy has wide discretion in how punishment is meted out, do indeed play favorites.
And now the Rio Olympics loom. Thirteen weeks before the opening of the Games in August 2016, the pool of eligible golfers will be under full WADA regulations. More drugs will be on the banned list. For golfers, that means applying for waivers for allergens and anti-inflammatories that the PGA Tour allows. Golfers in the Olympic pool will have to provide their off-course whereabouts and will be subject to testing 24/7. In the case of a PED violation, WADA mandates that the violation and banned substance be revealed.
Most important, along with providing urine samples, potential Olympians will be subject to blood tests, the only way to detect human growth hormone (HGH), a synthetic generally considered to increase speed and power, as well as accelerate healing and recovery. In the past three years, the NFL and MLB have instituted random blood testing, and NBA commissioner Adam Silver says his league is on the verge. Behind the scenes on the PGA Tour, it's the substance of most whispers. "If a player is on the way back from injury or is tired, it would be easy to use HGH," says one veteran caddie. "They [tour officials] don't test for it."
There is a provision in the tour's anti-doping policy that would allow, with the approval of the policy board, a blood test in cases where there is strong evidence or suspicion. But the tour provides no word on whether this has ever happened.
Andy Levinson, the tour's administrator of the anti-doping policy, says that two main factors have inhibited the start of blood testing. One, the test's window for detection is only a few days. Two, he says, there is a chance that extracting blood with a syringe could impact a player's performance. When the methods improve—with a wider window and a blood test that involves just a fleck of blood, for example—expect the tour to consider adopting the test. —Jaime Diaz