The Loop
Add the World Cup of Golf to the list of events that Arnie and Jack dominated
Considering that the World Cup of Golf is on its sixth official name, went AWOL twice in the 1980s or again in 2010, and is no longer an annual event, it's not too disrespectful to those involved in this week's SPS Handa World Cup of Golf in Australia to say that the event's biggest imprint on the golf world's psyche was back in the days Arnold Palmer and Jack Nicklaus were dominating the international affair.
It could also be living in the nostalgic haze after Palmer's September passing, but from the first playing in 1953 through the early 1970s, the two-man team event, run by the International Golf Association, showcased golf's star power, and Arnie and Jack were Exhibit A, sometimes in the same year.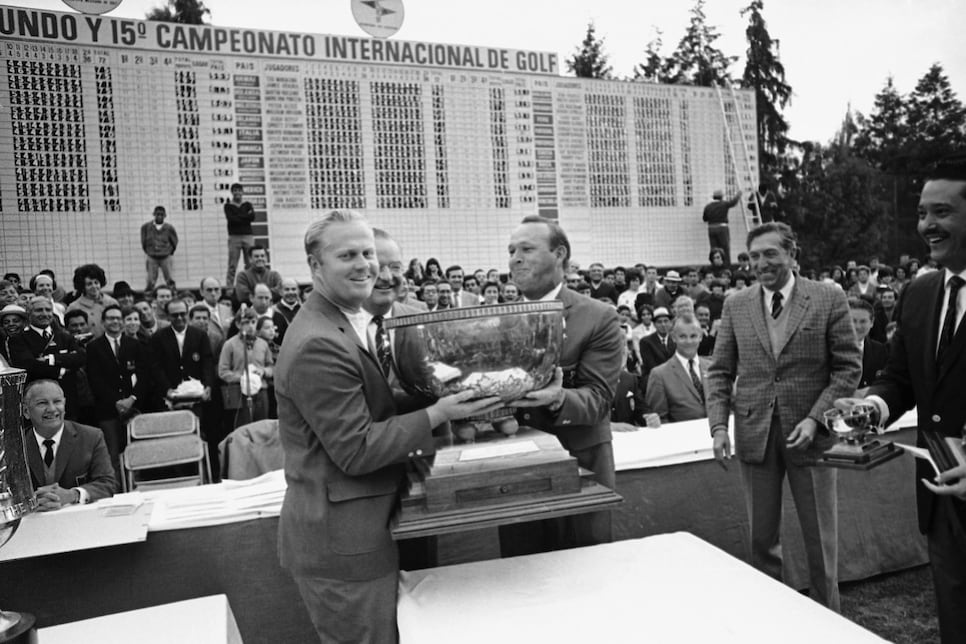 One thing that hasn't changed in the 63 years of play is the monster-sized cup given to the winners, which is big enough to bathe in (see above). United States teams have won it 24 times and been second 10 times, and among the American razzle-dazzlers have been Ben Hogan and Sam Snead in 1956, then Snead teamed with Palmer (1960), Jimmy Demaret (1961) and Palmer (1962) to win three in a row. Arnie won four times with Nicklaus in 1963, 1964, 1966, and 1967. Jack got two more titles with Lee Trevino (1971) and Johnny Miller (1973). The six team victories each by Palmer and Nicklaus are the most in World Cup history. It wasn't too far down the road from 1973 that the shine on the event was dulled as more global tournaments took away the novelty of the event, and star golfers started passing on playing in it.
So we are 50 years on from when Palmer-Nicklaus won in the final year the tournament was called its original name, The Canada Cup. Played in Tokyo, the 14th playing went to the Americans by five shots over Gary Player and Harold Henning of South Africa, with Canadian George Knudson the individual winner in a playoff with Japan's Hideyo Sugimoto on a rainy, cold final day.
Next year will be a special 50th anniversary for the event: its name change to World Cup, Palmer's lone individual victory, in Mexico City, and the final victory for team Palmer & Nicklaus. Of their success, Nicklaus, who was individual winner in '63, '64 and '71, wrote in "The Greatest Game of All": "Our record in the World Cup stems, I believe, from the fact that we concentrate primarily on playing as a team and we forget about the concurrent individual competition—at least until we have the team championship wrapped up."