The Loop
Adams continues to advance the cause of moving on up
BETHESDA, Md. -- Chatting with Barney Adams near the 11th tee at Congressional CC Wednesday afternoon felt like talking to a health-food nut at a greasy-spoon diner. The hole is a 494-yard par 4 from where competitors in this week's U.S. Open will play it, definitely a tee way too far for average golfers, on a 7,574-yard brute of a course.
"We'd need to go way up there, to the edge of the fairway," said Adams, a retired clubmaker who is a vocal spokesman for "Tee It Forward," an initiative by the PGA of America and USGA to get golfers to play from tees that suit their game. "That's where it would make sense for most people."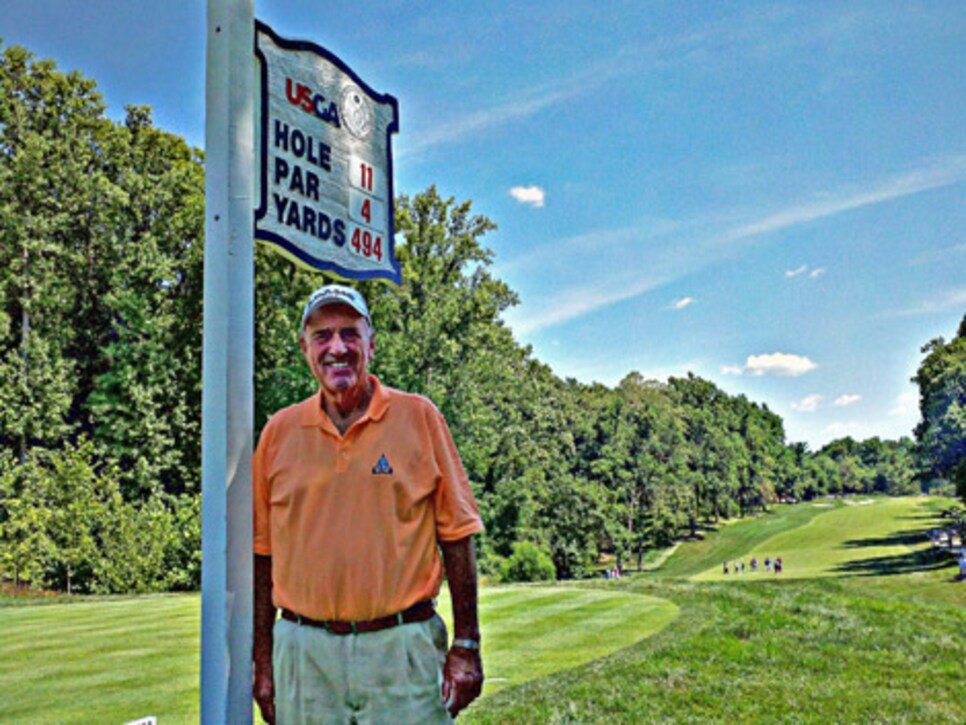 (By Adams' estimation, no yardage marker for average players should look like this. Photo by Bill Fields)
The PGA of America and USGA have run with Adams' idea to try to speed up play and make it more fun by playing from shorter yardages that would allow average golfers to hit roughly the same clubs on approaches as tour pros do. For someone who hits 230-yard drives, a course would need to be 6,200 yards instead of 7,300 yards.
Adams sees the campaign as a way to keep golf from bleeding players - a million golfers exit the game every year, he said. Adams likens the movement to the introduction of rubber cleats two decades ago. "The best analogy I can think of is Softspikes," Adams said. "When those things first came out, people said they'd break your leg, this and that. Now we all wear them. The bottom line is, they were the right idea, and they eventually succeeded."
Educating golfers about moving up to shorter tees is key, according to Adams, who was making a flurry of media appearances at the Open. "You can't force it on people, but you've got to educate golfers where they understand the concept and want it to happen," Adams said, "that they'll play faster and have more fun. You get that message across and we'll get the movement going."
In mentioning the campaign in a news conference Wednesday, USGA president Jim Hyler endorsed it, saying he had been playing from shorter tees the last few months and enjoying it. "I play faster, and I'm definitely having more fun," Hyler said.
Adams believes convincing golfers to move up isn't going to be easy. "This is something I believe in, and I think it can help the game, but this is going to be difficult," he said. "There has some positive response, some club pros trying to spread the word. But I've been out on the course, at home with guys I play with, and they're resistant. They say it's a great idea, but get somebody else to do it. It's a macho thing, a tradition thing, all of the above."
Starting July 5, for two weeks, the PGA of America and USGA are asking courses to try to get golfers to move up to shorter tees. "The first year is about education," Adams said. "July could get us off to a great start. But if we sit back after that and say we're done, it's guaranteed to fail. We've got to follow up a lot after that."
Part of the education will be getting golfers to realistically appraise how far they hit the ball. "One of the great fallacies of golf is a guy saying, 'I'm hitting the ball 30 yards farther than I did 20 years ago,'" Adams said. "I want to meet that guy. None of the guys I know, who I've been playing with all my life, are doing that."
In the coming months, Adams would like to meet guys - or gals - who have tried different tees and come to see the light.