Nationwide Children's Hospital Championship
Adam Svensson rides consistency to a second Korn Ferry Tour victory and a Memorial Tournament exemption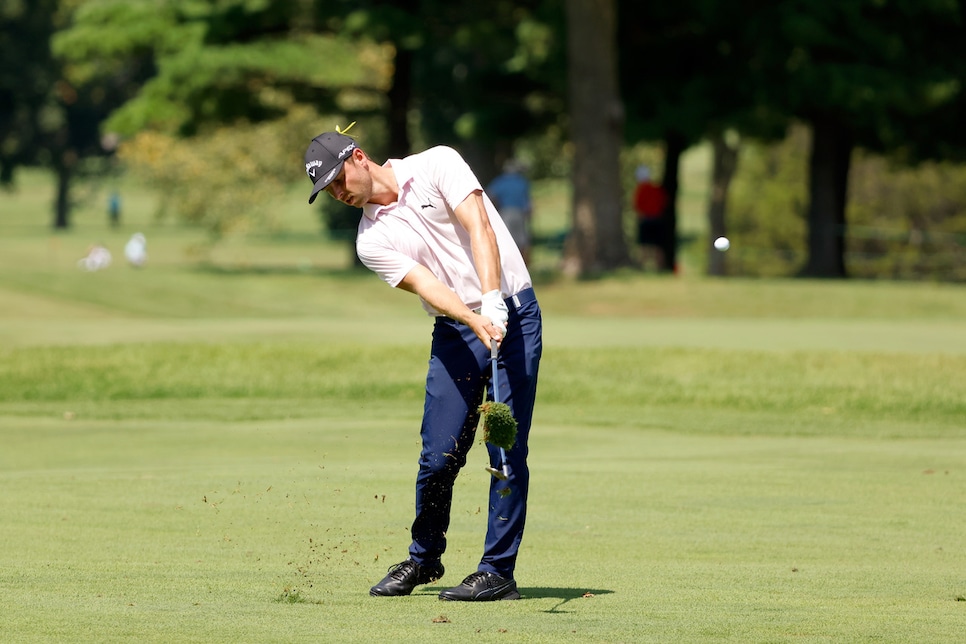 COLUMBUS, Ohio – Adam Svensson says he simply will strive for consistency when he rejoins the PGA Tour next season, and the good news is that he knows just how that feels.
With a closing four-under 67 Sunday at the Scarlet Course at Ohio State University, Svensson won for the second time this season on the Korn Ferry Tour with a two-stroke victory over Stephan Jaeger and Bronson Burgoon in the Nationwide Children's Hospital Championship. In 40 events in the extra-long Korn Ferry season, Svensson has 19 top-25 finishes while missing eight cuts, including just two in 2021.
Solid. And solidly consistent.
"Everyone wants to win on the PGA Tour, but I think a bigger goal for me is consistent golf is really good golf, so just always playing well, always in there, always in the hunt," Svensson said after finishing at 17-under 267. "You do that, you'll eventually end up winning. So just keep doing what I'm doing."
Already exempt after finishing 11th in the regular season, Svensson, 27, of Vancouver, Canada, moved into third place in the chase for the No. 1 position on the season-long points list, behind Jaeger and Greyson Sigg. Jaeger, 32, who stood first heading into the Korn Ferry Tour Finals, regained the top spot from Sigg, but he is skipping next week's Korn Ferry Tour Championship at Victoria National Golf Club in Newburgh, Ind.
"I'm not changing my mind," Jaeger, third-round co-leader, said after his fourth runner-up finish to go with two wins this season. "I'll let those boys battle it out, and if one of them plays well enough to pass me, then congratulations. But I'm tired. My body hurts a little bit. I just want to get ready for Napa [Fortinet Championship] in two weeks."
Svensson, who won $180,000 and an exemption to the 2022 Memorial Tournament at nearby Muirfield Village Golf Club, was one of several celebrants on a sweltering and stormy day interrupted by a weather delay lasting 1 hour, 44 minutes.
Other winners Sunday included Burgoon, and Callum Tarren (T-4), who each shot six-under 65 on the final day and rose in the top-five in the Finals standings. Burgoon overtook Aaron Rai for the top spot in the Finals. "This place is my get out of jail free card," said Burgoon, who has not missed the cut here in five appearances and was T-2 in 2015 and T-19 two years ago.
Other happy men were Vincent Whaley and Scott Gutchewski. Whaley, who had a share of the third-round lead, ended up T-4 to lock up a card. He moved into fourth in the Finals standings despite a 72 and 14-under 270 total. Gutchewski, meanwhile, who missed a great chance last week after holding the 54-hole lead at the Albertson's Boise Open, managed a tie for 18th at 11-under 273 after a 67 and appears to be a lock for a return to the PGA Tour after a 10-year hiatus. He stands eighth with one event left.
"Emotions … not sure. It's hard," Gutchewski, 44, said, unable to fight back tears. "It's just really hard. That's all I can say right now. Just a lot of grinding. I can't really compose myself. But this is why we do it."