The Loop
Adam Scott's world takeover, Rickie's huge hole-in-one, the Donald visits Doral, and Paulina joins Snapchat
Welcome to another edition of The Grind, where we don't care who you are, you do NOT interrupt someone in contention warming up before a final round. Donald Trump may own Doral and he might end up being the most powerful man in the world in a few months, but he was just another guy on the range on Sunday at the WGC-Cadillac Championship. Trump made special visits with the final pairing of Rory McIlroy and Dustin Johnson before they teed off. . .

Annnnd then they combined to shoot nine over. Hmm. Could the Donald have the same effect on leaders of foreign countries? In the meantime, here's what else has us talking.
__Adam Scott: __ The former World No. 1 is playing the best golf of his life after winning back-to-back titles for the first time in his career, with those victories coming on two of the more difficult courses on the PGA Tour. We joked about adding the Aussie to create a Big 5 last week, but if he keeps this up, we might have to re-think the tour's hierarchy altogether. In any event, with less than a month before the Masters, he's clearly one of the favorites to win at Augusta National.
Ha Na Jang: Speaking of moving up in the rankings, with her second win in four starts – her first two LPGA Tour titles – Jang is now No. 5. However, she already cemented her place as No. 1 when it comes to on-course celebrations with this Beyonce-inspired dance:
Kevin Harvick's backyard: Does this look familiar?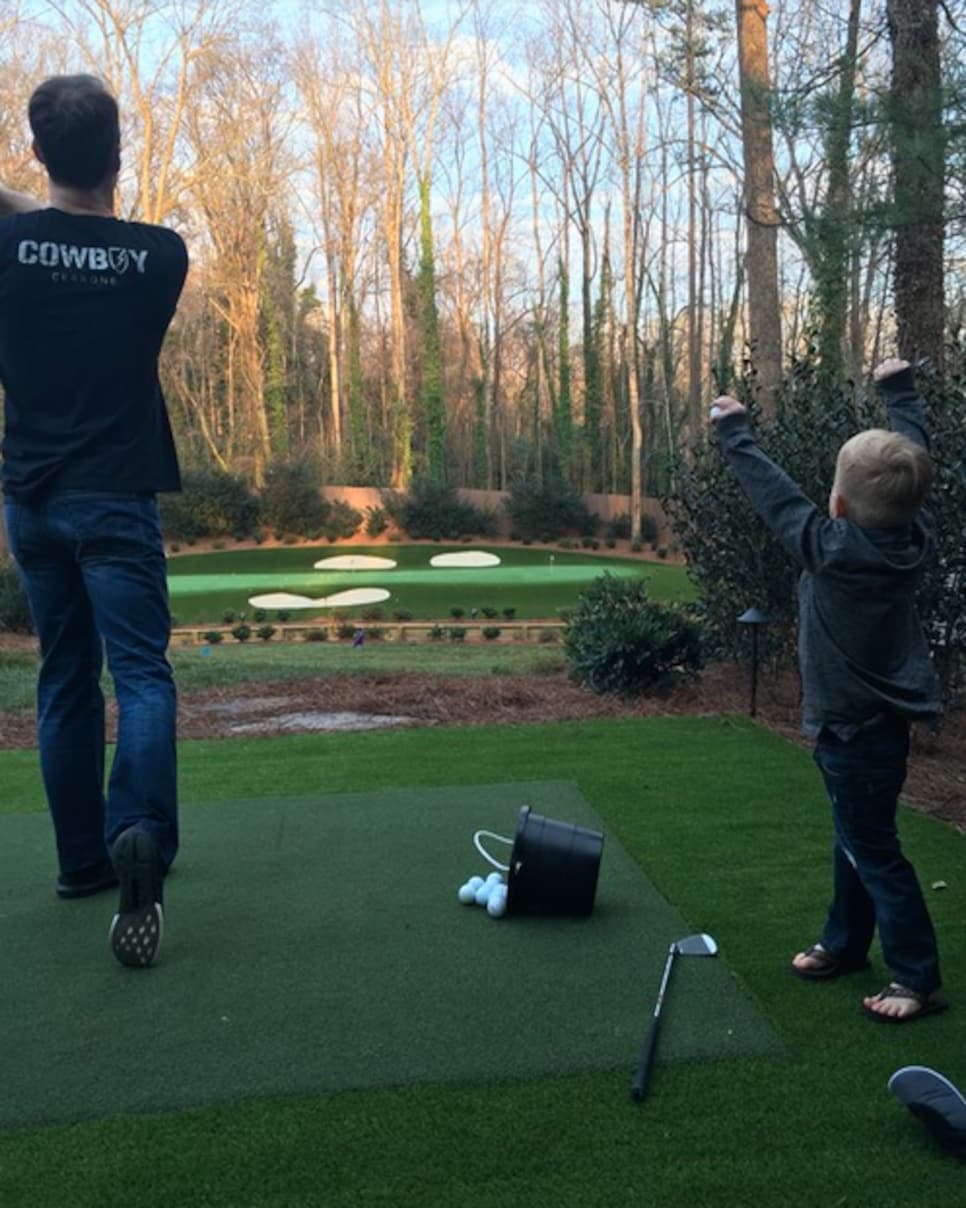 Yep, it's a replica of Augusta National's 12th hole in the backyard of the NASCAR star. Mom, Dad, why didn't you ever get me into car racing as a kid?!
Rory McIlroy's putting switch: It's news when a 27-year-old four-time major champion makes a putting change, but McIlroy's switch to a left-hand-low stroke seemed to go well, especially on Saturday when he needed just 23 putts and surged into the lead. For the week, he finished 14th in strokes gained/putting, three spots ahead of winner Adam Scott. Hey, you can't go too wrong copying anything that Jordan Spieth does.
__ Rory McIlroy's Sundays: __ That's twice in 2016 that McIlroy has seemed headed to a win only to fade away. After shooting a final-round 75 at Riviera a few weeks ago, McIlroy closed with 74 at Doral to blow a three-shot cushion. Rory, if you don't have the physical endurance to make it through four rounds, perhaps you should try working out. . .
Brandt Snedeker's Masters chances: A few weeks back, I apologized for ruining Sneds' season by picking him in my fantasy league (Sorry to Patrick Reed as well), which just so happened to start the week AFTER his win at Torrey Pines. Not only has Snedeker cooled off since then, he also re-injured his ribs, which forced him to WD at Doral. Again, my apologies, Brandt.
Steven Bowditch: The Presidents Cupper turned in one of the worst weeks in PGA Tour history, becoming the first player in the last 30 years to fail to break 80 in four rounds at the same event. On the bright side, Bowditch still took home $48,000 for his efforts. Yep, $48 Gs to not break 80 for four straight days. There are a lot of golfers out there wishing they could get paid for bad golf like that.
The PGA Tour heads to Tampa and Innisbrook's Copperhead Course for the Valspar Championship, the third leg of the Florida Swing.
Random tournament fact: The Copperhead Course is one of just two venues (TPC Sawgrass' Stadium Course is the other) that currently host an annual PGA Tour stop and have also been the site of an HGGA Championship (My annual golf trip). Select company, indeed.
What a magical week for holes-in-one. First, 11-year-old Taylor Crozier kicked off the opening of Tiger Woods' par-3 course at Bluejack National with one, which brought a huge hug from the 14-time major champ:
And then Rickie Fowler did this at an event for Ernie Els' autism charity:
Fowler got hugs from everyone in attendance – and won $1 million for the charity. Usually, I'm jealous when I hear hole-in-one stories, but for these two, I couldn't be happier. OK, so maybe I'm still a little jealous. . .
RANDOM PROP BETS OF THE WEEK
-- We'll see another $1 million ace for charity: 1 MILLION-to-1 odds
-- Adam Scott will win the Masters: 10-to-1 odds (Actual odds now, trailing only the Big 3)
-- Steven Bowditch would still destroy you on your home course any day of the week: LOCK
Apparently, the apple doesn't fall far from the tree in the Jenner family when it comes to a love of golf. Here's supermodel Kendall showing off a nice follow through -- from a rooftop:
THIS WEEK IN PAIGE SPIRANAC BEING PAIGE SPIRANAC
Paige showed off her nerdy side with an ode to Marvel Comics:
And then showed off her more glamorous side:
THIS WEEK IN OTHER PRO GOLFERS WHO ALSO DOUBLE AS MODELS
Introducting Chelsea Lynn Pezzola, a former player on the University of Michigan women's golf team:
"I think there was four dozen golf balls at the start of the week in my locker. And I'm down to my last one." – Steven Bowditch. Been there, Steven. Been there.
THIS WEEK IN NATALIE GULBIS MAKING US FEEL BAD WITH HER TRAINING
Talk about a gun show. Natalie might be more ripped than Rory McIlroy.
__THIS WEEK IN DUSTIN JOHNSON-PAULINA GRETZKY PUBLIC DISPLAYS OF AFFECTION __
Snapchat recently predicted it would make at least $300 million in revenue this year. And that was before Paulina Gretzky joined the social-media platform (username paulina_jean) thanks to Rickie Fowler (What a great humanitarian, huh?). Anyway, Paulina's first foray into it was, um, interesting. . .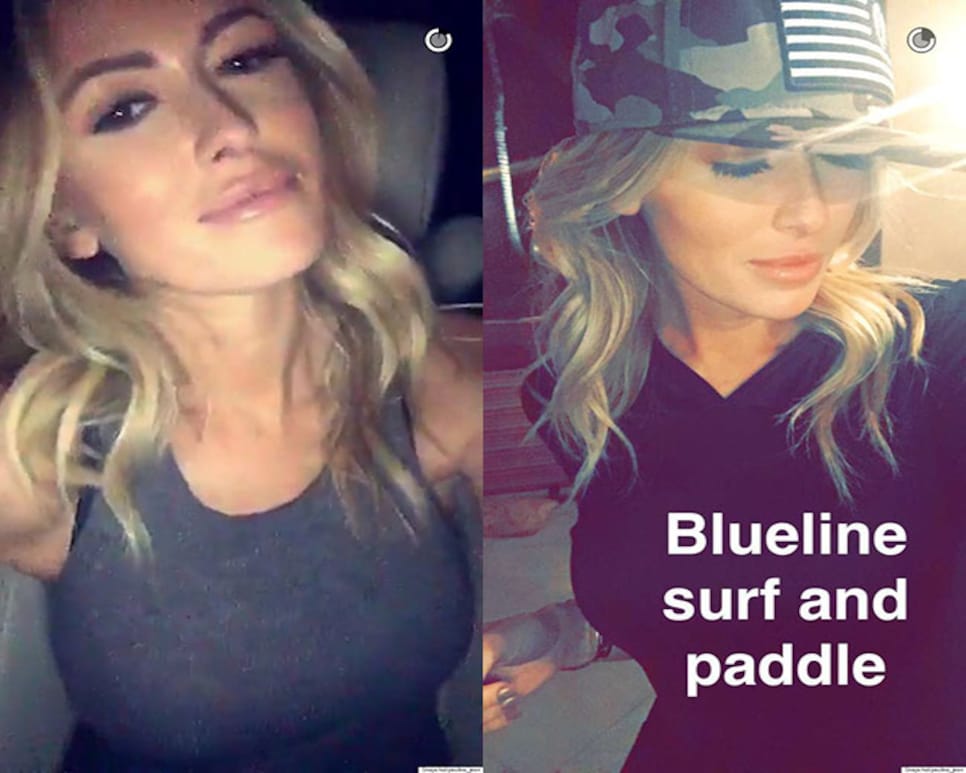 Pretty standard selfie stuff there, but then. . .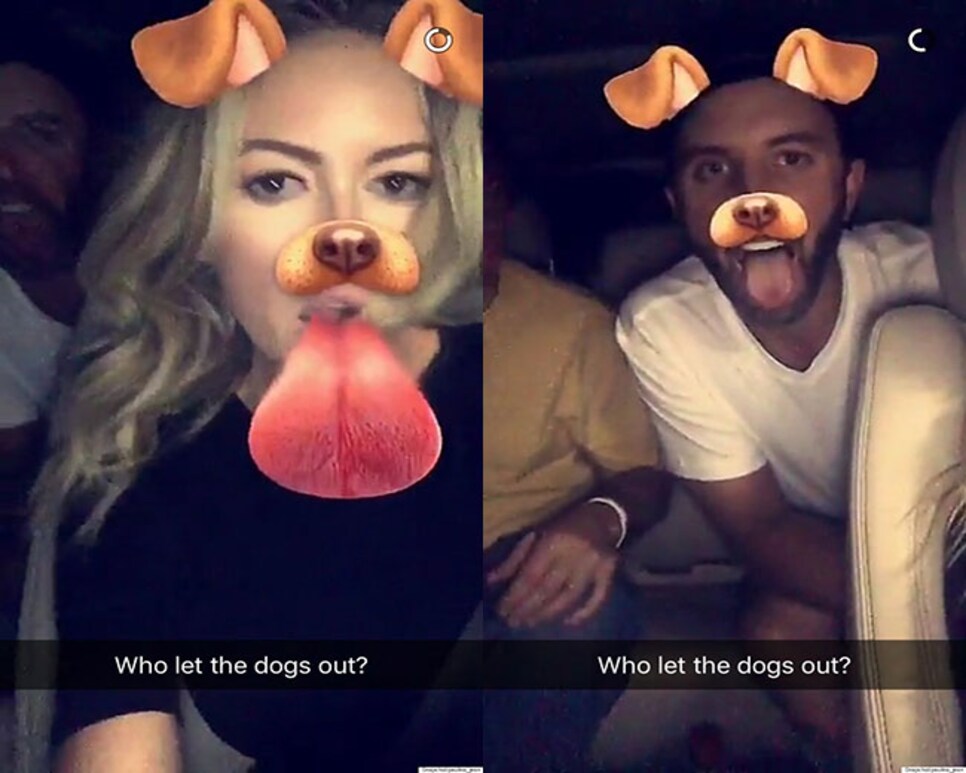 Now that Paulina is on Snapchat, how hard is it to get on there? Asking for a friend. . .
Danny Willett, the 11th-ranked player in the world, might miss the Masters due to the birth of he and his wife's first child. OK, so that qualifies as a good excuse, Danny. . . . The PGA Tour and LPGA Tour announced a "long-term, written strategic alliance." If that includes more overlapping events at the same venue, we're in. . . . Deadspin ranked Chili's, my favorite chain restaurant, as just the 19th-best casual-dining restaurant chain. Say what?! I can see ranking Benihana No. 1, but Cracker Barrel No. 3?! That's just insulting. . . . And finally, I celebrate another birthday this week. On the bright side, that means my wife made me another one of these Kit-Kat/M&M-encrusted beauties: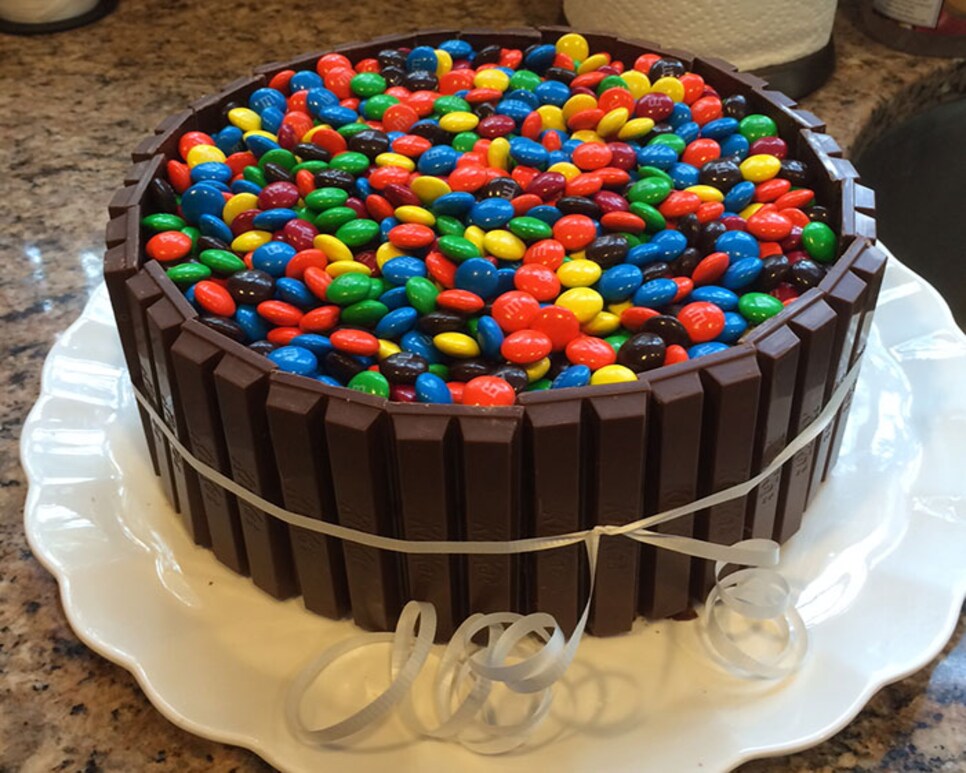 RANDOM QUESTIONS TO PONDER
What's the favorite chain restaurant of tour pros?
What did Donald Trump say to Rory McIlroy?
How many calories are in that cake?