The Loop
Adam Scott wins Honda Classic, Cadillac Championship back to back
The game is difficult enough without having to play through a metaphorical minefield from which Trump National Doral's toughest course has earned its colorful and barbaric sobriquet.
Yet the Blue Monster was not the most formidable obstacle the WGC-Cadillac Championship field faced on Sunday. Adam Scott was.
The World Ranking is a useful device for, say, identifying the top 50 players over a rolling two-year period, but its algorithm wasn't designed to identify the best player in the world at any given period.
Never mind the Big Three, or Four or Five. In a what-have-you-done-for-me-lately world, there is only a Big One, Adam Scott, who in the last three weeks has a tie for second at the Northern Trust Open, a victory in the Honda Classic and a victory at Doral on Sunday. And in four of his six starts on the PGA Tour this season, he has finished no worse than second.
Scott, not Jordan Spieth or Rory McIlroy, Jason Day or Bubba Watson, is the man wearing the target these days.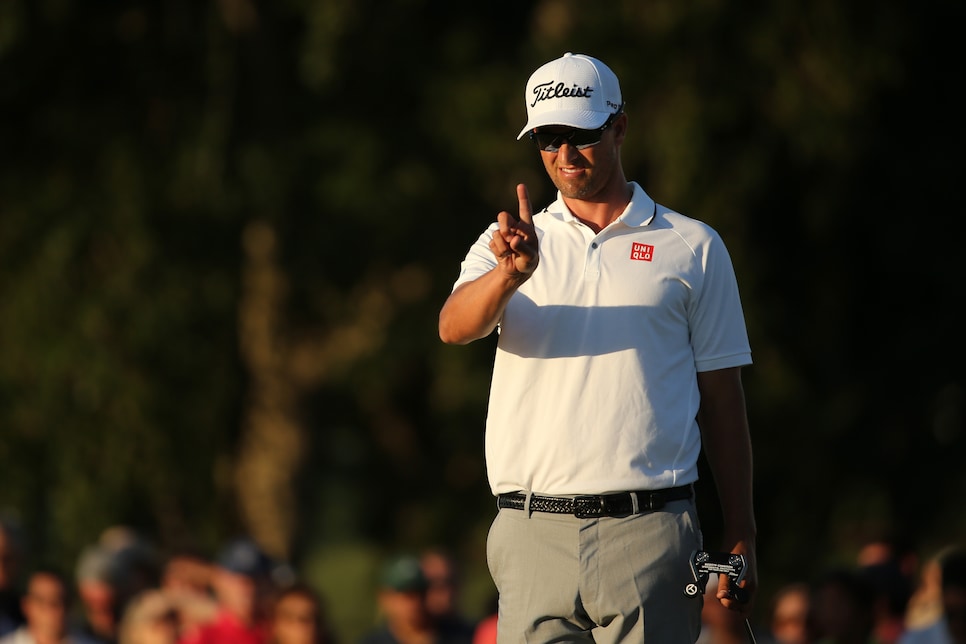 "I feel that's where my game's been the last couple of weeks," Scott said in the wake of his 13th PGA Tour victory. "And that's where I'd like to keep it for the next few weeks as well.
"You've got to push yourself so hard to beat the class of player that's out here now. I can't believe I have back-to-back wins. To win a World Golf Championship is huge again and I'm just going to keep pushing hard the next few weeks."
The Blue Monster, as it is wont to do, pushed back. Scott double-bogeyed two of the first five holes in the final round before recovering his equilibrium and birdieing six of the next nine. A week earlier, he had to overcome a quadruple bogey to win.
"I've used my experience to my advantage the last couple of weeks and realize around these tough courses, although you never want quads and doubles, you're not out of it," he said. "It was such a challenge out there today. I knew if I could just get a couple over 10 [under par] maybe I'll have a chance, and everything just fell the right way for me today, especially at 18, for that ball to stay up."
At 18, Scott hit his drive into the right rough and behind a palm tree. For his second shot, he attempted to cut the ball round the tree to avoid the lake left of the green. It did not cut enough, however, and the ball came down inside the hazard line, but out of the water. He pitched his third onto the green and holed a five-foot par putt to beat Watson by one.
But Scott also beat McIlroy (who began the day with a three-stroke lead), Danny Willett and Phil Mickelson, all of whom he shared the lead with at one point.
Scott, at a propitious time of year, has his game headed in the right direction—a straight line to Augusta, Ga., and the Masters.