Saudi golf league
Adam Scott in talks with proposed Saudi golf league, jokes he's 'sworn to secrecy'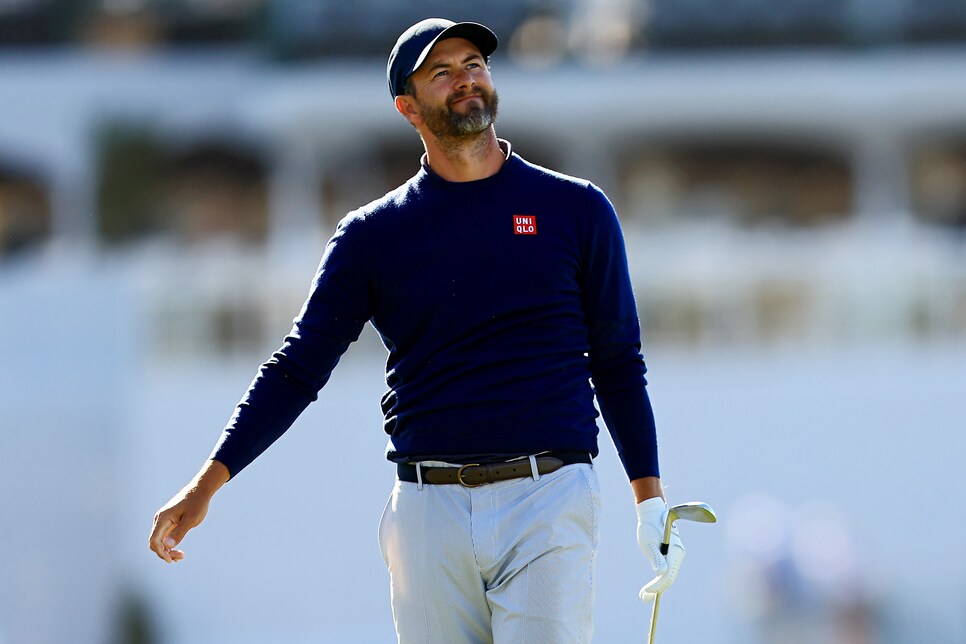 PACIFIC PALISADES, Calif. — Add Adam Scott to the list of players highly interested in the rumored Saudi-backed golf league that hopes to lure stars away from the PGA Tour with huge paydays.
The 41-year-old former Masters champion said on Wednesday in advance of the Genesis invitational that he is "sworn to secrecy" as far as details, which would seem to suggest he may have signed some type of non-disclosure agreement. Lee Westwood said at last month's Saudi International that he had signed an NDA and was not at liberty to discuss the specifics of his negotiations.
Scott tends to play less than most average tour pros—roughly 20 events per year—and finds the proposed league's schedule particularly attractive.
"I think the schedule they're proposing is very appealing to probably most golfers," he said. "Depending what your goals are in golf, I think the schedule is very appealing. From that side of things, I would consider doing that, for sure. From a lifestyle side of things, yes."
Scott also addressed criticism about the source of the money being used to lure top players to the rival league.
"I think it's a bigger discussion than just a quick quote from me up here, to be honest," he said. "I can understand obviously that angle. I think you can argue both sides of lots of things, but at the end of the day I think my general feeling on this at the moment is that it's only a positive thing for professional golfers that there's interest and money coming into the sport. And it's also somewhat forced the PGA Tour to put more money into the professional golfers and we're seeing that all around the world, too.
"They've put money into the European Tour. The LIV Golf Investments has put money into the Asian Tour. So at the moment that's good for strengthening the professional game. How everything else pans out, I don't know, but at the moment I think it's good that these things are happening for golf professionals."
The league, of course, does not exist yet. Greg Norman was officially named CEO of LIV Golf Investments in October and promptly announced $200 million investment from the Saudi Arabian government's Public Investment Fund. That money, Norman said, would be used to fund a 10-event series on the Asian Tour, which was unveiled last month during the Saudi International (also funded by the PIF). It is widely assumed, however, that LIV Golf Invesments is planning a separate league from the Internatioanl series that will play its own limited schedule of events across the globe.
The league has dominated conversation this week after tour player Kramer Hicock claimed that 17 players had already signed up and went into detail about the tournament structure and schedule. Meanwhile, Jon Rahm, Collin Morikawa and Rory McIlroy have all said this week that they will not be leaving the PGA Tour.
Scott has expressed issues with the PGA Tour schedule before; the native Australian likes to head back home for large swaths of time and feels the current breakneck pace of the PGA Tour schedule does not allow him to do so. He played just nine times in 2020, when he initially opted to stay in Australia rather than return to the COVID bubble-era PGA Tour.
"When there's only a proposed 14 events [on the new tour], let's say, and you might pick to play some other events, there seems to be time for a legitimate offseason," Scott said. "I think that's really missed on the PGA Tour from all aspects, but certainly from the top players. I think we would all like to see a break, and a break where you're not penalized for taking a break. I think that's one of the big things."
Scott is a two-time winner of the Genesis Invitational and enters this week with top-10s in two of his last three starts worldwide.