Seen on Tour
Adam Scott's one-of-a-kind Miura irons have a Jack Nicklaus look
While it's not necessarily unusual for a tour player to experiment with prototype equipment at a tournament, it's rarely an entire set of irons that likely will never be on the market, rarer still to make such a change in the middle of the season and perhaps distinctly unique for a name player to do it with a company that will never be confused with (nor has any interest in being) one of the top five.
But that's exactly where Adam Scott has found himself over the last few months, as the former long-time Titleist staffer searched out a set of irons that fit his eye for a classic shape that may have fallen out of favor in the modern game. Turns out the shape he was looking for came from an 80-something forged iron maker and well, an 80-something who maybe used forged irons better than any human ever has.
This week during the Memorial's practice rounds, Scott debuted a custom set of muscleback blade irons from Miura, the legendary forging house in Japan led by founder Katsuhiro Miura, whom the Japanese golf media once labeled as having "the hands of God." The irons, which Scott shared on his Instagram account, grew from his interest in a set Jack Nicklaus developed with Miura two years ago. (The Jack Nicklaus brand and Miura are both owned by 8AM Golf.) As of Wednesday, the 14-time PGA Tour winner was still unsure if he would put the clubs in play for the first round at Muirfield Village.
The Jack Nicklaus X Miura irons, which were sold out in a week and started shipping in March 2021, featured a flatter sole and a touch more offset than typical modern blades. That's just the look Scott grew up on and tended to prefer in his Titleist irons, which included the 680 MB and 710 MB, the latter he used to win the 2013 Masters.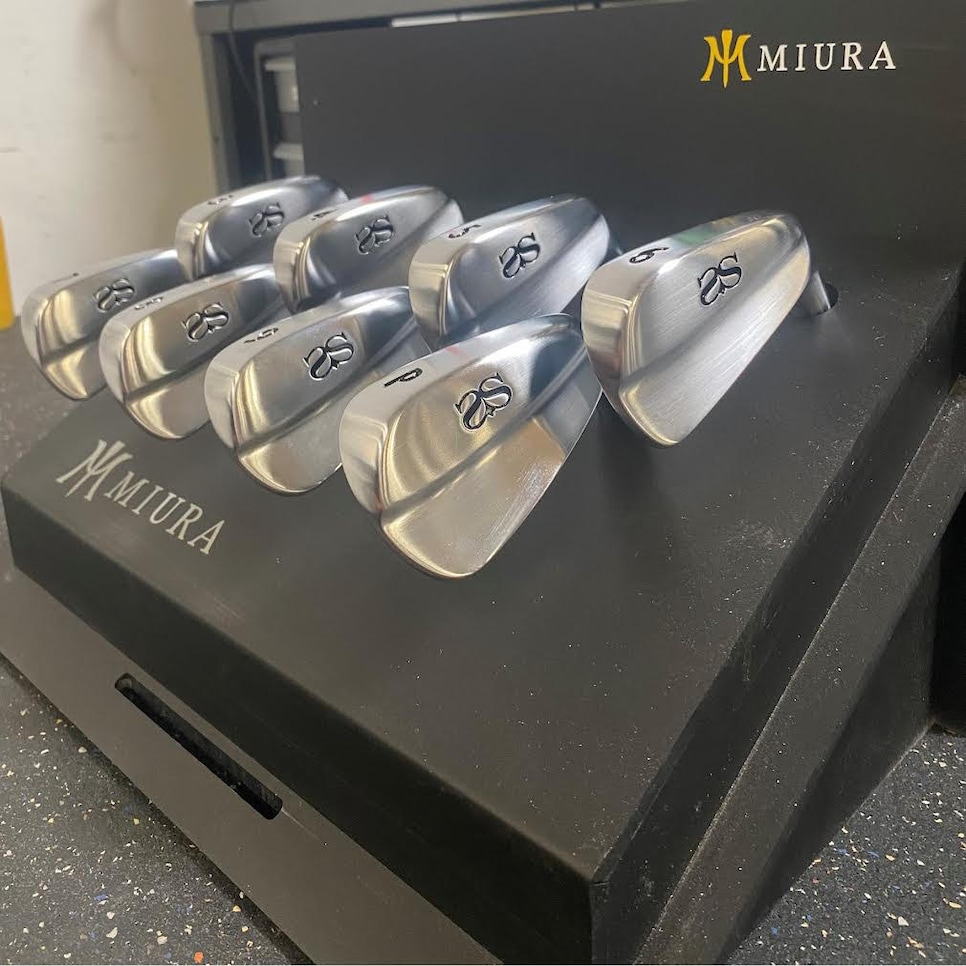 "I like offset, along with a longer blade and a higher toe, less boxy and less symmetrical," Scott, 41, told Golf Digest a year ago. "The irons are made so beautifully now, but it's a little different than what I grew up looking at. Not a lot of guys play offset out here, but that's what I grew up with. I also like a sharp leading edge and it keeps me shallow coming into the ball. I know if I get too steep the club is going to stick in the ground a little bit. So it helps me keep my swing where I like it."
Scott worked with Miura's Kevin O'Connell, the company's vice president of sales and a good player himself, and then O'Connell met via Zoom frequently with Miura's son and the man sitting in the second chair on the grinding line, Yoshitaka. Through translation, Yoshitaka implemented some of the additional tweaks to the topline, toe profile and sole bounce to get an iron to Scott's liking.
"This is really difficult because we're not in the factory standing over the Miuras and saying this is what we're looking for," said Bill Holowaty, Miura's COO. "One of the things that Jack had communicated to Mr. Miura was what he called this 'underslinging' of the heel and sole area. He liked the look of some offset but didn't want it to dominate. It was more about framing the ball.
"I can't understate what a skill it is for Yoshitaka to take the thoughts Adam has transferred to him through Kevin and [me] and to be able to sit down on that grinding wheel and come up with something that Adam would put in the bag."
Scott, who has been something of a distinct equipment free agent this year including dropping his Scotty Cameron Xperimental long-shafted putter for LAB Golf's Mezz.1 mallet a few months ago, tested the new irons that literally arrived on site this week. Scott told GolfWRX.com, "It's not easy to just throw in a new set of clubs, but I enjoyed them, I think they're a great set of clubs. I need some days to feel confident, but I think they're doing everything they should."
Scott said the flatter sole could be especially valuable at venues with firmer turf conditions, particularly the upcoming U.S. Open and Open Championship, but he wasn't ready to commit to the custom one-of-a-kind Miura blades this week just yet, especially on the usually lush conditions at Muirfield Village. He did concede that having them arrive with his logo stamped on the back immediate raised his interest level. "They probably knew if they stamped [my logo] on them I couldn't resist," he told GolfWRX.com. "I got them out on the range pretty quick. They went from the box to the range in about 1.5 minutes."
For the company, the custom set was a challenge and an opportunity, but while Miura hasn't always sought the spotlight and certainly is a long way from introducing an Adam Scott signature blade, Holowaty says these types of cases have a special resonance for the brand.
"They know that the success they've had with Abe Ancer and something like this that gets them attention outside Japan, and the Miuras recognize that any successes that are enjoyed outside Japan tend to raise them up even higher in Japan."