European Tour
Why is a major champ who hasn't played the BMW PGA in 15 years back? Adam Scott explains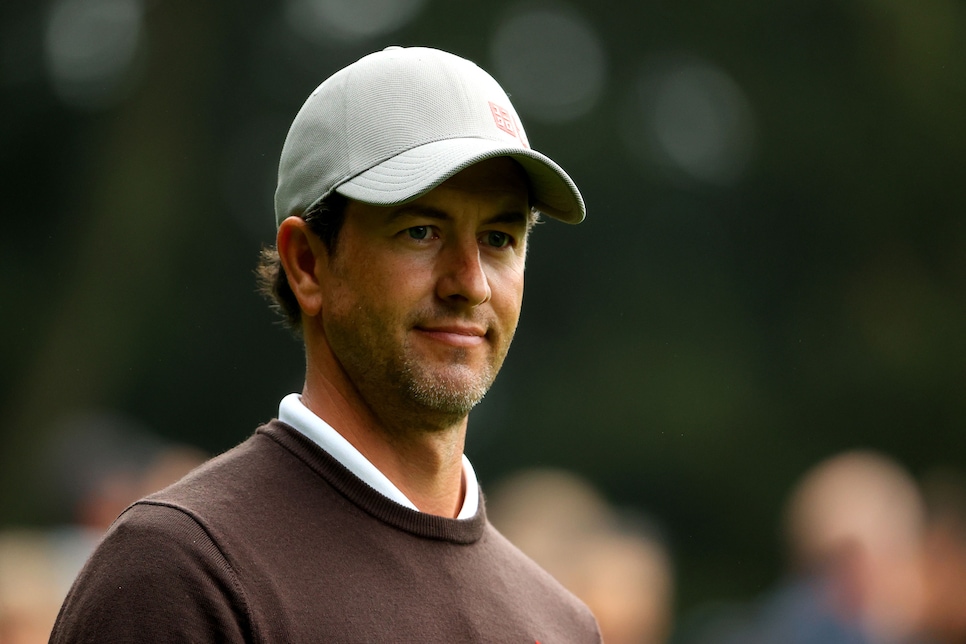 Adam Scott made eight birdies and one lone bogey en route to an opening-round 65 at Wentworth Golf Club.
Andrew Redington
VIRGINIA WATER, England — This has not been the best season of Adam Scott's distinguished career as a professional golfer. No one is arguing that fact, least of all the 41-year-old Australian. "I've struggled to get any momentum going," says Scott, whose PGA Tour season came to an end early last month with a missed cut at The Northern Trust.
Still, there have been recent signs of life in the play of the former Masters champion. Well, one anyway—a playoff loss to Kevin Kisner at last month's Wyndham Championship, a week before his Playoff MC, that was Scott's second top-10 finish on the PGA Tour in 2021.
Now there's more good news. Making his first competitive appearance at Wentworth in 15 years, Scott nipped round the 7,267-yard Burma Road layout in a nifty 65 shots to sit only one stroke behind the early leader at the BMW PGA Championship, Kiradech Aphibarnrat. Scott made eight birdies, his mishap coming at the par-4 16th, where a badly pulled short-iron approach inevitably missed the green long and left, eventually leading to a bogey.
Secreted within that generally positive summary there was also a wild and welcome stroke of luck. After initially fearing his drive off the 15th tee was out-of-bounds—"the ball must have clattered around in the trees and dropped straight down"—he was able to hack-out then pitch in for an unlikely birdie.
"Apart from one social round, I haven't been here since 2006," Scott said after the round. "I'm not sure that counts, or what version of the [twice re-modelled] course I actually played. But it's lovely to be back. I've never seen it in better shape. I've been feeling like I've been playing well. And it's obvious from my score that I did. My form is one reason I came here. I haven't had anything to play in the last couple of weeks. So this was a great opportunity to come and play in a really good event. All in all, it brought back a lot of good memories from early in my career."
Like many Aussies, Scott made his way to the PGA Tour via the European Tour. Only once from 2000 to 2010 did he play fewer than 10 times on the Old World circuit. Seven of his 11 career victories were recorded in that period. Which is not to say Scott would be delving into the memory banks to derive much confidence from his five previous appearances in the European Tour's "flagship event." A tie for 11th was his best effort; twice he missed the halfway cut. In only nine of his 16 rounds did he break par.
"My whole game was very solid today," he said. "I did everything fairly well. I putted nicely. I hit a lot of good shots. I hit a few fairways. Yes, I got that break on 15, but there was lots of good stuff. I did miss a couple of greens with wedges coming in though. I'd like to not do that for the rest of the week. But overall, it was good stuff."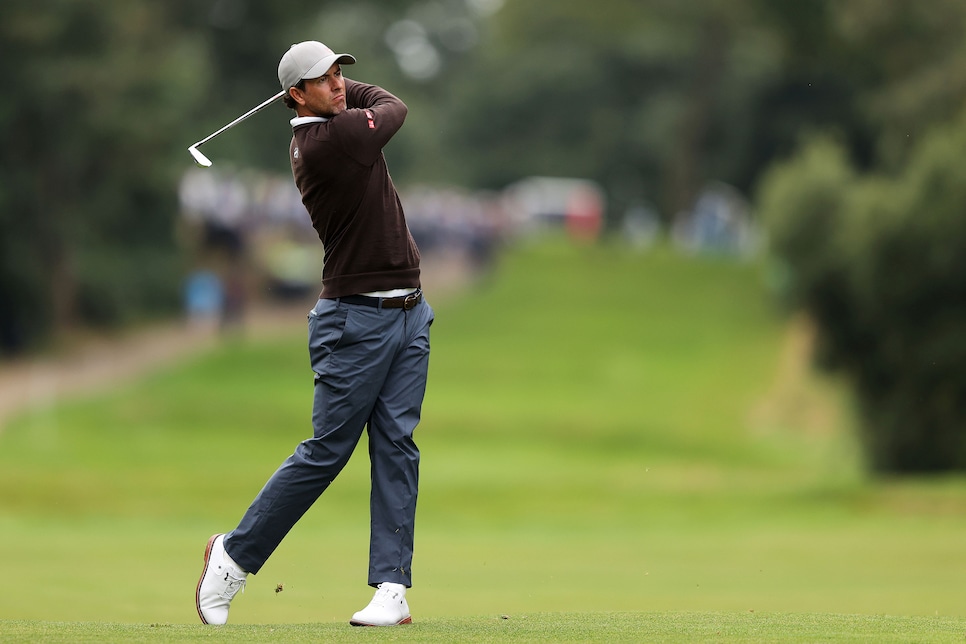 Scott is also deriving some vicarious pleasure from the sights and sounds of what might be termed "Ryder Cup week." On Sunday evening, the identities of the 12 European players who will defend the trophy at Whistling Straits later this month will be confirmed.
"It's good fun watching all the Ryder Cup stuff happening," said Scott, an almost evil grin on his face. "Knowing everyone involved, I take an interest. I took note of the American picks yesterday. And there's a lot going on here. I have no idea what [European captain] Padraig [Harrington] is thinking. But I think he'd have to be happy when guys with experience play well. He's got some difficult choices to make, but that's a good position to be in."
And, so far at least this week, the same can be said of Scott himself.