The Loop
Scott attempts a return to normalcy in his first post-Open round
AKRON, Ohio -- His opening drive Thursday morning at Firestone CC split the fairway. Four holes later, he four-putted from nine feet.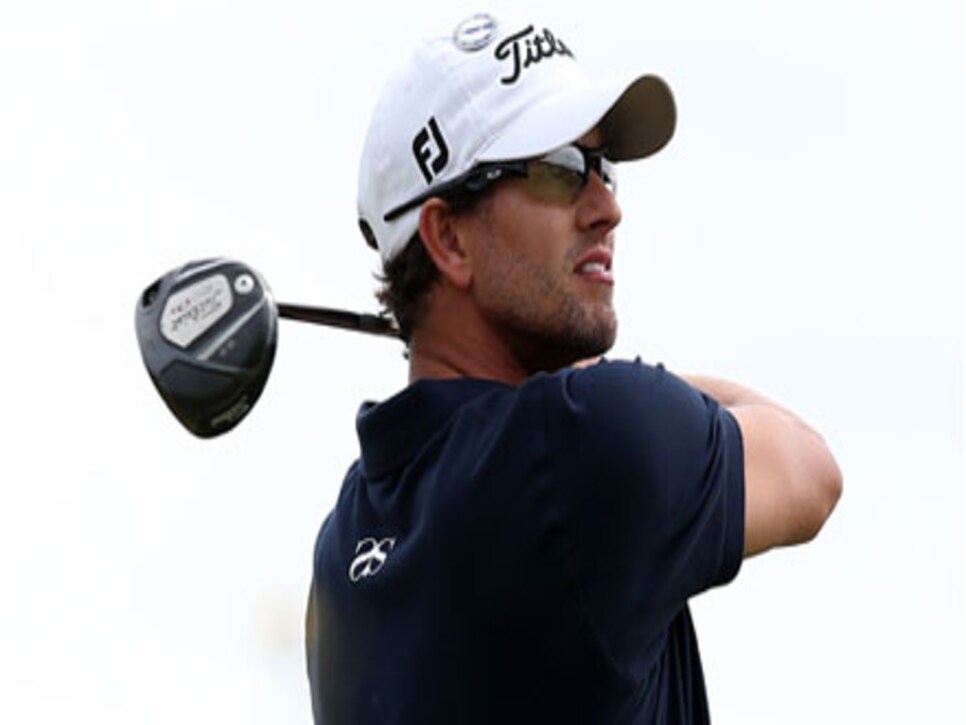 Adam Scott at the British Open. Photo by: Ross Kinnaird/Getty Images
In his first tournament round after his monumentally disappointing loss in the Open Championship two weeks ago at Royal Lytham & St Annes, Adam Scott discovered that he needed a few moments and a few deep breaths to recapture his competitive equilibrium.
A 1-over-par 71 wasn't necessarily a score to savor when most of the field in the WGC-Bridgestone Invitational was wreaking havoc on Firestone's usually feisty South Course, but neither was it without utility.
If Scott is to heal from his letdown at Lytham, where he bogeyed the final four holes to cede the Claret Jug to Ernie Els, the process might as well commence at the site of his last PGA Tour victory.
Even if he wasn't truly prepared.
"A little bit at times I felt a bit like it was quick to get back into it after a big week," Scott said after posting a score nine strokes higher than his opening 62 from a year ago when he bolted to a wire-to-wire victory, his eighth on the tour. "Majors are a big week anyway. To spend the whole week in the mix (at Royal Lytham) and then have a finish that I spent a few days thinking about, and then having to deal with speaking to everyone ... even though it's been all very nice, it felt like it was hard to switch my mind back on. I think I did a pretty good job after that 14th hole."
The 14th is where the amiable Aussie four-putted for a double-bogey. The rest of the round was without many highs or lows, which he's undoubtedly gotten his fill of. Last week Scott retreated to his place in Crans-sur-Sierre, Switzerland, to reconnoiter and reconsider the week that was at Lytham, where he played 68 holes of impeccable golf only to see it come undone in the final stretch.
The likelihood of shooting another 62 at Firestone, as he did last year, was remote. Performing as he did at Lytham isn't a common occurrence either. "I can't expect to play four rounds like I did at the Open," Scott, 32, said. "To be perfectly honest, that was the best golf I've played in a major -- maybe ever -- from tee to green. It was pretty flawless for the whole week."
Thursday's goal was to rediscover a semblance of normalcy, put some numbers down on a scorecard, begin the process of distilling the results of the Open from his performance.
"I feel like I put a lot of preparation into that major and then all the mental energy you expend being in contention ... it's good to get back out there sooner rather than later," he said. "I think that's good to be able to turn my mind back on to competitive golf. And maybe it just took today to say to yourself, 'OK, you just need to switch the mind back on and not just float through this week. Get yourself ready for next week too.' The next three days are important to me as far as confidence in the game. It could go a long way into next week. It's back to business as usual now."
Good timing, because the business of golf gets harder. The PGA Championship begins next Thursday followed two weeks later by the start of the four-tournament FedEx Cup playoffs. This is a key stretch. Fortunately, Scott might be one of the most rested players in the game. His start at Firestone is just his 11th of the year.
Further solace can be derived from the fact that he has finished 15th or better in the year's first three majors.
"I feel like I'm in a good spot. I'm still swinging well, hitting good shots," he said. "I can't expect to play every week like I played at Lytham. It can be good to a high standard, but you also have to realize it won't be quite the same every week. But physically I'm fresh. I've only played 10 times this year. I've worked hard on my game, but I've done things a bit differently, and I'm hoping as we head into the stretch here it pays off."