News
Adam Scott is lurking, 'plenty close' to leaders at three behind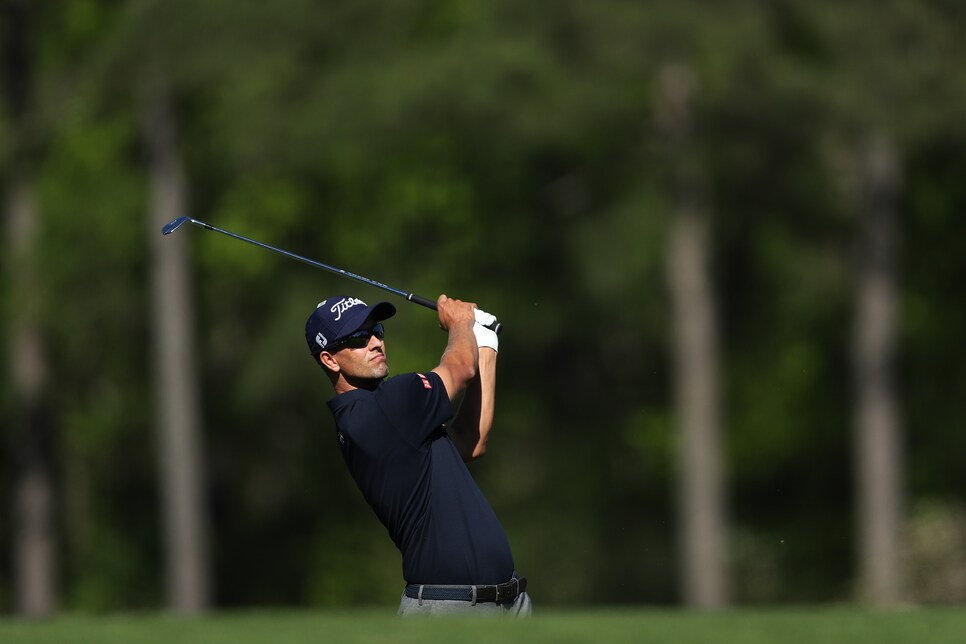 AUGUSTA, Ga. – For just the third time in his Masters career, Adam Scott will begin the final round inside the top 10 on the leaderboard. The last time he was this close to the top, he nabbed a green jacket.
After opening with a three-over 75 on Thursday, Scott has quietly put himself in position to add a second green jacket to the one he secured in 2013. On Saturday at Augusta National Golf Club, when the greens returned to raceway speeds, the Australian native carded his second straight 69 and trails leaders Justin Rose and Sergio Garcia by just three shots.
"That's plenty close," Scott, 36, said after escaping a notably speedier setup without a bogey. "I think I was two [behind] when I won. It's just the great players in front, and in conditions like this, if they're like this again tomorrow it's going to be hard, because you're going to have to make it happen. I'm just going to need the round of the year for me tomorrow."
Four years ago Scott sat third and trailed by one, not two, after 54 holes before prevailing on the first hole of a sudden death playoff over 2009 champion Angel Cabrera.
So what if his memory is just slightly off. Playing in his 16th Masters, Scott likely will remember how to handle the final-round pressure and put together a game plan suitable to perhaps get him across the finish line. In fact, it's clear what he has to do, and it's more than just "playing great," his current form.
For instance, he knows how emotion swings are common. "When you feel quite close to the lead, it seems like that could just flip with a birdie and a bogey," he said.
And he knows where to pick up strokes. Or where he hopes to pick them up, that is.
"It's cliché here at the Masters, but it all starts on the back nine," Scott explained. "And for me in my position, I just have to play a really good front nine, so I can start something on the back nine. But I'm going out there with no pressure tomorrow, playing really well tee to green, feeling good on the greens. I just have to piece together a smart front nine and keep myself there and you've got to get through 11, 12."
He makes it sound easy. Far from it. As he pointed out, "I think the pedigree in front of me is good."
Still, Scott doesn't mind his position. The focus is on the leaders and on 2015 winner Jordan Spieth, who like Scott opened with a 75 but also has rallied toward the top, just two behind. Meanwhile, Scott, a 13-time PGA Tour winner, has happily assumed total stealth mode.
"It's not easy to do, it seems, these days, to protect that lead," he said. "But that's where I have a little advantage to sneak up on them on the front nine, and then I only have to deal with nine holes of pressure."