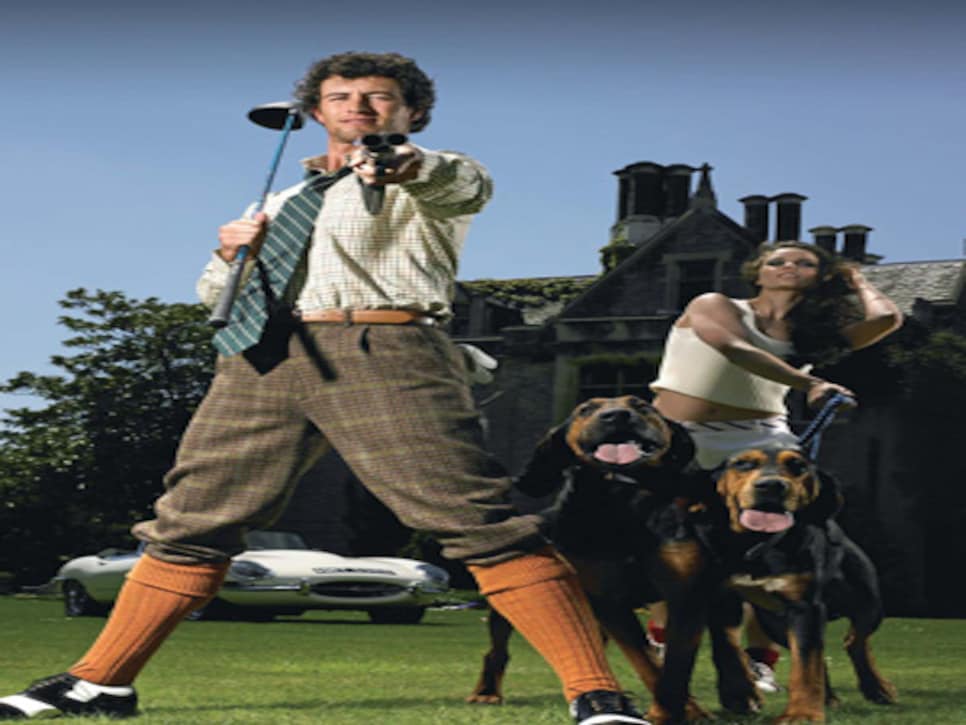 'When people think you've got potential, they can be fairly harsh.'
With his two-day growth, curly hair and athletic build, Adam Scott
appears as ready for his next day on a surfboard as he does for this week's PGA Tour
event. Scott has won golf tournaments in eight countries, been linked to a beautiful movie star and a tennis stunner, resides in Switzerland and Australia and recently took ownership of a Gulfstream jet. Any other 30-year-old in any other profession with that kind of dossier would be considered a success. Why then is Adam Scott considered an underachiever?
at 23, people figured majors would quickly follow. They haven't. Now, after a series of physical and emotional setbacks that led to more than a year of mostly bad golf, Scott is having fun again.
Two wins in less than six months -- the Australian Open in December 2009 and Texas Open in May 2010 -- and three solid finishes in the FedEx Cup playoffs. What changed?
Well... a lot of things. At the end of 2009 I started swinging the club better, which was part one of the process -- a five-part process, probably. I started to get my confidence back through hitting the ball more solidly and then making a few putts to win the Australian Open. Then after I struggled with my putting at the start of 2010, I had a lesson with Dave Stockton that, coupled with the work I did with my golf swing, led to the win in Texas. Hopefully I can keep producing.
This comes after what had to be your worst year as a pro, in 2009. Ten missed cuts in 24 events. What went wrong?
After I won the Byron Nelson in 2008, I was in a really good place. I'd won in Qatar and dug one out in Dallas, and I felt like everything was rolling along great. That's when I broke up with Marie, broke my hand and then got sick. It turned out to be quite a long setback. But that's OK. As long as it happens only once.
The breakup was a big factor, wasn't it?
It had a big impact on my life. Marie and I had been dating for seven years and lived together for five, sharing homes in Australia and London. We had built a life together. What happened? Our lives in some ways were just moving apart, possibly because of my travel. She studies architecture, and is very talented and driven. I didn't want to hold her back. It happens, but it still hurts.
What about the broken hand? Didn't someone slam it in a car door?
It was a complete accident. We were out having a few drinks and decided to shift venues. We were all piling into a mate's car, and his buddy accidentally shut the door while my hand was up there, and I was jabbering away. Those things happen.
Critics have been pretty tough on you.
When people think you've got potential, they can be fairly harsh. When you're busting your ass and not getting anything out of it, you do get tired of hearing it. But look, I set lofty goals. I want to win majors. And if I'm not delivering and I get criticized for that, well, that's fair. But time isn't running out.
Do you feel good about where you're headed?
I'm excited. This is the best attitude I've had. Part of it comes from having experienced some lows and having to dig my way out of that. I was down and a bit depressed. But you can't stay like that for long. I know I'm lucky to do what I do.
What's your reaction when you hear that you lack toughness?
I don't understand where that comes from, because I win. It's not a toughness thing. It's preparation. It's a mind-set. I've won a fair bit when I've been in the hunt.
Obviously, any major would be huge, but everyone has a favorite. Which trophy do you most want to win?
If I was picky, which I'm not, I'd love to win the Masters
just to say that I'm the first Aussie ever to win that. After that, the [British] Open Championship
Tell us about your family and growing up in Australia.
I was born in Adelaide and moved to Queensland when I was 7. That's where I fell in love with the beach. It's the best move my parents ever made. Your dad was in the golf business. What did he do? Dad manufactured wooden drivers, fairway woods and putters under the name Mascot Golf. He put corporate logos on the faces of the clubs. Today he designs courses.
Any courses we've heard of?
He's done some work in Asia, and we've got a project south of Sydney called Crooked River, so hopefully that will be a masterpiece in Australia. It's something we can enjoy together. Golf's been his life, and design has been his life for the last 15 years, so it's nice that we can share that.
Dad was an Australian PGA member but never played professionally. He had a pretty bad motorcycle accident when he was 19 and messed up his knee. Says he never played very well after that.
Mom is still a pretty good player. She was a club champion in her day and is back in single digits. She still likes to tell me, "It's all about the putting, Adam."
Do you remember the first time you beat your dad on the golf course?
I remember beating Dad because that was quite an accomplishment. He was a pro golfer, and I was 13. I was getting good about then and broke 70 for the first time. I know other members of the club who I beat weren't too happy with me. Dad took it pretty well, actually. It wouldn't be great to have a 13-year-old kid beat you, but I guess if it's your son it softens the blow.
I have a home on Australia's Gold Coast and another in Switzerland that I've owned for six years. Right next to Sergio [Garcia] in Crans sur Sierre.
Describe a fun day/night for you and Sergio in Switzerland.
Oddly enough we haven't had one yet. We haven't been there at the same time yet. There's a little casino up there in the village. There are a few nice places to eat and a few nice little bars, so there's a little bit of action at the right time of year.
I know you love to surf. Do you ski at all in Switzerland?
My knee's so fragile. I think I'm done with skiing.
Absolutely. Falling in the water doesn't hurt as much, and I've gotten to a good level where I'm never putting myself at too much risk. I don't chase big waves, either.
What do you love about surfing?
The connection with the water. I always come out of the water refreshed, energized and at peace.
The only straight-up surfing trip I've taken is to the Maldives.
What's your surfing handicap? I'm probably a 10.
Ever had an encounter with a shark?
I've seen sharks. Fortunately they didn't come near me.
If you could live anywhere in the U.S., where would it be?
Encinitas, Calif. It's such a relaxed town. You can walk to the beach, and the surf and weather are always good. You lived in London for a while.
Did you take advantage of the arts?
I lived there for seven years and went to a lot of museums and exhibitions.
Any particular areas you're interested in?
I've taken an interest in architecture. I like Norman Foster, and Zaha Hadid does some very interesting modern work. I'm fairly contemporary and minimalist in taste.
How do you act on your passion for architecture?
I have a couple of websites I go to that keep you up to date on interesting stuff that's happening. There's a good one called The Cool Hunter (thecoolhunter.net
). It's not only architecture. It's everything new that's coming out that's based around design.
What's the coolest thing you've stumbled upon recently?
Puma has a chalk Ping-Pong table that's a bit of a crazy design. I've always thought it could be a really good thing for the design business if I developed a niche for good clubhouse architecture.
Will you design the clubhouse at Crooked River?
No. [Laughs.] I like architecture, but I really don't have a clue what goes into it.
One course every day for the rest of your life?
Cypress Point. It's a golfing architectural masterpiece, really clever. I wish I could've played it when the sand dunes were exposed with less grass. It's brilliant, though, and not too long.
What kind of music do you listen to?
I'm a rock guy. I like a lot of older stuff like Led Zeppelin, Black Sabbath. In high school we listened to a lot of Guns N' Roses, Metallica, Smashing Pumpkins and Nirvana.
Seen any good shows lately?
I saw Ben Harper in Montreal when I was there for the Presidents Cup a few years ago. Really cool. Saw Robbie Williams in Ireland. Whether or not you like his music, he's a great entertainer.
What kind of car do you drive?
I've actually eliminated a lot of cars recently. I have a Land Rover Discovery, the new one, that I drive to the beach. And I have the 1973 Porsche that I bought in mint condition a couple of years ago. There are only a few classic things that never change, and the shape of the Carrera is one of them.
People have described you as shy. Is that a fair assessment?
I think I'm reserved. I wouldn't call myself shy. I don't lay all my cards on the table.
You got a taste of Hollywood fame when you were spotted with Kate Hudson on Maui.
That was uncomfortable. We were, and are, just friends. Met through a mutual acquaintance.
In 2010 the paparazzi were snapping pictures of you with tennis star Ana Ivanovic.
It still takes me by surprise, honestly. I'm fairly low-key. But it doesn't happen too often, which I'm grateful for.
Adam Scott's movie-star looks are almost a cliché now, but have you ever had an offer to be in a film?
Not at all. I really don't think my acting skills are up to even a cameo role. My acting skills aren't even up to a silent role! [Laughs.]