The Loop
According to history, Mickelson-Stenson pairing promises Sunday fireworks at Troon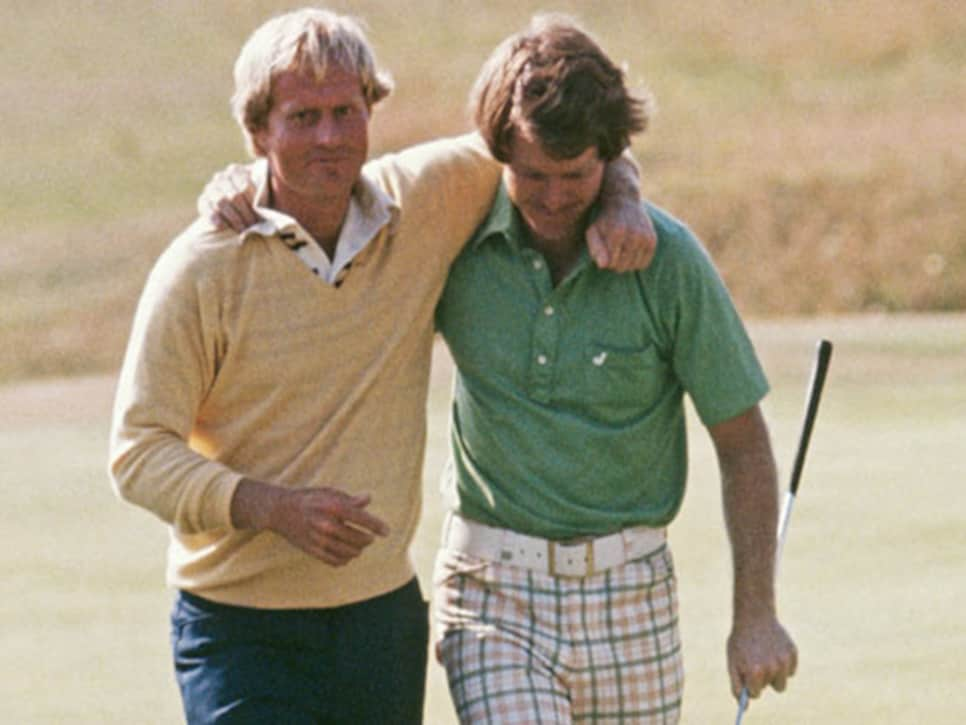 TROON, Scotland — It's rare that the first- and second-place finishers in a major championship are paired together over the last two rounds. Often, it produces doozies. The two players tend to push each other to heights so that they run away from the field, as Tom Watson and Jack Nicklaus did at Turnberry in 1977. And the tension builds until one cracks in the face of the other, as Greg Norman did in his duel with Nick Faldo at Augusta in 1996.
We don't know what will happen on Sunday at Troon when Henrik Stenson and Phil Mickelson play together for the second consecutive day as the leaders in the 145th Open Championship at Troon, but it promises a lot.
The two are congenial extroverts who talked and laughed on several occasions on Saturday. "Henrik, that was a pretty sporty birdie you just did on 17," Stenson said Mickelson told him on the 18th tee after the 20-foot birdie putt that gave him the lead. Besides meeting at the Ryder Cup more than once, they have been paired together a lot lately – at the Masters, the U.S. Open and last week in the third round of the Scottish Open at Castle Stuart.
And it was Stenson, who is still looking for his first major, who Mickelson nipped with his furious finish to win the 2013 Open Championship at Muirfield.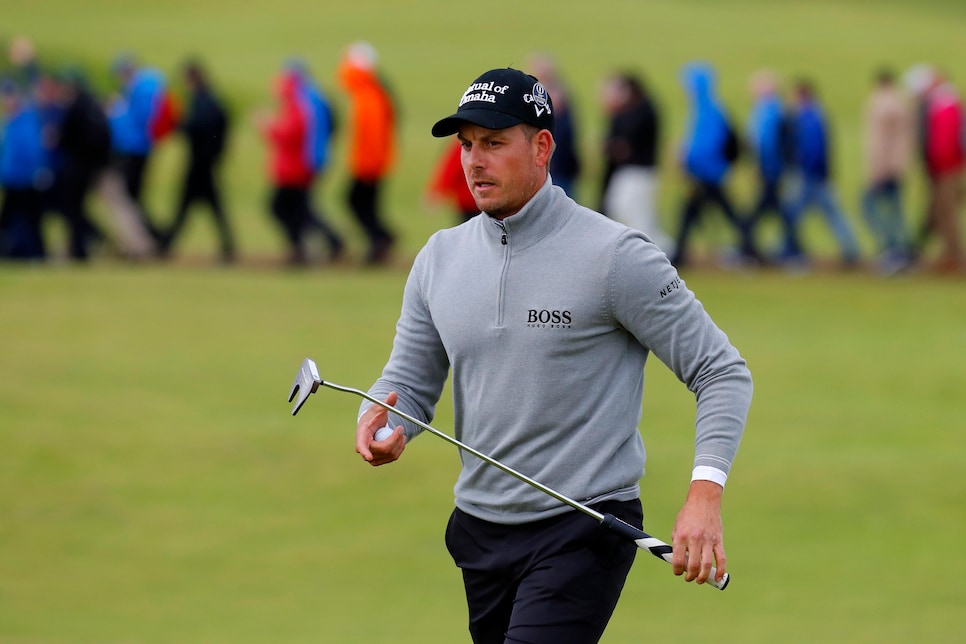 "Oh, thanks for reminding me," said the 40-year-old Swede after a 68 that gave him a one-stroke lead over Mickelson and six over Bill Haas. "Thank you. Yes, there's always revenge. Yeah, it would be great to hand one back to him tomorrow, absolutely."
The chemistry is a bit unusual in such situation. Majors, and extended head-to-head in general, tends to create quiet intensity more than backslapping.
That's borne out in the following list of top 10 occasions when the two leaders played together in the final two rounds (counting 18 hole playoffs. In chronological order they are:
1 -- 1942 Masters: Byron Nelson and Ben Hogan (last round and playoff)
Because the two were the best players in the game and rivals born the same year in Fort Worth, tour pros stayed over to watch. As was Hogan's habit, he barely said more than "Good luck." In the playoff, Nelson doubled bogeyed the first hole, but birdied 11, 12 and 13 to take a three-stroke lead, and held on to win 69-70, reinforcing his early dominance over the late-blooming Hogan.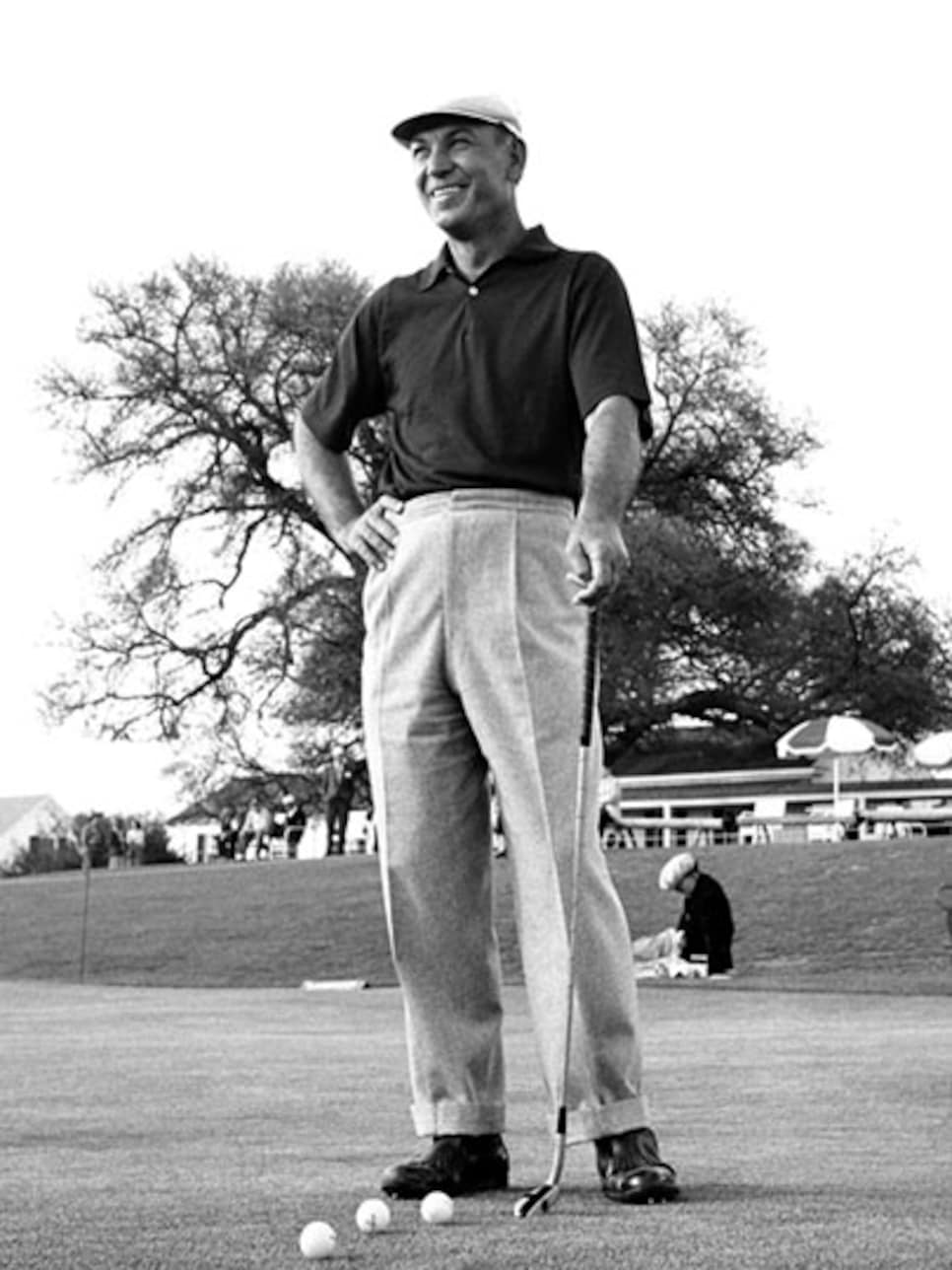 Augusta National/Getty Images
2 -- 1952 Masters: Sam Snead and Ben Hogan
Although Hogan ranks higher in golf's pantheon than Snead, who was also born in 1912, in their mano-a-mano duels in majors, Snead came out ahead. At this Masters, they played three rounds together in what were blustery conditions. On Sunday, Snead prevailed as Hogan faded with a 79.
3 -- 1954 Masters: Sam Snead and Ben Hogan, (played fourth round and 18-hole playoff)
This was the tournament that Herbert Warren Wind would say turned the Masters into a major. Hogan had opened the door for Snead with a final-round 75. The playoff was a taut affair in which Snead took the lead with a birdie on the 13th and held it with another on the 15th to win by one, the last major victory by either player.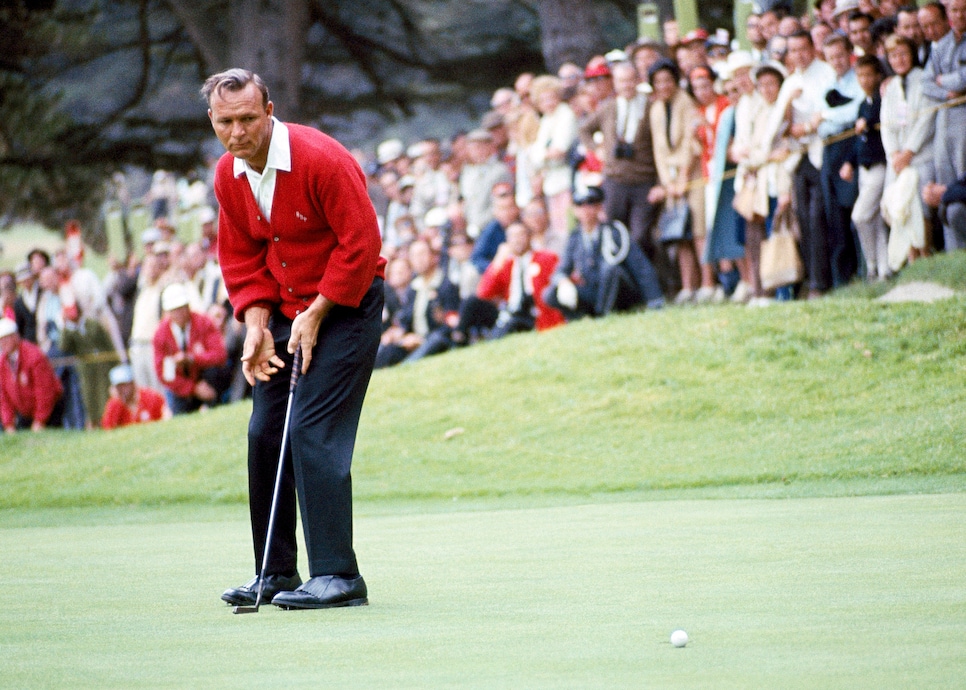 4 -- 1966 U.S. Open: Arnold Palmer and Billy Casper
Palmer played some of the best golf of his life through 63 holes at Olympic Club, putting Casper, who had seen most of the exhibition, seven strokes behind. But going up the 10th on Sunday, a confident Palmer told a seemingly beaten Casper, "Don't worry Bill, you'll finish second." Casper than shot a superb 32, while Palmer began to falter, shooting a 39. In the 18-hole playoff, Palmer again lead after nine, but collapsed coming in. Failing in his third U.S. Open playoff capped off the most painful loss of Palmer's career.
5 -- 1968 U.S. Open: Lee Trevino and Bert Yancey
Yancey, a respected stalwart on the PGA Tour, got in a near-flawless groove at Oak Hill. However, he found out on Saturday that the then-unknown Trevino almost never missed a fairway with his flat swing and wasn't scared. On Sunday, it was Yancey who cracked, and Trevino went on to win by four, in the process becoming the first player to break 70 in all four rounds of a major.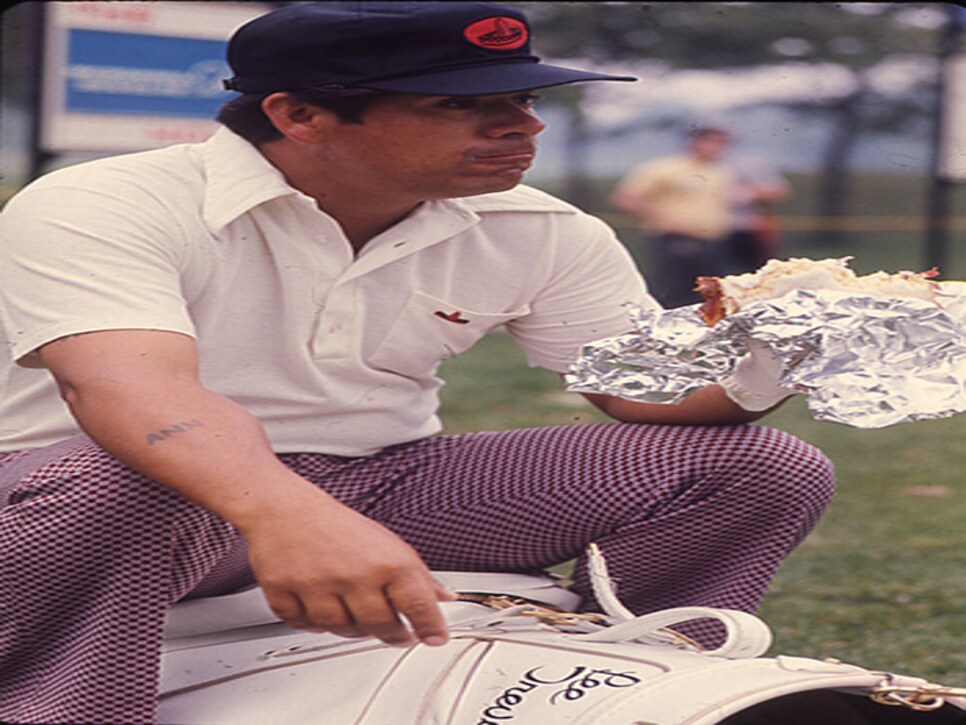 6 -- 1972 British Open: Lee Trevino and Tony Jacklin
Both players had to withstand a desperate charge by Jack Nicklaus, who was going for the calendar Grand Slam. But by the 71st hole, it looked like Jacklin would be the winner when his ball was 15 feet away in three while Trevino was off the green in four. But Trevino chipped in, and Jacklin three putted to give the victory away. The Englishman was never the same player.
7 -- 1973 British Open: Tom Weiskopf and Johnny Miller
Miller was coming off his epic 63 that won the U.S. Open at Oakmont, while the volatile Weiskopf had never won a major. But the immensely talented Weiskopf had control of his emotions at Troon, and with a one-stroke lead entering the final round, made the key putts to demoralize Miller. It would be Weiskopf's only major, but along with 16 PGA Tour wins, it should be enough to get him in the World Golf Hall of Fame.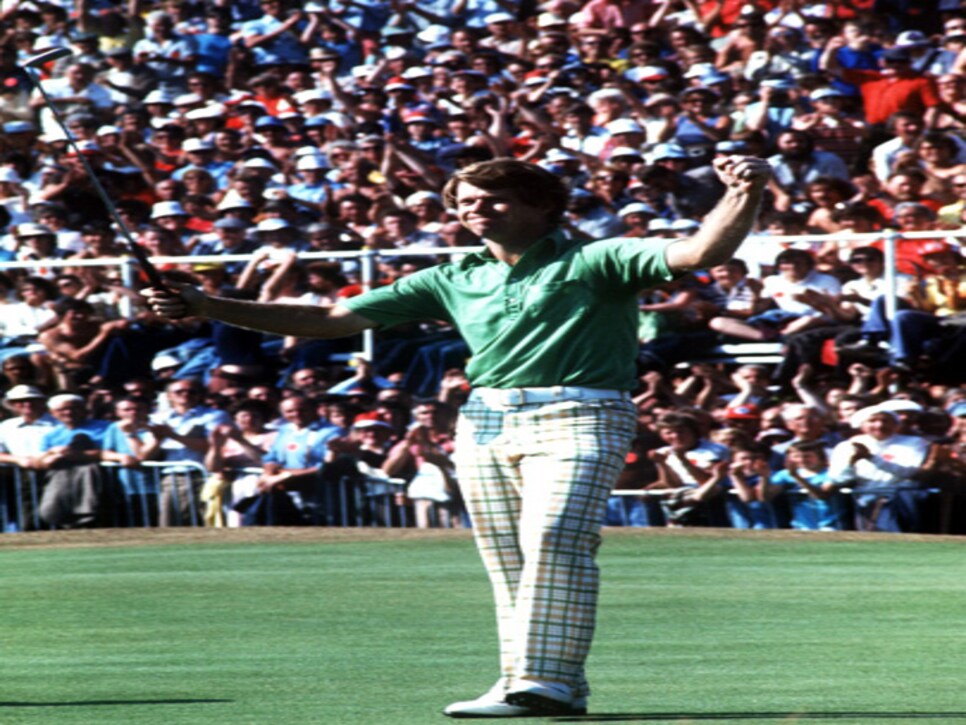 8 -- 1977 British Open: Jack Nicklaus and Tom Watson
The ultimate showdown, the "Duel in the Sun." Turnberry is where Watson, who had won that year's Masters by outplaying Nicklaus in the final round, dethroned the Golden Bear as the game's best player. In the final round, Watson shot 65 to Nicklaus' 66 to win by one. The third place finisher, Hubert Green, was 11 strokes behind the winner. Tied on the 16th tee, Watson turned to to Nicklaus and said, "This is what it's all about it, isn't it." Said Nicklaus, "You bet it is."
9 -- 1980 U.S. Open: Jack Nicklaus and Isao Aoki
These two players actually played all four rounds together at Baltusrol. Nicklaus was making an inspired comeback at age 40 and opened with a 63, but Aoki put on one of the most amazing putting exhibitions ever seen in shooting three consecutive 68s. It would have undone a lesser golfer, but Nicklaus stayed strong and shot a 68 of his own on Sunday, beating Aoki by two for his 17th major championship and fourth U.S. Open.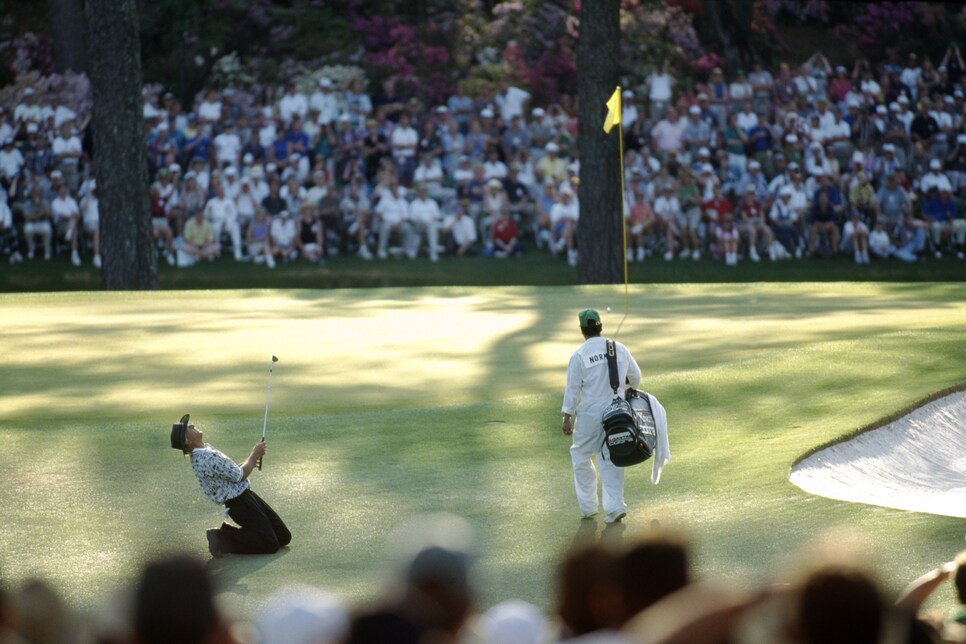 10 -- 1996 Masters: Nick Faldo and Greg Norman
Norman opened with a course-record 63 and kept it going through 54 holes, taking a six-stroke lead. But Faldo had proved to be Norman's kryptonite, and the Englishman knew it was significant when he made a long putt on the 18th hole Saturday to get in the final group again. On Sunday, Norman bogeyed the first hole, but was still up by four through seven. But Faldo birdied the eighth and Norman played the next four in five-over par. In the end, Faldo's flawless 67 against Norman's heart-rending 78 spelled a five-shot victory, and the end of the Australian as a major force.