The Loop
Abilene Christian's Bouniol Wins Nelson Award
Neither the oldest nor the best known of college golf's prestigious honors, the Byron Nelson Award may be the one moms and dads would most like to see their boy win because it celebrates the graduating senior who has best honored the hall of famer's name by excelling on the course, in the classroom and in the community.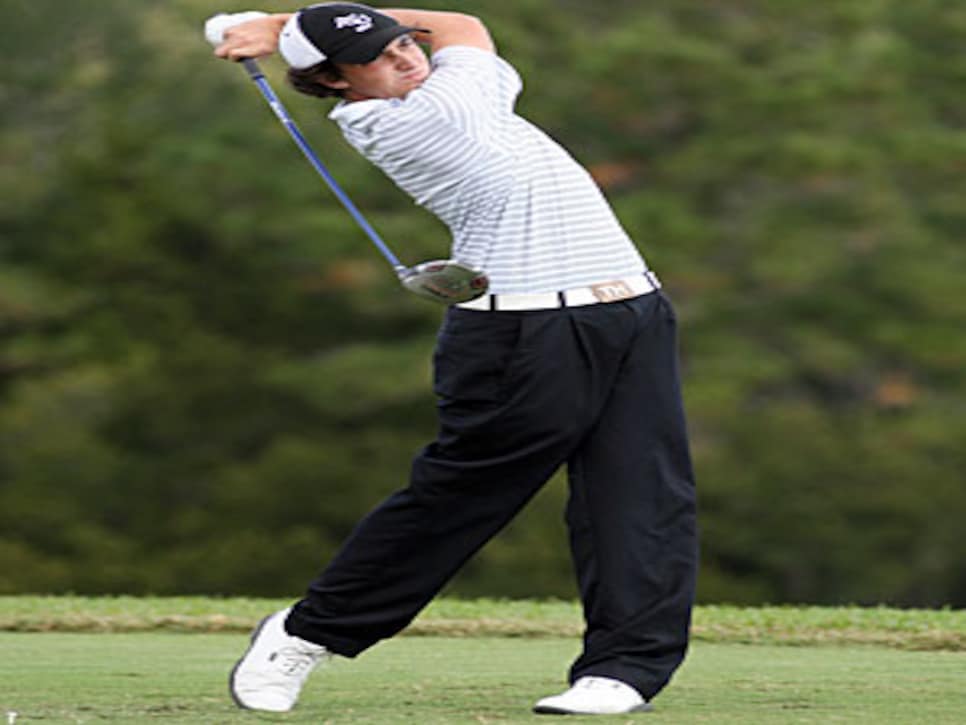 This year those beaming parents hail from the tiny southwestern French village of Laloubere, about 10 miles from Lourdes and an hour from the Spanish border. On May 3 the Golf Coaches Association of America announced that Catherine and Jean-Paul Bouniol's oldest son,Cyril, as the 11th winner of the award sponsored by Cleveland Golf.
Bouniol, the reigning Division II individual champion and a leader on Mike Campbell's fifth-ranked Abilene Christian Wildcats, has a 3.43 GPA in business management and a rare appreciation for the many ways Byron Nelson enriched people's lives long after his competitive days ended.
Presented a copy of former Wildcat golfer__Jon Bradley__'s Quotable Byron shortly after he arrived in the United States in 2008, Bouniol studied and was moved by Nelson's observations on the game, people and life. The compilation of quotes polished the former French Boys National team member's English and, more importantly, served as a guidepost for his college years.
"My mind really works with quotes," said Bouniol, 23, the first international and first D-II winner of the award. "[Nelson's words] helped me with golf, my [life] journey, my faith … everything. The one that struck me the most was, 'It's not about how you play. It's how you conduct yourself and how you treat people.' … That quote rocked my world."
Bouniol, lanky and humble like Nelson himself, emerged from a talented group of five finalists. The others were Georgia's Harris English, New Mexico State's__Timothy Madigan__, Centre's__Chris Morris__ and Pepperdine's Andrew Putnam.
"The committee was blown away by Cyril's honesty, enthusiasm and passion during his interview," said UC-Davis coach Cy Williams, chairman of the selection committee. "It became crystal clear he was a very deserving candidate."
"His sincerity of his message and what college golf has meant to him since coming over from France was in keeping with our long history of the incredible individuals who have won the award," said committee member Paul Earnest, a longtime friend of Nelson and host professional for this month's HP Byron Nelson Championship at Four Seasons Resort and Club in Irving, Texas.
Added Campbell, Bouniol's college coach: "Mr. Nelson started an endowment in 1984 benefiting the golf program at Abilene Christian and was a huge supporter for many years. … I know he would be proud that someone with the qualities that Cyril has exhibited has won the award bearing his name."
On the day before the award's announcement, Bouniol was competing in the NCAA Division II super regionals in Georgetown, Ky. On Monday he grabbed the first-round lead with a six-under par 66 at 6,842-yard Cherry Blossom GC.
After graduation, Bouniol plans to play international events in Europe (including the British Amateur) before returning to the States and Q school later this summer.
"Receiving the award is unbelievable," said Bouniol. "I feel so blessed." *
(Photo: Dyan Busse/Red Rocket Productions and Photography