Victory at Last
Aaron Rodgers tells Josh Allen where he can put his asterisk after winning rain-shortened Pro-Am at Pebble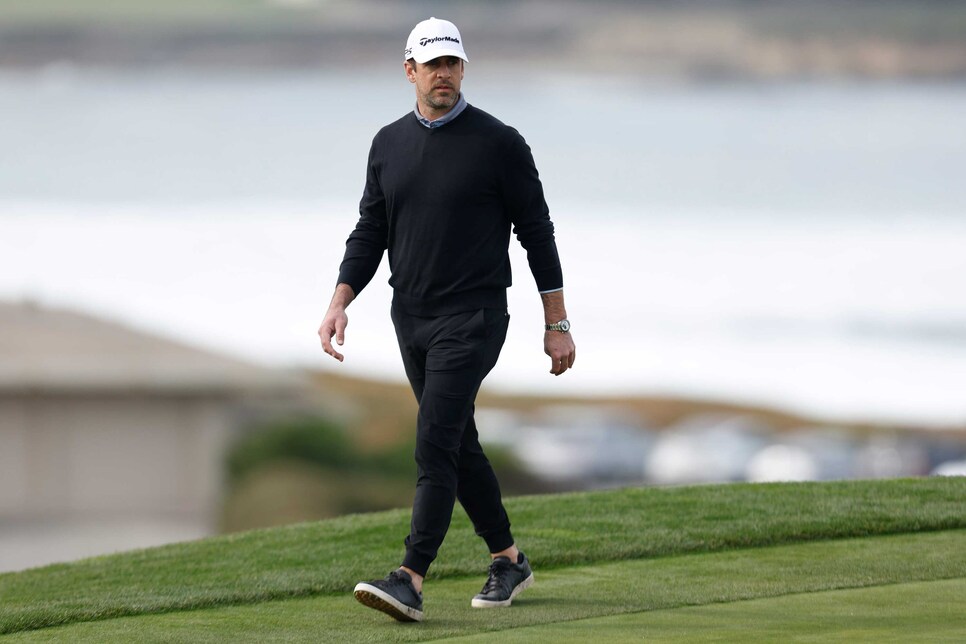 Aaron Rodgers walks on the fifth hole during the first round of the AT&T Pebble Beach Pro-Am.
Jed Jacobsohn
The ninth time was the charm for Aaron Rodgers, the Green Bay Packers QB (at least for now) finally checking off a "bucket list" moment at the AT&T Pebble Beach Pro-Am. Rodgers teamed with Canada's Ben Silverman to shoot a 26-under 189 total and win the Pro-Am competition by one stroke over Peter Malnati and Don Colleran on Sunday afternoon.
"This is a pretty big deal for me. I'm not going to sugarcoat it," said Rodgers, a California native. "It's a great week just as, you know, by itself, spending time with Ben. But winning is the sweetest."
Rodgers' game is something golf fans are familiar with, after seeing him more than holding his own in two editions of "The Match." But the four-time NFL MVP says he hadn't played a round since training camp until last Monday. An 86 at Sherwood Country Club near Los Angeles "with a couple balls in my pocket on some holes" tempered his expectations, as did a practice round at Cypress Point on Tuesday.
"If you would have seen that you wouldn't have expected anything this week," Rodgers said. "But something clicked in when I went to Spy. Had a good round at Monterey Peninsula on Friday. Then we battled the wind the last couple days."
Had the weather not tossed the Pebble Beach schedule into flux, the team competition would have gone a final round for the top 25 teams. But a rain-shortened 54-hole victory wasn't something Rodgers was going to let bother him, even if fellow quarterback Josh Allen of the Buffalo Bills (who finished in fourth place playing with Keith Mitchell) reminded him after the win.
"Josh Allen was telling me there's going to be an asterisk by this win because there was only three rounds," Rodgers said. "But I think our names are going to be up there for a long time," referencing the Wall of Champions near Pebble's first tee where his victory will be commemorated.
Maybe there's no shame in winning the event over 54 holes. But there will be some who wonder whether the 10 strokes Rodgers got each round might have been a little too generous. With Silverman shooting a one-over 216 (missing the cut in the pro event), Rodgers helped improve the team score by 27 shots. Not bad when you see he is listed as having a 3.0 Handicap Index at Green Bay Country Club in Wisconsin. (Even CBS' Trevor Immelman joked when Jim Nantz mentioned the 27 strokes on Sunday's broadcast: "So you're telling me they need to cut his number.")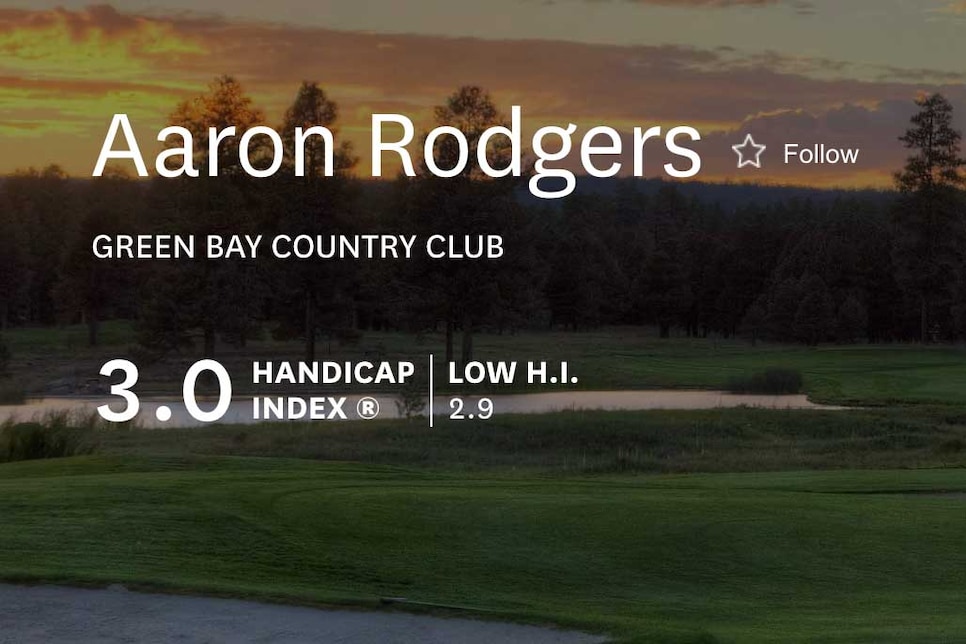 If there was any chirping following Rodgers, it was fans hoping he might consider signing with their favorite teams as he enters the NFL offseason as a free agent.
"It was all, 'Come to the Raiders. Come to the Niners. Come to the Cowboys.' A couple Jets calls out there. But a lot of Raiders presence, for sure."
Suffice it to say, Silverman, who was a sponsor's exemption into the field after winning the Korn Ferry Tour's The Bahamas Great Abaco Classic the previous week (also on a sponsor's exemption), was impressed with Rodgers' play this week.
"He's an athlete, man. Top performer. He knows how to get it done and that's what he did. It wasn't like all four days or three rounds of beautiful golf, but when he needed to … when I was making doubles he was making pars. He knew how to get it done."