The Loop
A year after his major breakthrough, is McIlroy a changed man?
SAN FRANCISCO -- All but grown up, though still with much to learn about golf and life, a lot has changed in the 12 months since Rory McIlroy became U.S Open champion. One year on from that sensational and already iconic eight-shot victory at Congressional, the cute wee mop-topped Belfast boy is all but gone, replaced now by a fair facsimile of the mature man he will soon enough become.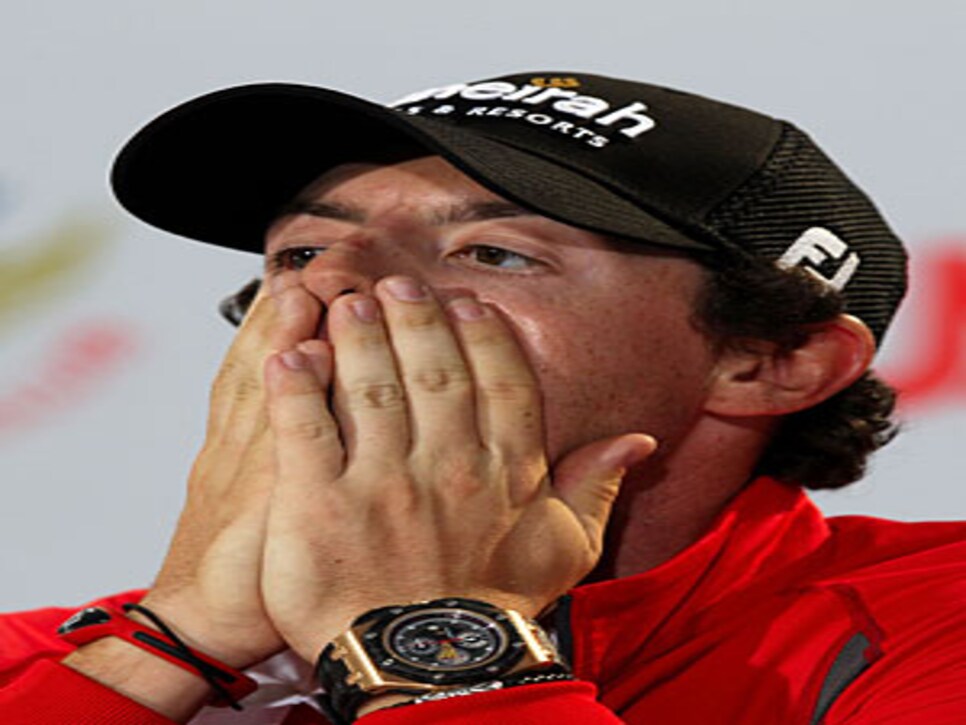 Not all of which is necessarily desirable or good, at least for those who yearn for true openness. Perhaps stung by the first real criticism of his professional career, the 23-year old Ulsterman is noticeably more careful in his public utterances, golf-related or otherwise. Where once there was a genuine kinship with a media that has covered his prodigious golfing feats since the age of six, there now exists a palpable wariness and even a growing suspicion of the (sometimes non-existent) hidden motive he imagines behind every question. He may not have anything to hide, but there are certainly areas of his ever-more jet set, Monte Carlo-based existence he'd rather not discuss.
Increasingly and understandably then, McIlroy takes refuge in the dull platitude and cliche, a stark contrast with the refreshing honesty and language he brought to the microphone and tape recorder earlier in his remarkable career. Where once he went for the verbal carry over the corner or distant bunker, these days he more often than not plays safely down the fairway. In other words, his interviews contain a lot more pars, fewer birdies and hardly any eagles.
Don't get the wrong impression though. McIlroy's inherent niceness and the proper politeness instilled in him by his parents, Gerry and Rosie, are more than enough to maintain a certain decorum when he goes "on the record." We're not talking Tiger-like sullenness here. Nor does this eminently likeable young man ever lapse into a Monty-like tantrum. But, again, things just ain't what they used to be.
As McIlroy's public profile has risen from golf stud to genuine celebrity -- one romantically involved with another young sporting star no less -- he has discovered the less-savory aspects of a life lived more and more in the public eye. The publicity-seeking ex-girlfriend back home in Northern Ireland has no doubt been an occasional irritant. The prying into his still-fresh relationship with tennis player Caroline Wozniacki must have been annoying at times. And the point-missing commotion when he recently -- horror of horrors -- failed to survive three halfway cuts in succession could only have caused more private rolling of eyes.
Through all of the above, however, McIlroy has retained a commendable sense of proportion. There have been no panic changes to his peerlessly rhythmic action, even if his long-time coach, Michael Bannon, has recently made at least one unscheduled trip across the Atlantic. There has been no chopping and changing of equipment. And his caddie, the oft-maligned JP Fitzgerald, remains, at least for the moment.
Which is as it should be. Even a cursory glance at the McIlroy record post-Congressional reveals a lot more positives than negatives. In the 22 events he has played since last June, the loved-up lad from Holywood has picked up two wins, pulled up second five times and recorded four more top-five finishes.
Those are not the statistics of a man in terminal decline. Rather, it is just about what one might expect from a highly-talented individual in the wake of a life-changing maiden major victory. Look at Tiger Woods, the standard by which all modern players must inevitably be measured. After his momentous 12-shot win at the 1997 Masters, it took the great one more than two years to double his Grand Slam tally. So time is on McIlroy's side.
He still talks a good game too, albeit one mixing positivity with pragmatism.
"I'm coming in with the mindset that I'm going to attack the course and play aggressively when I can," he said yesterday at the Olympic Club where tomorrow he will begin the defense of his hard-won title. "This course gives you a few birdie opportunities. But there are also a few holes where you just have to settle for par and be happy with that.
"I'm not happy with top-ten finishes any more though. Okay, it's a good result, but it's not what I want. When I get into positions like I did last week (at Memphis where a last-hole double-bogey scuppered his chances), I want to finish them off and get wins."
A good answer. And an honest answer. But a safe answer, too. Call it a two-putt par.