The Loop
A wild first day only promises more of the same
JOHNS CREEK, Ga. -- Whatever you have planned for late Sunday afternoon, cancel. Tell 'em your dog needs her nails polished. Tell 'em your grandma died again. Stand tall and proud and sincerely tell whichever lie works best.
Sunday afternoon, late, you must, you hear me, you must buckle yourself into a seat in front of the teevee. There will be golf Sunday afternoon and it will be golf of the trainwreck-a-minute variety. This is a PGA Championship that, in one day, has sent Rory McIlroy to the hospital, melted Ryo Ishikawa's brain, caused Tiger Woods to go looking for the Tiger Woods he used to know, and made Steve Stricker famous.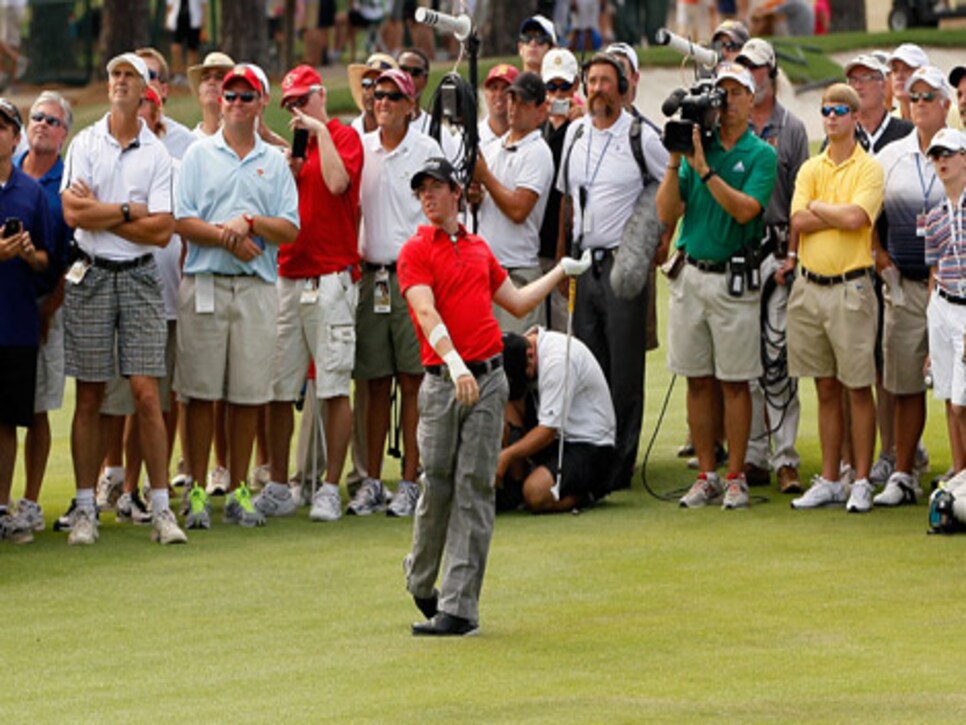 *Rory McIlroy's wrist injury was only one storyline on a wild Thursday. Photo by Getty Images
Well, as famous as Steve Stricker will ever be. For one thing, he's 44 years old and you've never heard much of him. For another, once you dig beneath Stricker's wonderful Wisconsin wholesomeness, there's a really cheesy layer of more wholesomeness. Still, having an 18th-hole putt for the best round in major championship history is a start toward notice outside his house. He missed that one, but made enough others for a first-round 63 and a two-shot lead at Atlanta Athletic Club. Seven under par he is, and that's good, but if you think it means much right now, think again. There are serious, radical, extreme numbers to be made on the AAC's Highlands Course, 7,467 yards, nine ponds, dozens of to-be-lost-in fairway bunkers, and large, rolling greens that by Sunday will have knees knocking like castanets. Listen to Shaun Micheel, a PGA champion himself, a 66 shooter the first day, talking about the layout: "It's probably one of the most penal golf courses I've played....not only do you have a long golf course but you have penal rough, the bunkers are difficult, and then you have 12 or 13 water hazards that come into play."
*__[Related: Recapping the craziest PGA finishes](http://www.golfdigest.com/golf-tours-news/pga-championship/2011-08/photos-crazy-finishes#slide=1)__*
Imagine. Sunday. A major yours to win.
Imagine, coming to the 15th, a par-3 at 260 yards, water at the right.
Imagine, coming to the 16th. Straight up the mountain.
Imagine, the 17th over water.
The 18th, a fairway about three balls wide, a second shot of 200 yards to a flagstick IN THE FRICKIN' POND. Yes, in the pond. Must be. Maybe it's three inches over that stone wall, over that pond. Wherever it is, you want to go out front of the AAC and hand your stick to that statue of Bobby Jones and say, "Here, Mr. Jones, you hit it."
A week ago, the 19-year-old Ryo Ishikawa shot four rounds in the 60s to run with the big dogs in the World Golf Championship tournament won by Steve Williams with an assist from Adam Scott.  Thursday, Ishikawa shot 85 here.
"Every bad shot," he said, "water." Tiger Woods was three under par for his first five holes -- he started on the 10th -- but then played 15 through 18 as if he never wanted to play them again.
Two doubles and a bogey in that stretch helped him to a 77 that all but assures he'll miss the cut and so play those four only once more this week. The good start had this Woods thinking he could be the Woods he once was. He would switch from mechanics to the magic of yore. He thought, "I can just go out there and play and let it go and just play by feel and see the shot, hit the shot, feel it," he said. Wrong.
McIlroy, on his third hole, jerked a drive left, the ball coming to rest next to a tree root. He went after it with a 7-iron that was the last thing that 7-iron ever did. It snapped. It carved up the root. It leaped out of McIlroy's hands because, suddenly, the young U.S. Open champion had knives slicing up the innards of his right arm. "Probably a nerve caught between two bones," was McIlroy's diagnosis before hustling off to a hospital for an MRI. In pain throughout, he basically played one-handed, allowing the right to come off the club at impact.  Yet he posted a 70, even par, and, if told he can't hurt the arm more, he said he'll play Friday.
"It's throbbing now," he said, this after reviewing the calendar: "It's the last major of the year, six, seven months to the Masters." And when you're 22, that's forever from now.
Imagine coming to the last four holes Sunday, the tournament to win.
"Better have a big cushion," Rickie Fowler said, trying to smile. He opened with 74.
Imagine playing 18, 507 yards, par-4, needing a par.
One man made an 8 there Thursday. Six made 7s. Twenty made double bogeys. Only nine made birdies.
Only one man in the 156-player field played those final four holes two-under par.
Do it again Sunday, he will be, yes he will be, famous.