News
A Wie Chance of Making the Team
In exactly 10 days, at the conclusion of the Ricoh Women's British Open at Royal Lytham and St Annes in Lancashire, England, the 2009 U.S. and European Solheim Cup teams will be announced. The European team will include the top five players on the Ladies European Tour points list, the top four European players on the Rolex World Rankings and three captain's picks; the U.S. team will include the top 10 players on the American Solheim Cup points list, plus two captain's picks. As the clock ticks closer to decision time for captain Beth Daniel, the identities of the American captain's picks are the subjects of great speculation. The home team will be heavy favorites to win this year's event at Rich Harvest Farms in Sugar Grove, Ill., August 17-23, no matter who Daniel picks, but there's a lot riding on her choices.
First of all, there's what most people would call the mandatory Solheim send-off of veteran Juli Inkster. At age 49, Inkster has lead the U.S. team to victory in four of seven Solheim Cups she's played, and if she gets another invite this year, she'd tie Daniel and Meg Mallon for most Solheims played by an American at eight (Englishwoman Laura Davies has 10 starts and is likely to make the 2009 team on points alone; if not, she's a shoe-in for a European captain's pick to take her total to 11). Unless Inkster, currently 14th on the list, pulls off a win at the Evian Masters this week or a couple of back-to-back top fives in the next two events, she's not going to make the team on points. But even if she hasn't exactly had a great year so far (her best finish is a T11 at the Michelob Ultra in May), she always seems to step up her game at the Solheim Cup. Add to that her close friendship with Daniel and the indisputable fact that she's become a crucial den mother to all the younger players, and it'd be tough -- if not cold -- for Daniel not to pick her.
Next, there are Solheim Cup veterans Laura Diaz and Pat Hurst, currently in 11th and 13th place in the rankings. Both have proven records in the Solheim Cup and tend to take on leadership roles, just like Inkster -- qualities that are valuable on a team full of young players -- but neither has been playing well lately. Hurst's win at the Mastercard Classic in March has been followed mainly by missed cuts and finishes in the 50s and 60s, and Diaz's 2009 season has been nothing short of abysmal (her best three finishes of the year, all T-26, came in February and March). Unless they pull off miracles during the tour's current European swing, picking either of them would amount to questionable favoritism on Daniel's part.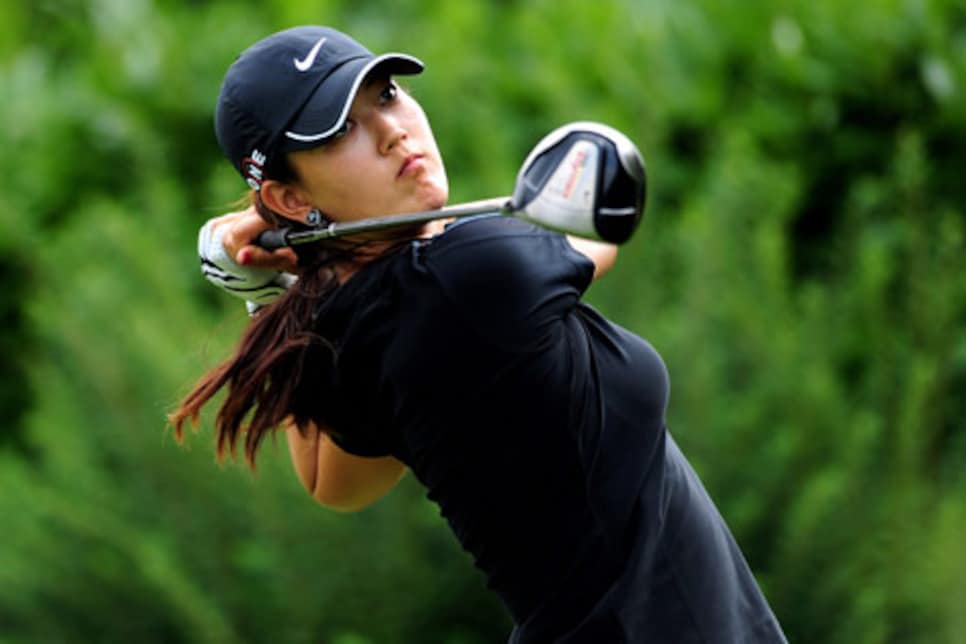 Then there's Michelle Wie. Currently in 16th place in Solheim Cup points, she'd also need two top-fives in the next two weeks to break onto the team on points merits. The Evian Masters is one of her favorite events and she's come close to winning there in the past, and a -2 start Thursday bodes well for the rest of her week, but nobody's banking on back-to back romps by the rookie from Hawaii. However, Wie's current form is as good as it's been in years: she has two top-10s in her last two starts and five total this season, and her injuries and parental demons seem to be a thing of the past. Plus, her Solheim Cup points would be a lot higher if she'd had two years to accumulate them like the rest of the players above her on the list; since she didn't officially join the tour until this season, she's getting shafted on the math end. Especially considering the limited number of qualifying events on the 2009 calendar.
Some might say Daniel would be crazy to pick a rookie who's never played in a Solheim Cup before, but there could be a lot to gain from going with Wie -- not the least of which would be some much-needed suspense and media hype. If there's one thing the LPGA Tour needs right now, it's good publicity, and say what you will of Wie's >troubled past, but she's by far the biggest media draw in women's golf. Would picking Wie be worth it even if she wasn't playing at her best? That's debatable. But hopefully she'll perform well enough in France and England to leave Daniel with an easy choice.
Personally, I think Wie and Inkster paired together in foursomes and best ball could make for some of the most riveting Solheim Cup viewing we've seen all decade.