The Loop
A wet but jovial beginning to the Ryder Cup
NEWPORT, Wales -- When the first guttural cheer came up from  the amphitheater grandstand around the opening hole a little after 7:30 Friday morning, one expected to see the lead European duo of Lee Westwood and Martin Kaymer striding to the tee.
Instead, it was merely for the guy toting the European caddie bibs.
The cheers got even louder moments later. That was for Edoardo and Francesco Molinari, both scratches for the opening four-ball.
Finally, when Westwood and Kayme approached, with European captain Colin Montgomerie not far behind, the reaction from the 2,000 or so people braving the morning downpour could be heard halfway to Cardiff.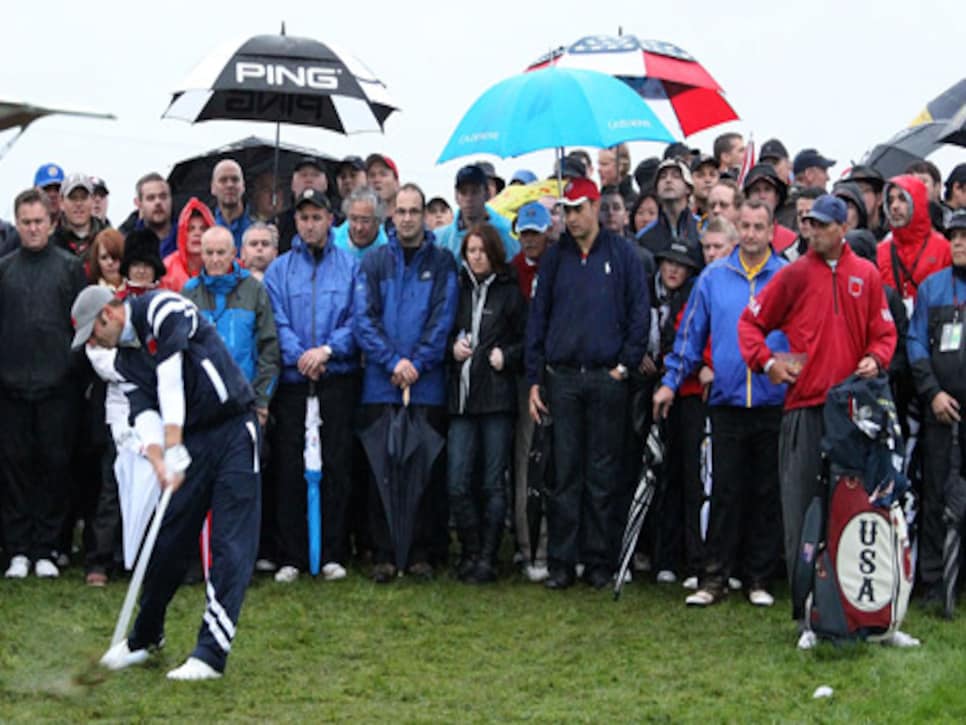 The surprise of the opening moments of these Ryder Cup matches is not that Dustin Johnson pushed his first drive into deep rough right of the green. It was that Johnson managed to advance his ball at all. That is how imposing an atmosphere it is for anyone not draped in European blue and gold. And that his how miserable the conditions are on a golf course where dry towels are soon to be in short supply, and where water is already beginning to collect in puddles on the greens.
If this were any other week on the golf calendar, one would have a hard time imagining players and fans willing to get out of bed, let alone step outside. Instead they have all not only persisted through the wind and rain so far, but even had the gall to enjoy themselves in the process.
Whether that will apply to the Americans for long is another story. A little more than an hour into the matches, only two of the eight players Corey Pavin sent into action were able to find the fairway off the first tee. And the Europeans are already ahead in three matches.
Something says we're not in Louisville anymore.