The Loop
A Week Of Golf In Ireland For $999?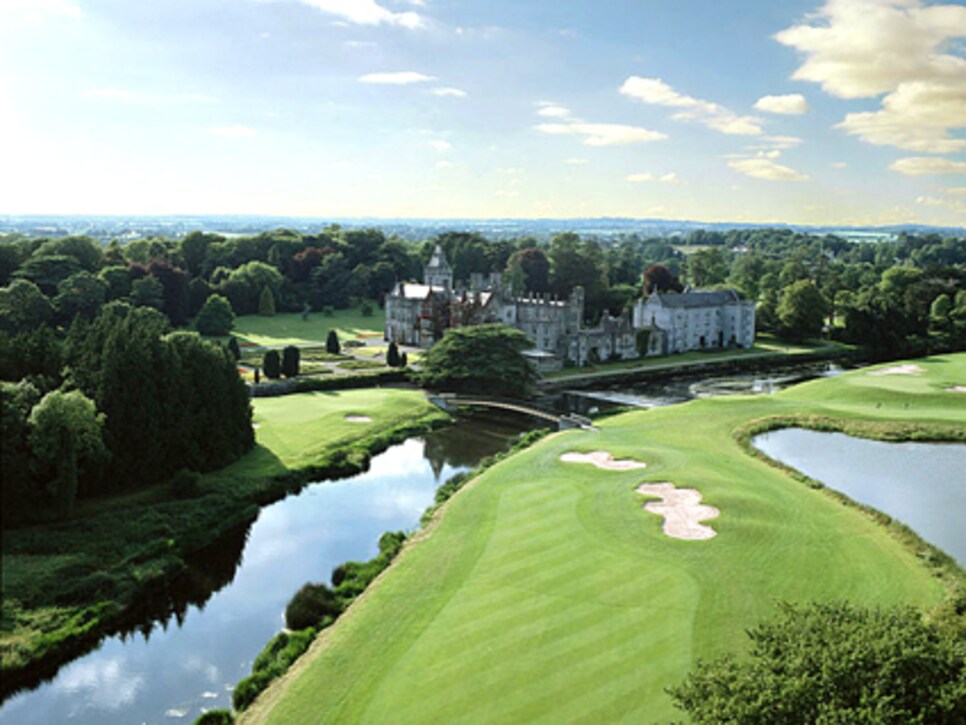 The promo calls it "the ultimate golf holiday." I can't agree, but it's pretty sweet, and boy is it cheap, which is why I'm passing it on.
__The Ireland Golf Resort Vacation package offered by Sceptre Tours includes:
--Round-trip economy class airfare to Shannon.
__Is that Shannon, Ireland or Shannon, Illinois?
Does this particular villa come with a roof?
--Four rounds of championship golf: Adare Manor Golf Club (home of the Irish Open and the upcoming JP McManus Pro-Am Invitational), the Dingle Golf Links in Co. Kerry, the Killarney Golf & Fishing Club (Lackabane Course), and the Doonbeg Golf Club in Co. Clare.__
__--Rental car (manual transmission minivan) for a week. Can be upgraded to an automatic transmission or to a chauffeur-driven car.
Do I have to pack my own tires?
--This package is priced from $999 from New York, from $1,019 from Boston, and $1,049 from Chicago for travel November 2010 through March 2011 (a savings of over 50% if you were to book the same components individually on your own). Rates are also available for May through October 2010 starting from $1,519 from New York. Rates are per person, based on quad occupancy and are exclusive of airline taxes estimated to be $180 per person.
Beware: You might need to secure a scuba suit to play November golf in Ireland.
Please Note: June & July travel in the Villas are sold out but Adare Townhouses (2-bedroom) are available. Contact 800-221-0924 for prices and to book. Travel around the holidays (Christmas & New Year's) are at slightly higher rates. Travel in March 2011 is currently available for the first week and additional days will be offered.
Sceptre Tours is based in Lynbrook, New York and founded in 1981. They are a family-owned and operated tour agency with a focus on Ireland, Britain and Italy.
All joking aside . . . I did a little research (walked the halls with a notebook and sent out a few e-mails to some colleagues) and secured some skinny.
First, the accommodations. Granted, it was 20 years ago, but one very high-ranking official at Golf Digest honeymooned at the Adare Manor (pictured above). One of their daughters is named after the resort, which is a solid endorsement.
As for the courses, the resort's website claims the Adare Golf Club was "the last major golf course designed by the legendary Robert Trent Jones Sr."
One editor was at Killarney recently, where they have three courses. He says he loved Mahoney's Point, but he didn't play the Lackabane course, which I'm told is a tough test.
None of my sources have played Dingle, but we had a lot of fun with the name.
As for Doonbeg, lots of us have played the Greg Norman course, which opened in 2002 but looks like it has been there since 1802. We all agree, it's pretty tough, especially if the wind is a factor and you stop trusting your swing. There are a lot of good holes with some memorable views along the water.
And finally, who is the tour operator? One trusted source came back with a review of Sceptre: "Lower end, move a lot of passengers, mainly sightseeing bus tours. I've never heard anything bad."
So it's golf in Ireland, it's six nights at the Adare Manor and it's not impossible.
](http://www.sceptretours.com/vacations/ireland-golf-res-vac)