News
A visit to Colonial, and memories of his 2016 win, could wake up Jordan Spieth from his putting slump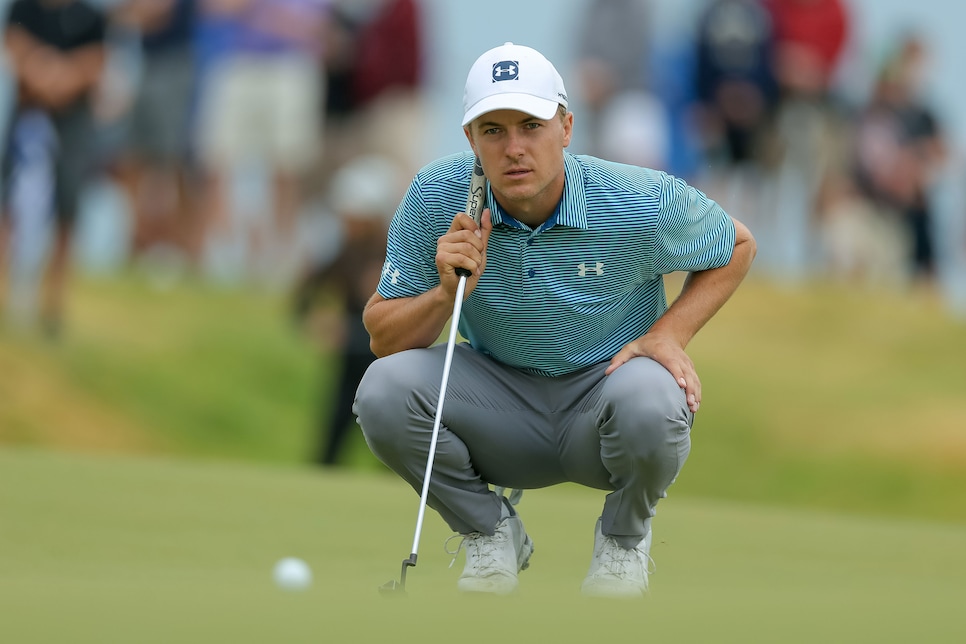 In 2016, Jordan Spieth won in the Dallas-Fort Worth area for the first time in his PGA Tour career. The victory by the hometown kid was even more significant because it came less than two months after his Masters collapse, with the young Texan having blown a five-shot lead with nine holes to go thanks in part to a quadruple-bogey 7 after putting two in the water on Augusta National's 12th hole.
A little more than a month later at Colonial Country Club, Spieth was spectacular in all the right ways, closing out a pair of weekend 65s with three straight birdies on Sunday that included a 20-foot putt on 16, a 43-foot chip-in (after his ball had bounced off the face of the grandstand on 17) and a 34-foot tracker for good measure on 18. After playing his first nine holes of the final round in even par, Spieth made six birdies and took just nine putts over his last nine to coast to a three-stroke win.
"I think the golf gods are certainly on our side," Spieth said that afternoon. "I caught some breaks today."
Without a victory since last July's triumph at the Open Championship at Birkdale, the 24-year-old Spieth could use a few more these days. Or he could at least do with making a few more putts. It's not just that he's winless in the 10 months, but how that's come to be.
Spieth enters this week's Fort Worth Invitational ranked 190th on the PGA Tour in strokes gained/putting, losing an average of .471 strokes per round to the field on the green this season. Two years ago, he was second in the category, picking up an average of .758 per round. You don't need to be a math whiz to figure out this one.
"Each day it's getting a little more comfortable," Spieth said Wednesday at Colonial of his putting stroke. "I believe that they'll fall soon enough."
Soon can't come fast enough.
At last week's AT&T Byron Nelson, Spieth missed a putt from one foot. There were other cringe-worthy moments, too, for a player who many profess to be one of the best putters in the game. Spieth missed three more putts inside five feet and ended the week with 129 total putts, taking no fewer than 31 in any one round. Spieth ranked 72nd of the 75 players who made the cut in total putts, which stood out even more when considering that he ranked fourth in approach shots.
It's not only the totality of the numbers that seems so surprising. It's where the misses are coming from.
Inside 10 feet, Spieth ranks 175th on tour, making a little more than 85 percent of putts from that range. He hasn't been very good from longer distances, either, ranking 180th between 10 and 15 feet and 199th from 15 to 20.
Two years ago, Spieth was 50th inside 10 feet, making 88.27 percent of his putts from that range. He was even better from 10-15 and 15-20 feet, ranking 16th and second, respectively. The latter are game changers, and the lack of putts dropping from those distances of late is what's separated Spieth from his peers—in all the wrong ways.
It's also what has perturbed Spieth the most.
"Making putts," he said when asked what will give him the confidence with the flat stick. "I mean, especially from the 10- to 20-foot range, kind of my go-to range, one that I've historically been really good at and just haven't quite gotten them to fall. I would like to get in a nice little groove, get some momentum, have the hole look a little bit bigger this week."
With the U.S. Open at Shinnecock Hills just a few weeks away, now would be as good a time as any.
"I may hit just as good of a putt two holes in a row, one goes in, one doesn't," Spieth said. "That one that goes in feels a lot better."